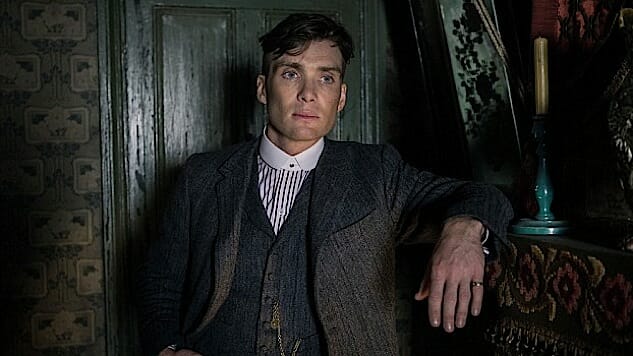 The search for the truth. The last-minute reveal of the killer. The pulse-pounding drama and tension. Our collective fascination with crime has many layers. It has also produced countless TV shows over the years that we consider to be worthwhile. So if you're looking to dive into a good mystery or follow a fascinating case, we have you covered. Below are some of our favorite crime dramas currently streaming on Netflix. If you are looking for a wider array of choices, though, you have to check out our list of the best True Crime Documentaries on Netflix and the 50 Best TV Shows on Netflix, Ranked.

20. The Sinner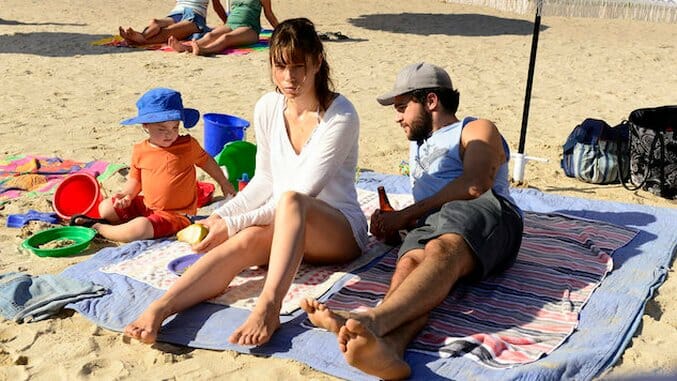 Created by: Derek Simonds
Stars: Jessica Biel, Christopher Abbott, Bill Pullman, Carrie Coon, Chris Messina, Matt Bomer
Original Network: USA
Each season, The Sinner opens with a crime whose perpetrator is immediately revealed. The question is never a whodunnit, but instead asks why. And that, really, is at the core of why many of us enjoy crime dramas so much. The unraveling of the mystery is the thing, but The Sinner makes it all about the psychology of the crime; the mystery to unravel is embedded in the past of the person who committed this heinous act. For drama fans (and crime drama fans in particular), The Sinner remains a very underrated anthology that always delivers a solid case with a great cast around it. It's a good bingewatch, and there's no prior knowledge that's really necessary to dive into any season of the series. The first season was about a young mother who murders a stranger on the beach, the second about a cult and a missing girl, and the third about two men who made a pact in college that is coming due. In each, we dive into the personal stories behind the crimes in engrossing ways, all led by Bill Pullman's ragged detective Harry Ambrose, as he wrestles with his own demons. —Allison Keene
---
19. Dirty John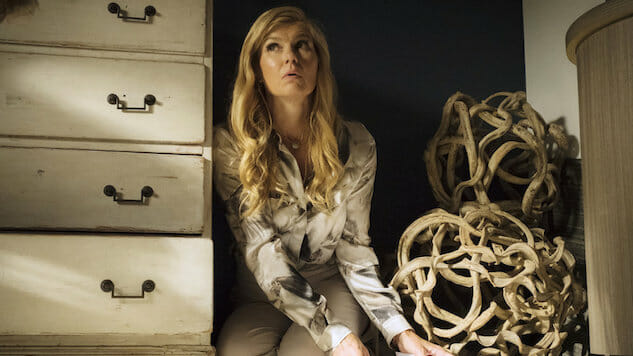 Created by: Alexandra Cunningham
Stars: Connie Britton, Eric Bana, Juno Temple, Julia Garner
Original Network: Bravo
One of the best things about this deliciously pulpy true crime series, based on the popular podcast, is how quickly things move. In only the second episode, the cracks in the seemingly perfect world shared by John (a terrific Eric Bana) and Debra (Connie Britton) are crumbling. By the time John says to Debra's beloved nephew, "You should be glad your dad killed your mom," the series has moved into straight-up horror thriller territory. Britton (and her fabulous hair) make every project better, but Dirty John's grifter story benefits from a strong cast all around. It's also easy to be fascinated by Debra's mother, Arlane (Jean Smart), who seems so willing to accept the new man in her daughter's life despite the warning signs. "I love him because he loves you," she tells her. She might be the key to why Debra, a successful and smart business woman, is so gullible when it comes to love—with devastating consequences. Dirty John is extra TV calories you might not need, but should devour anyway. — Amy Amatangelo
---
18. Making a Murderer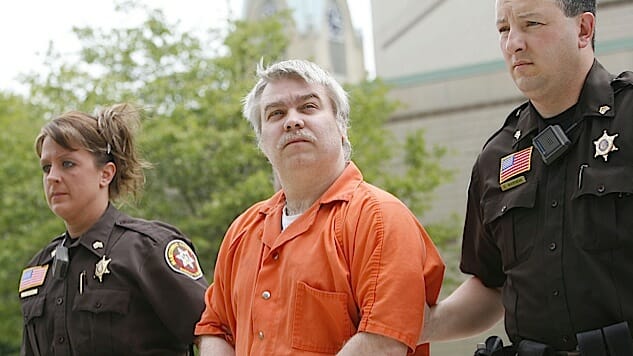 Created by: Laura Ricciardi, Moira Demos
Original Network: Netflix
After the Serial podcast captured the zeitgeist, Netflix brought viewers the true story of Steven Avery, a man wrongly convicted of a brutal assault. He sued law enforcement, and while in the middle of that suit, he became the suspect of a brand new crime. The docuseries' first season covers 30 years in Avery's life, and, like Serial, became a phenomenon that had us all playing armchair judge and jury. (A less acclaimed follow-up debuted in October 2018.) —Amy Amatangelo
---
17. Collateral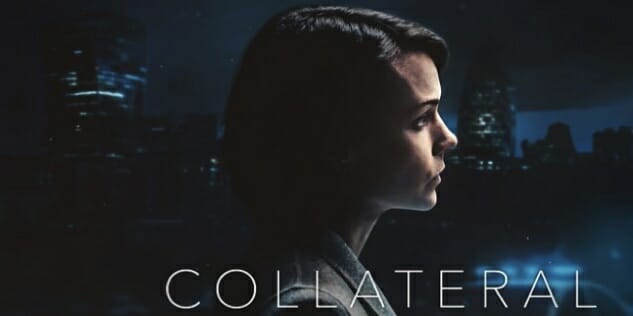 Created by: David Hare
Stars: Carey Mulligan, Nathaniel Martello-White, Jeany Spark, Nicola Walker, John Simm, Billie Piper, Hayley Squires
Original Network: BBC Two
The four-episode UK prestige crime series takes place in London over the course of four days, after the fatal shooting of a pizza delivery man. Academy Award nominee Carey Mulligan plays Kip Glaspie, a detective inspector who refuses to accept this killing as a simple random murder and seeks out the darker truth hidden in the shadows. There are also a host of political, racial, and social implications to the murder that are all given full consideration by the whip-smart dialogue, elevating this series into a thoughtful, compelling work. —Mike Mudano and Allison Keene
---
16. Dead to Me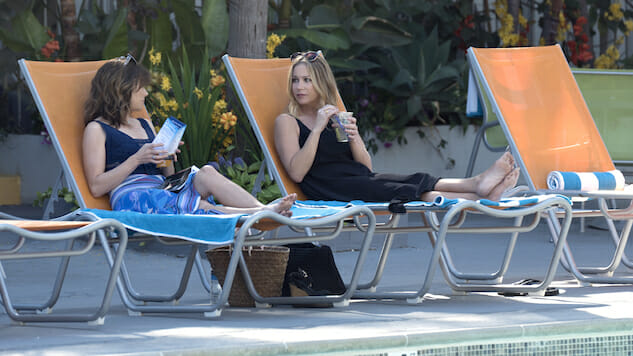 Created by: Liz Feldman
Stars: Christina Applegate, Linda Cardellini, James Marsden, Max Jenkins, Sam McCarthy, Luke Roessler, Ed Asner
Original Network: Netflix
Jen (Christina Applegate) and Judy (Linda Cardellini) meet not so cute at a grief support group. Jen's husband died three months prior in a hit and run accident, while Judy's fiancé died eight weeks before of a heart attack. They develop a friendship over their mutual anguish and their love of Facts of Life (Jen is a Jo, Judy a Tootie). Before long, Judy is moving into Jen's guest house and a beautiful friendship is formed. Or is it? The series, rooted in terrific performances from Applegate and Cardellini, is a fascinating mix of humor and pathos. The show deftly balances both extremes and pull both off. I never know what the twisty Dead to Me is really up to and that's just the way I like it. —Amy Amatangelo
---
15. Top Boy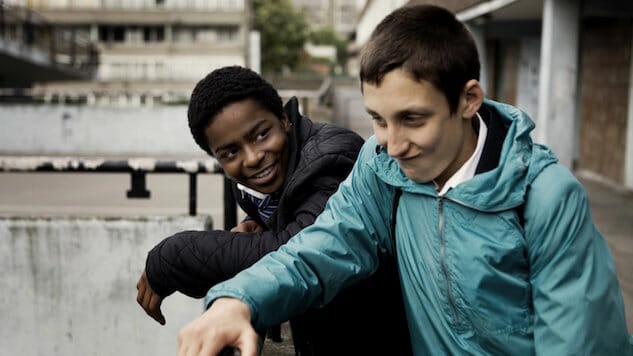 Created by: Ronan Bennett
Stars: Ashley Walters, Kane Robinson, Micheal Ward, Shone Romulus, Malcolm Kamulete, David Omoregie
Original Network: Channel 4
What do you get when an alleged former IRA bomber from the Falls Road in Belfast (who spent time in the infamous Long Kesh prison on charges of murder) becomes a respected novelist and, in his fifties, creates a TV show based on gang culture in East London? This singular biography, belonging to Ronan Bennett, yields up Top Boy, the UK's slightly less ambitious answer to The Wire. The first two seasons debuted in 2011 and 2013, making the show's return in 2019 one of the most unlikely TV events ever (a fourth season was later released in 2022). This is more than welcome—amidst the stifling realism and cruelty of the fictional Summerhouse estates, there is poetry (like The Wire, the patois is a delight) and vulnerable humanity, subject always to the grinding machinery of systemic violence. Sharon Duncan-Brewster is excellent as Lisa, the resilient mother of Ra'Nell, who was the star until the creators realized what they had in Ashley Walters and Kane Robinson, two real-life rappers who are spectacular as Dushane and Sully—friends and enemies fighting for oxygen and power in a world that is loath to give up either for very long.—Shane Ryan
---
14. Good Girls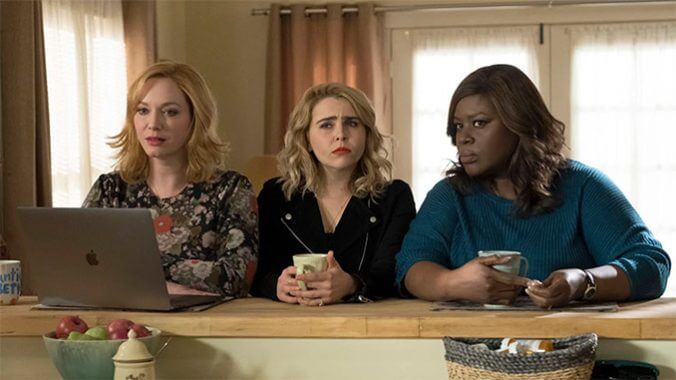 Created by: Jenna Bans
Stars: Christina Hendricks, Mae Whitman, Retta, Manny Montana, Matthew Lillard, Zach Gilford, Isaiah Stannard, Reno Wilson
Original Network: NBC
Part comedy, part drama, Good Girls asks the age-old question "What would you do for your family?" and then blows whatever thing you thought out of the water by telling a story that blurs the lines between good and bad as three suburban moms (Christina Hendricks, Mae Whitman, and Retta) turn to lives of crime in order to make ends meet for their families. But their one-off decision to rob the local supermarket where one of them works quickly spirals out of control and they find themselves pulled into a complicated, dangerous world once it's revealed that the store is part of a money laundering scheme for a local gang. As time goes on and they become more and more involved in criminal activity, the women find new ways to justify their actions, and the series easily vacillates between comedy and drama in a way that few shows in this genre do (or do well). We were lucky to have been able to witness it for four seasons. — Kaitlin Thomas
---
13. Mindhunter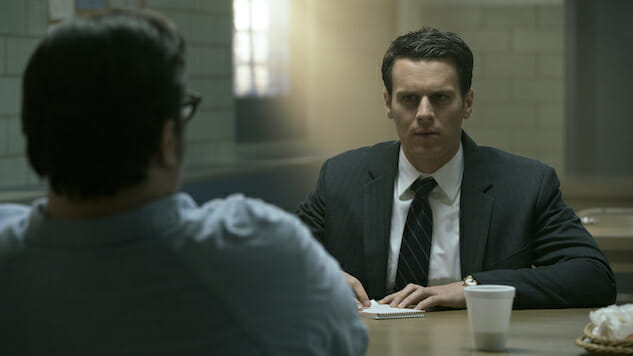 Created by: Joe Penhall
Stars: Jonathan Groff, Holt McCallany, Hannah Gross, Anna Torv, Cotter Smith and Cameron Britton
Original Network: Netflix
The name and the description may have you assuming that this is a typical network procedural: FBI agents interview psychopaths in order to catch murderers. But Mindhunter is as much Mad Men as it is Law & Order. Produced by David Fincher and Charlize Theron, the story follows two real-life agents, Holden Ford (Jonathan Groff) and Bill Tench (Holt McCallany), along with consulting psychologist Dr. Wendy Carr (Anna Torv) in the FBI's nascent Behavioral Science Unit. Joe Penhall's series is based on a similarly titled true crime book. Interviewing and cataloguing convicted serial killers (a phrase the trio invents) leads to them helping on active cases, but it also affects each of their personal lives in different ways. Cameron Britton is particularly unforgettable as notorious murderer and necrophiliac Edmund Kemper. The second season focuses on the Atlanta child murders, and doesn't let viewers off easy. —Josh Jackson
---
12. American Vandal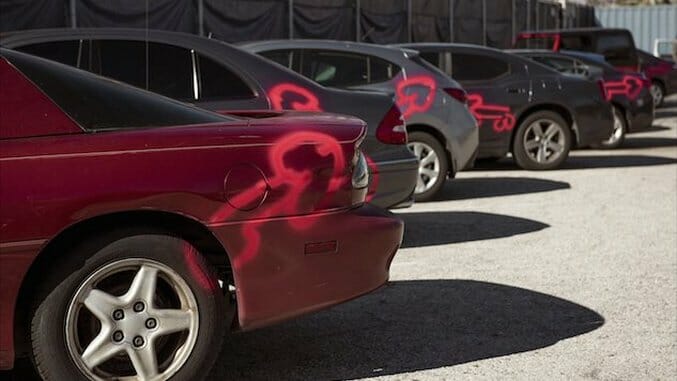 Created by: Tony Yacenda and Dan Perrault
Stars: Tyler Alvarez, Griffin Gluck, Jimmy Tatro
Original Network: Netflix
American Vandal is the tongue-in-cheek antidote to the "true crime" craze: a "prestige docuseries" on the subject of dick-drawing, set on dismantling the form from within. After all, its understanding of the form is impeccable: With dramatic cold opens, floated theories and test cases; interviews, illustrations and re-creations; careful cliffhangers and a Jinx-style hot mic, it applies the genre's commonplaces to absurd situations with aplomb. It's a pungently goofy reminder that the history of "true crime" is dominated by "lowbrow" media—pulpy magazines, grocery-store paperbacks, salacious installments of Dateline or 20/20—and that its newfound sense of "prestige" is primarily a function of style. Still, American Vandal's most surprising strength is not its satire but its steady construction of a narrative backdrop even more compelling than its creators realize. Call it Fast Times at Hanover High: The series' amusing slice of schoolyard life. —Matt Brennan
---
11. Unbelievable
Created by: Susannah Grant, Ayelet Waldman, Michael Chabon
Stars: Toni Collette, Merritt Wever, Kaitlyn Dever
Original Network: Netflix
There's something quietly revolutionary about Unbelievable. It is difficult to watch at times, the kind of series likely to live with you long after its final moments come to a close; for a story centered on rape, that is hardly unusual. The work of its three remarkable lead actors is wonderful but also not unique; other television shows and movies have hired exceptional performers to tell these stories. Instead, Unbelievable distinguishes itself by the simple act of making one very big assumption: that everyone watching already knows that rape is a horrific violation. It assumes you've got that handled. It assumes that you've seen The Handmaid's Tale or Boys Don't Cry, or most recently, The Nightingale, and have plenty of experience seeing rape depicted in media in visceral, nightmarish fashion. It is fully aware that of the people on the other side of the screen one in six women and one in 33 men will have personally experienced a rape or an attempted rape in their lives. It has absolutely no interest in immersing its audience in trauma and violation. Unbelievable knows that you know rape is bad. It does not act as a voyeur. Under the guidance of showrunner Susannah Grant, it is far more interested in the survivor's perspective—on what happened to her, yes, and how it lingers, but also on the violations that came after.
Based on a Pulitzer-winning piece of journalism by T. Christian Miller and Ken Armstrong (of ProPublica and The Marshall Project, respectively), Unbelievable is a series of such quiet power that its full impact may not come crashing down until after its conclusion.—Allison Shoemaker
---
10. Ozark
Created by: Bill Dubuque, Mark Williams
Stars: Jason Bateman, Laura Linney, Julia Garner
Original Network: Netflix
Comparisons to Breaking Bad have been thrown around a lot over the years. It feels like every crime drama about someone breaking into the criminal world for one reason or another ends up being thrown into the ring with Walt and Jesse at least once. But few shows have been as successful in those battles as Ozark (a show that is so blue you might be tricked into believing someone messed with the color on your TV). The Netflix Original stars Jason Bateman as Marty Byrde, a financial adviser who becomes embroiled in a money-laundering scheme with a drug cartel (crime dramas really make you believe everyone is laundering money except you). When the operation goes south and his partner is killed, Marty moves his family, including wife Wendy (a spectacular Laura Linney), to the Lake of the Ozarks to double down and launch an even larger operation. Once there, the Byrdes also become entangled with the locals, including Ruth (three-time Emmy winner Julia Garner), a young woman from a family of petty criminals. The drama and tension continue to build over the course of the show's four seasons, and while it never quite reached the level of Breaking Bad or its prequel spinoff Better Call Saul, there is no denying that Ozark left a lasting mark on TV fans. —Kaitlin Thomas
---
9. Peaky Blinders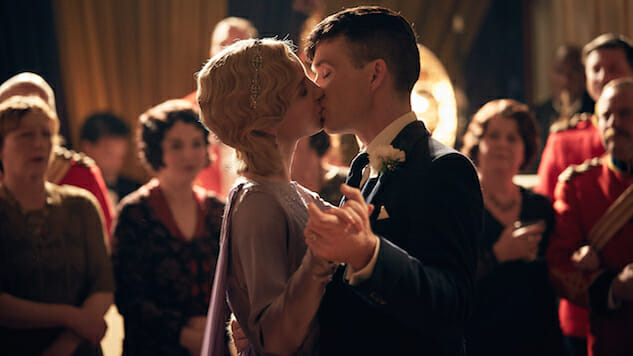 Created by: Steven Knight
Stars: Cillian Murphy, Sam Neill, Helen McCrory, Paul Anderson, Sophie Rundle, Joe Cole, Iddo Goldberg, Annabelle Wallis, Tom Hardy, Finn Cole, Natasha O'Keeffe
Original Network: BBC
Running for six seasons, Peaky Blinders is one of the first global success stories of the Streaming Era. It traces the rise of Cillian Murphy's formidable Thomas Shelby, a soldier-turned-ambitious kingpin of the Shelby crime family and the leader of the series' titular gang, between the two world wars. In the first season of the rock 'n' roll gangster drama, which is set in the West Midlands industrial city of Birmingham (music from Nick Cave and the Bad Seeds, PJ Harvey and the White Stripes adds a modern touch to the period proceedings), Tommy faces off against a ruthless inspector (Sam Neill) out to dismantle his organization and a lovely mole (Annabelle Wallis) he's enlisted to aid his campaign. New seasons introduce new foes as the Shelby family becomes more and more powerful, but as the steely, azure-eyed Tommy, Murphy anchors the series by bringing his trademark quiet intensity to a multidimensional antihero, one of several thoughtful characterizations in the Shelby clan. —Amanda Schurr and Kaitlin Thomas
---
8. Giri/Haji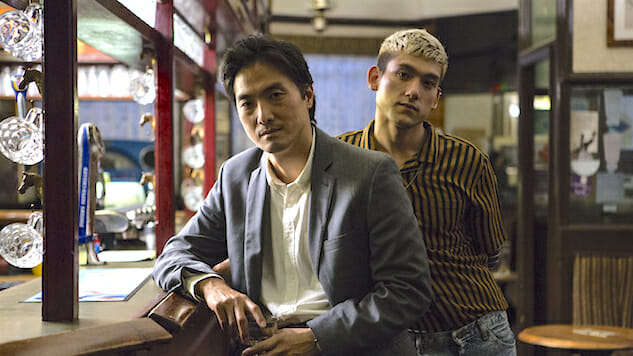 Created by: Joe Barton
Stars: Takehiro Hira, Kelly Macdonald, Y?suke Kubozuka, Will Sharpe
Original Network: BBC Two
An international thriller, Giri/Haji starts when a Tokyo detective, Kenzo Mori (Takehiro Hira), is tasked by a prominent Yakuza crime family—in conjunction with the police force—to secretly go to London in search of his brother Yuto (Yosuke Kubozuka), who he thought died a year prior. The hope is that bringing Yuto back will stop a sprawling war that he helped kickstart among the Yakuza factions. But like Kenzo's investigation into Yuto's disappearance and faked death, Giri /Haji is full of unexpected twists, not just in its narrative but in its form. It's dark and violent at times, but also funny and full of heart. At the center of the story is the tale of two brothers, yet it's also about forged family and discovering the truth about one's self. The gang war is the framework for the story, which plays out in many ways like Lock, Stock, and Two Smoking Barrels (as far as a variety of different crime bosses all marching toward one another); and yet, one of its most moving scenes takes place during a quiet, makeshift Yom Kippur dinner regarding atonement. The series is stunning and, crucially, funny. Though it would be wonderful to spend more time in this world with a second season, there is a palpable and beautiful sense of healing that has ended this one. —Allison Keene
---
7. When They See Us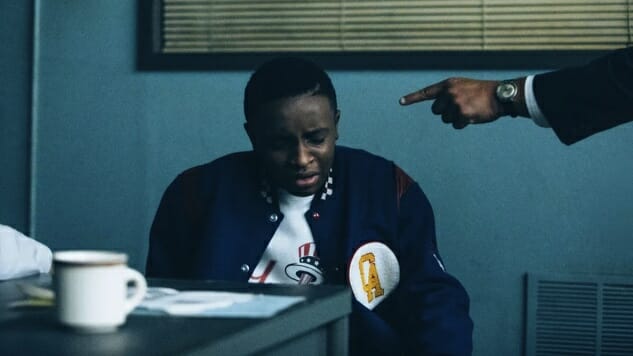 Created by: Ava DuVernay
Stars: Asante Blackk, Caleel Harris, Ethan Herisse, Jharrel Jerome, Marquis Rodriguez, Felicity Huffman, John Leguizamo, Michael K. Williams, Vera Farmiga
Original Network: Netflix
You cannot look away from When They See Us or shelter yourself from the blinding truth. On April 19, 1989, 28-year-old Trisha Meli was jogging in Central Park when she was brutally raped and left for dead. In a coma for 12 days, Meli had no memory of what happened to her and was unable to identify her attacker or attackers. The series doesn't shy away from the horrors of what happened to Meli. A successful white woman left for dead in America's most famous public space did not sit well with New York City. Everyone—the mayor, the district attorney, the police department—wanted her attackers caught. But somewhere along the line, Manhattan District Attorney Linda Fairstein (Felicity Huffman, in her first post-scandal role) and NYPD detectives lost sight of wanting to find the actual criminal and decided to solve the crime by any means necessary.
The story itself is overwhelmingly powerful. But there are several key decisions Ava DuVernay makes that turns When They See Us into one of the year's, if not the decade's best, programs. One is the casting of five relatively unknown actors to play the boys. The "Central Park Five" were 14-16 years old in 1989 and Marquis Rodriguez, Ethan Herisse, Jharrel Jerome, Asante Blackk and Caleel Harris not only look young but portray the absolutely vulnerability and fear that their real-life counterparts must have felt. We also get to see their families, who fought so hard for their children. Niecy Nash as Korey's (Jerome) mom Delores. John Leguizamo as Raymond's (Rodriguez) father, who remarries while Raymond is away and struggles to balance his old family with his new one.
Aunjanue Ellis as Sharon Salaam, the only parent who understood the system enough to make sure her son (Herisse) didn't sign a false confession. Ava DuVernay doesn't make any of them saints. They all make horrible mistakes and painful decisions. But their love for their children is never in doubt. When They See Us is exceedingly difficult to watch. It cut me to my very core. When you see it, I'm sure it will do the same to you. —Amy Amatangelo
---
6. Alias Grace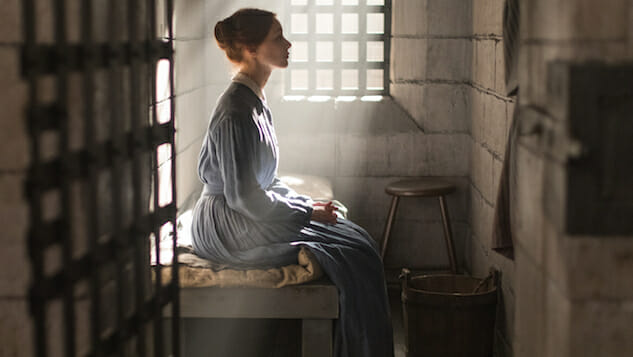 Created by: Sarah Polley, Mary Harron
Stars: Sarah Gadon, Edward Holcroft, Rebecca Liddiard, Zachary Levi, Kerr Logan, David Cronenberg, Paul Gross, Anna Paquin
Networks: CBC/Netflix
Adapted by Sarah Polley from Margaret Atwood's historical novel, and directed by Mary Harron with forthright shudders of psychological horror, this sterling Canadian limited series is a tightly constructed marvel. In Canada in 1859, "celebrated murderess" Grace Marks (the brilliant Sarah Gadon) submits to an interview with Dr. Simon Jordan (Edward Holcroft), and their ongoing conversation unearths a pattern of violence and trauma, which Alias Grace spins into a scintillating mystery, an intricate biographical portrait, a lushly appointed period drama, and a ferocious treatment of the distance between what "the world at large" deigns to call harm and the countless ways men cause it. —Matt Brennan
---
5. Bodyguard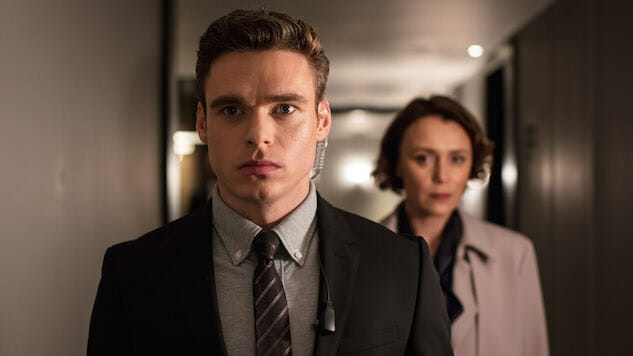 Created by: Jed Mercurio
Stars: Richard Madden, Keeley Hawes, Gina McKee, Sophie Rundle
Original Network: ITV
In Jed Mercurio's exquisite actioner, there are no rooftop chases, no ticking clocks, no fisticuffs with the villain's henchmen. Instead, the six-part series finds suspense in watchful camerawork and careful pacing, and it's this thorough control that makes Bodyguard worthy of your next TV obsession: It refuses shortcuts, rejects ellipses, until it approaches the effect of real time. Rather than treat this as a gimmick though, star Richard Madden and directors Thomas Vincent and John Strickland use the technique to create potent echoes of protagonist David Budd's torturous vigilance, and indeed the nation's. A veteran of the war in Afghanistan, David receives an assignment to protect Home Secretary Julia Montague (Keeley Hawes), a rising political star with her eye on 10 Downing Street—and a reputation as a national security hardliner. The result is an ingenious layering of form atop function, all within the context of a taut political thriller: The series is less 24 or House of Cards than Homeland at its most momentous, stripped of all but its hero's ability to see what others miss. —Matt Brennan
---
4. Babylon Berlin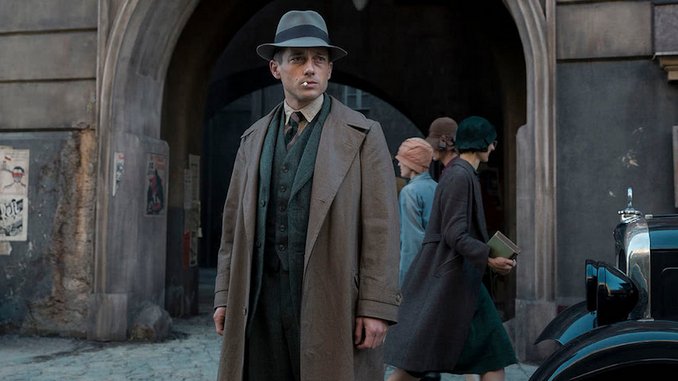 Created by: Tom Tykwer, Achim von Borries, Henk Handloegten
Stars: Volker Bruch, Liv Lisa Fries
Original Network: Das Erste
The excellent '20s-set series Babylon Berlin is a labyrinthine but deeply human exploration of a key era of German history. Focusing primarily on a mysterious detective from Cologne (Volker Brunch's Gereon Rath), as well as a poor, ambitious flapper with a desire to work in Berlin's homicide division (Liv Lisa Fries' Charlotte Ritter), this neo-noir builds a case around the many forces at work in German society and politics during the Weimar Republic. With the rise of Stalin impacting Europe, and the Treaty of Versailles not sitting well with dangerous nationalist groups, Berlin is a hotbed of covert activities. And the payoff, after the show's marvelous first two seasons, culminates in one of television's best episodes of all time (including an outrageous twist you will never see coming).
Despite the time period (in a surprise perhaps to American viewers), the first time we are shown a swastika is not until the Season 2 finale. But the slow turning of that tide—the fall of democracy, the rising blame against the Jewish community—is felt throughout, as violence spills out onto the streets, among a population still splintered from the horrors of the first World War. And yet, Babylon Berlin is never a dark series. It can be sad or heartbreaking, but it can also be luminous and joyous. It's cerebral and emotional. It takes time to spend an entire episode casually lounging by a lake, but also builds such an intricate interplay of narrative threads that, when they start to pay off, you will come away astonished. The show's distinct German Expressionist style, gorgeous costuming, and keen sense of character make it unmissable TV. Don't be scared of the subtitles—though it is dubbed, it is best experienced in its native language. —Allison Keene
---
3. Narcos / Narcos: Mexico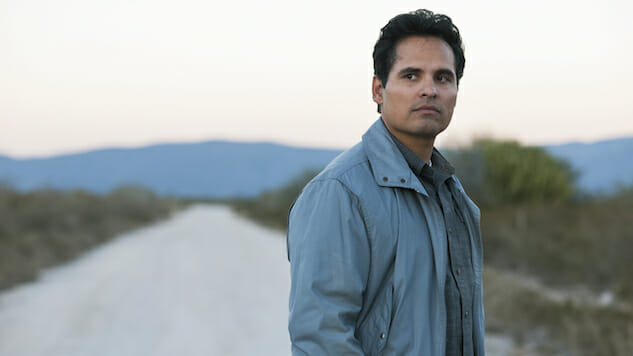 Created by: Carlo Bernard, Chris Brancato, Doug Miro
Stars: Wagner Moura, Boyd Holbrook, Pedro Pascal / Michael Peña, Diego Luna, José María Yazpik
Original Network: Netflix
One popular line of criticism has it that Narcos romanticizes the violence and degradation associated with the Colombian drug wars—and drug culture in general—and I would agree that the excellent Wagner Moura plays kingpin Pablo Escobar so engagingly that he becomes a sort of Walter White-esque antihero. And the rhythms of the documentary-style narration are fast-paced in a way that's reminiscent of Guy Ritchie, whipping us along at an almost breakneck speed. Nevertheless, this valid criticism misses the important point that we are watching a work of fiction based on historical figures—not a real documentary. And when viewed that way, Narcos is one of the most successful shows on TV in how it manages to flesh out some very dark characters and tell a complicated story with such urgency and clarity. This is not the hyper-realist drug fiction of Traffic or even 2015's Sicario, but as conflict entertainment goes, it succeeds wonderfully
Similarly, Narcos: Mexico, a spinoff/companion series of sorts, investigates the rise of the powerful Guadalajara Cartel that began by selling cannabis and quickly escalated into cocaine and heroin. The cartel, and the story itself, is led by the conflicted figure of Félix Gallardo (Deigo Luna), who wants to make drug selling a business (shades of The Wire's Stringer Bell are evident everywhere in this portrayal), but must ultimately embrace a ruthless nature to make it work. Gallardo is being hunted by DEA agent Kiki Camarena (Michael Peña), whose fledgling organization doesn't understand how dangerous these cartels and their growing network are becoming. Anchored by outstanding performances, like the original series, Narcos: Mexico is a deeply compelling dramatization of the drug gangs that continue to plague Mexico (and to some extent, the United States) today, and concludes with a major reveal that sets up a whole new game for Season 2. Filled with emotional twists and turns, Narcos: Mexico perhaps even eclipses its predecessor with outstanding characterizations and a tense story told at a rapid, tantalizing pace. —Shane Ryan and Allison Keene
---
2. Better Call Saul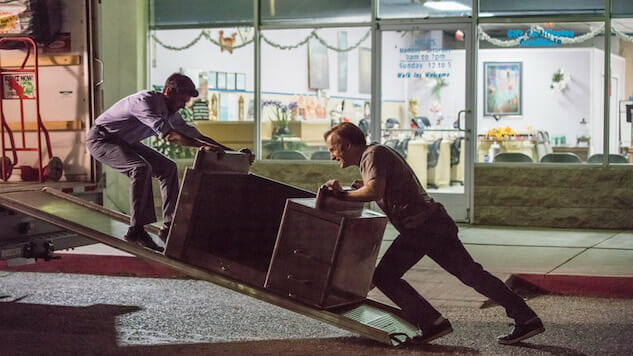 Created by: Vince Gilligan
Stars: Bob Odenkirk, Michael McKean, Rhea Seehorn, and Jonathan Banks
Original Network: AMC
When Bob Odenkirk showed up towards the end of the second season of Breaking Bad, playing sleazy lawyer Saul Goodman, it was a small shock to the system for anyone who has long appreciated his work as a writer and a comic actor on series like SNL and Mr. Show. Little did we know that this was only the beginning of a tragic and hilarious tale that would start to take on the scope of an epic Russian novel. This prequel to Vince Gilligan's meth drama accomplished the nearly impossible, by expanding upon the source material of Breaking Bad with dynamic and sometimes heartbreaking results. And give full credit to Odenkirk (and his co-stars Michael McKean, Rhea Seehorn, Jonathan Banks, and Michael Mando) for further bringing to life how shaky a person's morality can be, especially when there's great gobs of money involved. —Robert Ham
---
1. Breaking Bad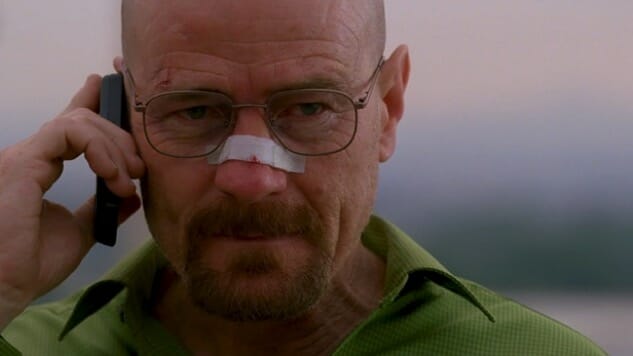 Created by: Vince Gilligan
Stars: Bryan Cranston, Anna Gunn, Aaron Paul, RJ Mitte, Giancarlo Esposito
Original Network: AMC
Some argue that The Wire is TV's best drama of all time; others stand up for Mad Men or The Sopranos, the latter of which has the benefit of being so important historically that it begins many textbooks' modern TV eras. But Breaking Bad made its bones quickly, publicly, and with plenty of pizzazz. It entered the TV landscape with just a few episodes of tonally questionable wobbling—the balance-finding of an ambitious acrobat searching for the tightrope's center—and stuck the landing on the remaining five seasons. Who cares if the first season's DVD case called it a dramedy? America knew what it was immediately, even if we didn't know exactly where it was going. How has the tragic ballad of science teacher-turned-meth kingpin Walter White (Bryan Cranston) weathered its title over the years? If the current TV landscape is anything to judge by, it's a proud grandfather, looking over its progeny with the same glee and gentle judgment of any overachieving patriarch. Breaking Bad may not have set the paradigm of unlikable anti-heroism in pop drama, but it certainly put the "pop" in the designation. (And don't forget to watch the show's probably unnecessary but nevertheless wonderful follow-up film El Camino.) —Jacob Oller
---
For all the latest TV news, reviews, lists and features, follow @Paste_TV.