It's mid-winter, and much of the country is cold and dreary, with polar vortexes threatening to blast beneath the Canadian border and the weather forecast frequently hinting at the dreaded "wintry mix" (aka sleet, slosh, and shitty commutes). For many drinkers, this means their imbibing habits have shifted mostly to stouts, porters, winter ales, and, in the spirits world, whiskey. I mostly do the same, but I'll be damned if I'm going to forsake a pre-dinner martini just because it's 16 degrees here in New York City. And I'm talking about a real martini, by the way, made with gin, never vodka. The fact is that this beloved juniper-infused intoxicant has exploded in popularity in the world of craft spirits, giving whiskey a run for its money. In fact, many whiskey distilleries release gin as their first product—a good way to put a product on the shelves and make some money while waiting for whiskey to age. Here's a list of some of the best American gins on the market right now, all of which use a staggering array of botanicals and herbs to create unique flavors to be enjoyed in a cocktail or even straight up (or sipped with juice, if you like, laid back, your mind on your money, your money on your… etc., etc.)
St. George Spirits Gin
California


A few months ago, I discussed St. George Spirits' single malt whiskey in a story I wrote on American single malts. It was fantastic, so it's no surprise that their gin is just as good. They have three intensely flavorful expressions. First up is their Dry Rye Gin. The nose is almost like an un-aged white whiskey, thanks to the pot-distilled rye base, but its flavor explodes with citrus and peppercorn. St. George recommends substituting this one in any rye cocktail, like a Manhattan. Next is their Terroir Gin, which is the closest thing to a pine forest spirit I've ever tasted, immediately calling to mind the smell of the California Sierras with sparks of sage, fennel, and Douglas fir. Lastly is the Botanivore Gin, made from 19 different botanicals including bay laurel, bergamot peel, star anise, and cinnamon. This one has a strong licorice nose and slightly sweet flavor, perhaps the most liqueur-like of the three. This trio of gins is of the highest quality and will appeal even to those (like myself) who generally prefer dry British gins to highly aromatic brands. St. George Spirits continues to set the bar impossibly high with their lovingly crafted and delicious spirits.
Berkshire Mountain Distillers
Massachusetts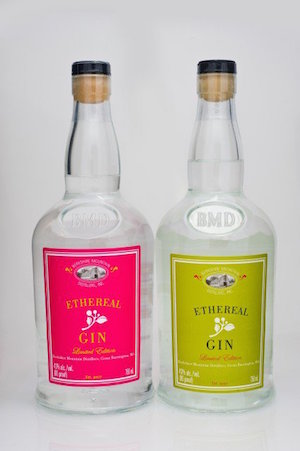 Berkshire Mountain Distillers also has several gins on the market, and each one is distinctive and interesting, especially the Barreled Ethereal Gin Expression No. 2. This gin is aged for 12 months in used bourbon barrels, imparting honey and vanilla into the rich botanical mix, and giving it a whiskey-like light brown color. This was one of my favorite gins overall. The other two expressions I tried were the brand-new Batch 11 Ethereal Gin, a softer, milder gin with strong hints of lemon and cloves, and the Greylock Gin, which is like a London dry that's been amped up with a botanical infusion—perfect for a slightly floral martini that still captures the essential essence of the drink. Berkshire Mountain Distillers is another craft operation that clearly puts a lot of love into their product.
Aviation American Gin
Oregon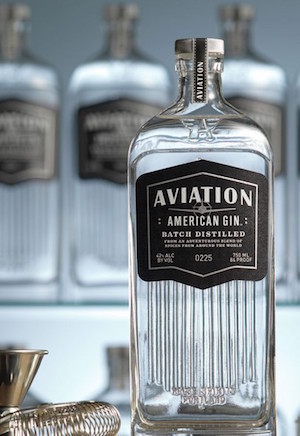 This Portland, Oregon-based distillery takes the concept of a dry gin and puts a Northwest spin on it, using sarsaparilla, lavender and coriander, among other botanicals, to create an excellent martini or gin-and-tonic component. Aviation hits all the sweet spots, with a traditional juniper flavor intermingled with a lovely blend of herbal notes that pop and thrive when chilled and stirred with a dash of dry vermouth and an olive or two.
Bluecoat American Dry Gin
Pennsylvania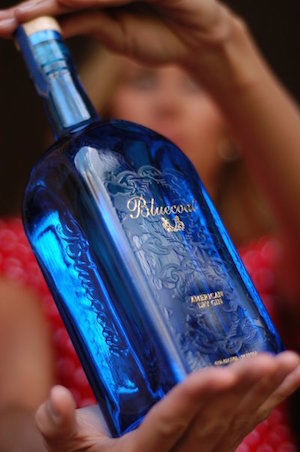 Philadelphia's Bluecoat Gin keeps things simple, using just four botanicals—juniper, coriander, citrus peel, and angelica root—but sometimes less is better. In the category of American dry gins, this was one of my favorites. Bluecoat is assertive but incredibly smooth, with a remarkably proportionate blend of botanicals in the forefront that doesn't overpower. If a martini is your drink, Bluecoat is an excellent way to go.
Greenhook Ginsmiths American Dry Gin
New York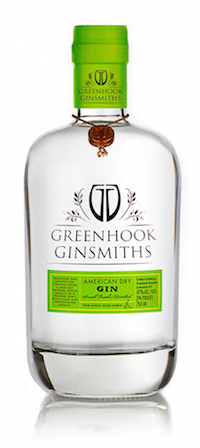 I've written about these local boys before, but I'd be remiss not to mention them again. Only two years old, this distillery, located in the Greenpoint neighborhood of north Brooklyn, is making a fantastic American dry gin. Elderberry, chamomile, Thai blue ginger, and cinnamon are some of the botanicals that are present, and the result is a spirit that is both bold and easily drinkable. You'd be hard-pressed to find another new gin that works better in both a cocktail and on the rocks than Greenhook.
Leopold Bros. Navy Strength Gin
Colorado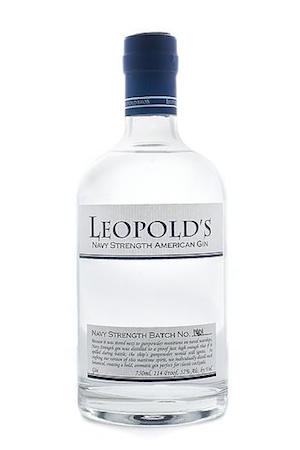 According to their website, Leopold's Navy Strength Gin is named after gin that the British Royal Navy deemed "high enough in proof to still render gunpowder flammable should it be drenched by the spirit." And yes, this bergamot and juniper infused gin packs a punch at 114 proof. But it's mild, bright and citrusy, belying its alcoholic content. And it's the perfect compliment to tonic or any other mixer—I have a feeling a Negroni would be particularly well served by this particular gin. But that might be a test for warmer weather…