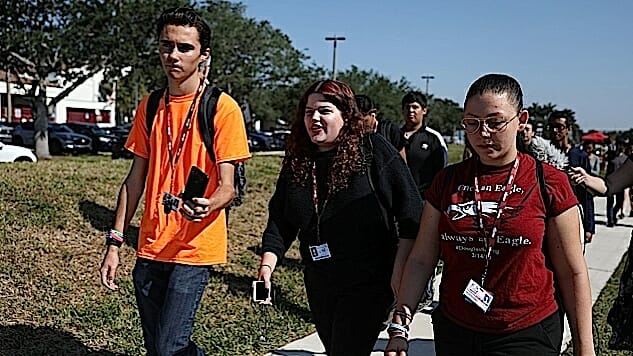 The only way to end the political hell of America in 2018 is to vote. Period. As bad as things are now, if Republicans score some surprising wins in November, and if the blue wave sputters and collapses, we'll be dealing with an outright crisis. It will be a crisis that is both practical and psychological—the reality that Republicans will be allowed to enact their heinous policies unchecked, and the ensuing feeling of hopelessness as we realize our country—as we knew it, as we imagined it—is lost.
That's why it's nice to read a positive story once in a blue moon. I'm not talking about the "nice" sort of escapist story that has nothing to do with politics, and lets us drift away from reality for a minute. I'm talking about a story that proves certain principles that need to be true in order to reverse our political nightmare, and that at least hints at beneficial outcomes in the future. In other words, we need to believe that:
1. Activism inspires people, especially the kind of activism that responds to situations created in part or in whole by Republican policies, and;
2. Lots of people are going to vote in 2018 and 2020, and Republicans are going to suffer serious defeats.
This is the only way for well-meaning people to feel empowered rather than anxious and defeated. That's why this story from the Miami Herald so welcome in our current climate: In the aftermath of the Parkland shootings, youth voter registration shot up 41 percent. Per the Herald:
The analysis by TargetSmart, a data firm that works on behalf of Democrats, shows that the share of newly registered Florida voters between the ages of 18-29 increased by eight percentage points in the two and a half months after the Valentine's Day mass shooting at Marjory Stoneman Douglas High School in Parkland, Florida.
Voters between the ages of 18-29 made up 26.23 percent of all new voter registrations in Florida in the two and a half months before Feb. 14, 2018. In the two and a half months after the shooting, young voters made up 34.22 percent of all new voter registrations in Florida.
In comparison to the three months before the shooting, the total number of young voters increased by 41 percent, and the 18-29 demographic is now the largest share of all new voters.
And of course, this is not about the Parkland shootings themselves. This is about the aftermath—it's about David Hogg and Emma Gonzalez and all the others who courageously stood up and made their voices heard. When you saw how vehemently conservatives despised these kids, now you know why: They represented a movement. In a swing state like Florida, the numbers they inspired could have an enormous impact.
"A new generation of political leaders emerged in the aftermath of the Parkland tragedy," TargetSmart CEO Tom Bonier said in a statement. "We witnessed their ability to organize in Florida and across the country as massive crowds took to the streets for the March for Our Lives, and now we're seeing a quantifiable impact from that organizing. It remains to be seen how many of these younger registrants will cast a ballot in November, but they are poised to have a louder voice than ever in these critical midterm elections."
As Bonier said, we're all holding our breath until November, but this is an important start.