Paste's Power Rankings: The 10 Best Shows on TV Right Now
Week of 7/16/2018
Header photo: Showtime
TV
Lists
power rankings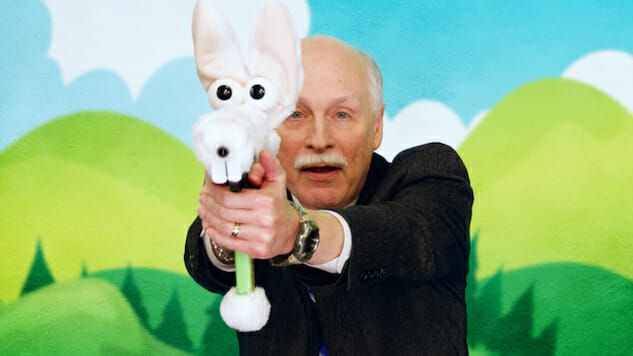 Call this week's Power Rankings the Paste TV Variety Hour: With two regulars (The Bold Type and Younger) serving up weaker-than-average episodes, there's space for the full gamut of comedy stylings—from Hannah Gadsby, Michelle Wolf, and Sacha Baron Cohen—and a pair of documentaries, on Robin Williams and Freaks and Geeks. We may be in the midst of the quietest stretch of the year for serial dramas and ensemble comedies, but Paste still has you covered.
The rules for this list are simple: Any series on TV qualifies, whether it's a comedy, drama, news program, animated series, variety show or sports event. It can be on a network, basic cable, premium channel, Netflix, Amazon, Hulu, YouTube or whatever you can stream on your smart TV, as long as a new episode was made available the previous week—or, in the case of shows released all at once, it has to have been released within the previous six weeks.
The voting panel is comprised of Paste editors and TV writers with a pretty broad range of tastes. We're merciless: a bad episode can knock you right off this list, as much good TV is available right now.
Honorable Mentions:
The Affair, The Bold Type, Jim Jefferies: This Is Me Now, Luke Cage, Set It Up
10. A Very English Scandal
Network: Amazon Prime Video
Last Week's Ranking: 8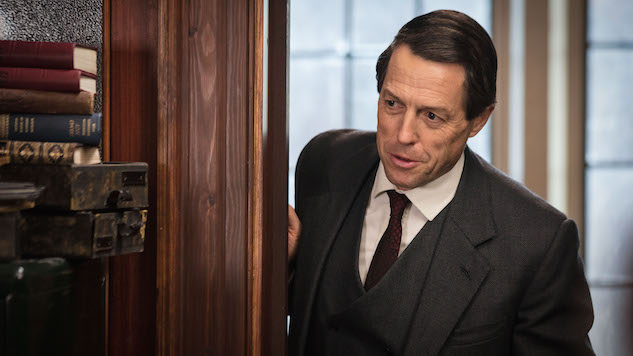 Hugh Grant, the man I have always dismissed as a rom-com-milking sot has, regardless of my disregard, always been top-drawer at playing the painfully nervous, the deucedly awkward, and the chronically twigged-out. In his evolution from blinky-eyed stammering schoolboy to decidedly middle-aged and slightly dissipated kink-meister, he has only honed that skill set. He's more weirdly roguish and rakish and a tiny bit beaten down and it works. In A Very English Scandal he's actually kind of hideous, and yet he is nonetheless both sympathetic and strangely sexy. That's no mean feat. Granted (as it were), Hugh had an embarrassment of riches to work with here: Stephen Frears directing, a great script by Russell T. Davies and John Preston, fabulous co-stars and above all a plucked-from-the-headlines and totally batshit crazy story involving a politician, a secret lover, a high-profile trial, a conspiracy to murder, a nutter assassin, a very unfortunate Great Dane bitch and the notoriously obnoxious British tabloid press. —Amy Glynn (Photo: Sophie Mutevelian; (c) Blueprint Television Ltd)
9. Hannah Gadsby: Nanette
Network: Netflix
Last Week's Ranking: 6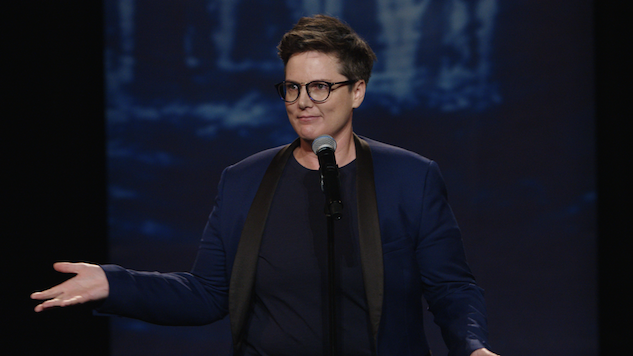 With Nanette, very much the revolutionary work of art critics have been raving about Hannah Gadsby has fashioned an unapologetically queer and feminist salvo against patriarchal culture that is by turns terrifically funny, apoplectically angry, and wrenchingly sad, all in the form of a "stand-up comedy special" in which she announces she's quitting comedy maybe 20 minutes in. The rest of the hour shouldn't be spoiled, so here's my advice: Watch. — Matt Brennan (Photo: Netflix)
8. The Break with Michelle Wolf
Network: Netflix
Last Week's Ranking: Not ranked
Despite the Trump administration's increasingly volatile actions, one thing that's remained a calming constant is the way late-night series have perfected the funny/not funny news segment. Few know this better than Michelle Wolf, an alum of both Comedy Central's The Daily Show with Trevor Noah and NBC's Late Night with Seth Meyers—two programs with unique spins on the educational jesting that has fallen at comedians' feet in journalism's decline. In this weekend's episode of The Break, Wolf lampoons both the style of these comedy/news features and the faltering fourth estate that makes them necessary in an evisceration she calls "Segment Time." In just six and a half minutes, she manages to blame everything on POTUS and ends with a demand to be known as the national treasure that she is. Are we not entertained? Yes, yes we are. (We also liked the episode's other feature, which mocked film snobs' continuing devotion to movies about nebbish middle-aged men who fall for tween girls). —Whitney Friedlander
7. GLOW
Network: Netflix
Last Week's Ranking: 5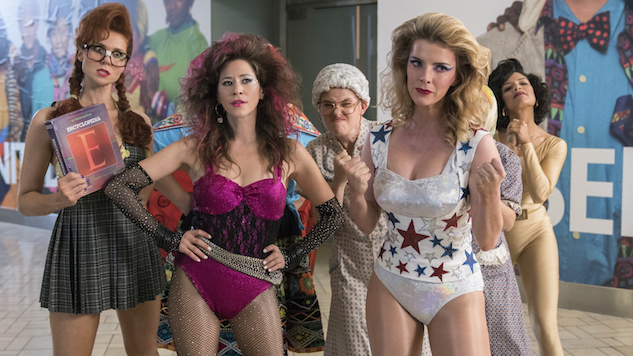 Most Netflix series begin in medias res, and then retreat to mere prologue. The first season of GLOW (Gorgeous Ladies of Wrestling, for the uninitiated) is all prologue, and it's compelling as all get-out: The Reagan-era narrative follows aspiring actress Ruth Wilder (Alison Brie), her former friend, soap star Debbie Eagan (Betty Gilpin), and journeyman director Sam Sylvia (Marc Maron) as they prepare to film the pilot for a local cable station's wrestling series. Season Two of Netflix's GLOW opens as Season One of the characters' GLOW is getting underway: "Ruth, it's not rocket science, OK?" Sam bristles when she—the self-styled Alma to his Alfred Hitchcock—asks after the format, shortly before the gals sign their (impenetrable, exploitative) contracts. "Same thing every week." In Maron's exasperated deadpan, this counts as a laugh line, but it's also a wink—at the structure of an episode, the uses of genre, the problems (and possibilities) of making popular entertainment week after week. In Season Two, from set construction and producing credits to the medium's disappointing lack of opportunities for women and people of color, GLOW comments constantly on the nature of television, and in the process becomes a brilliant backstage comedy. —Matt Brennan (Photo: Erica Parise/Netflix)
6. Robin Williams: Come Inside My Mind
Network: HBO
Last Week's Ranking: Ineligible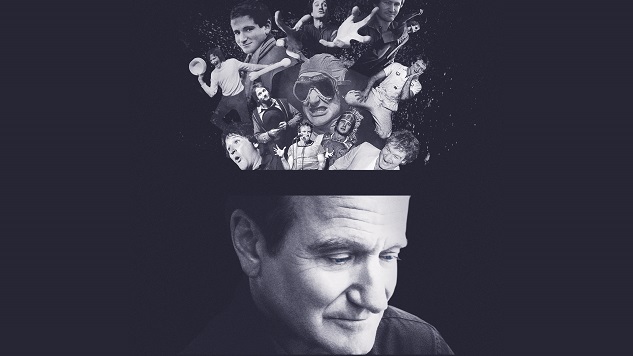 Come Inside My Mind is a basically linear biographical documentary, following Williams's childhood in the Midwest, his teen years in Marin County, his training at Juilliard and the bizarre accident that vaulted him to fame (if we must thank George Lucas for something, perhaps it is the accident of timing that made Star Wars grab the zeitgeist and ultimately require the presence of a "space man" on the set of Happy Days). It tracks his marriages, his battle with substance abuse, his friendships with people like Billy Crystal and Bobcat Goldthwait. It focuses more on his trajectory as a comedian than a film actor, but one is certainly given a sense of a person catapulted into stardom and the toll that tends to take.
All of that is interesting. But for me, the standout feature of this documentary is not "man crumbles under the pressure of success." At all. What pops out of all that archival footage is quite the opposite, actually. I don't think Williams had trouble coping with a stratospheric career. I think he might have been a relatively rare example of someone who was 100% built for it. I suspect the pressure mounted when he wasn't in front of an audience. —Amy Glynn (Photo: HBO)
5. Freaks and Geeks: The Documentary
Network: A&E
Last Week's Ranking: Ineligible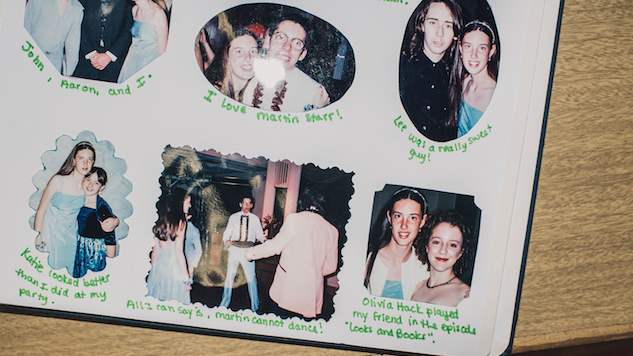 Though its intimate, behind-the-scenes details are sure to please the "cult" in "cult classic," Brent Hodge's loving tribute to creator Paul Feig and executive producer Judd Apatow's beloved Freaks and Geeks is also an excavation of what makes a great TV show. As Hodge underscores with Freaks and Geeks: The Documentary—part "making of" portrait, part retrospective, part celebration—on the level of talent alone, Freaks and Geeks is arguably the most influential TV series of the century so far. At a fundamental level, though, Freaks and Geeks: The Documentary is not the story of the best high school show ever made. It's the story of how the best high school show ever made, at the time of its airing, was the lowest-rated program on NBC, continually hounded by cancelation fears, time slot swaps, and network notes until it was finally killed off to capitalize on the vogue for Who Wants to Be a Millionaire?-style game shows. It is, as Apatow says of the series itself, "about failing and how you survive failure and about how your friends support you in difficult times." —Matt Brennan (Photo: Magda Zofia)
4. Who Is America?
Network: Showtime
Last Week's Ranking: Ineligible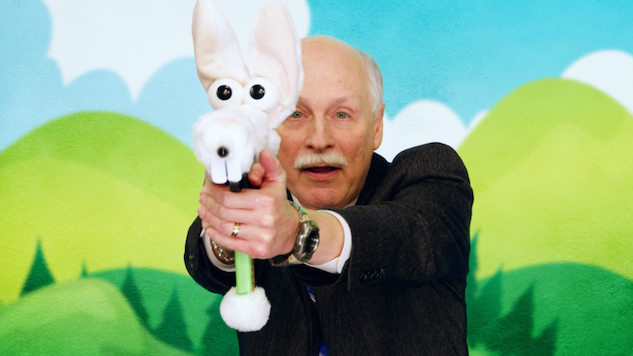 Sacha Baron Cohen's much-discussed new show feels a little antiquated, not just because it's a throwback to his early-2000s Ali G heyday, but because the conservative movement he's trying to expose is so openly absurd and terrible today that it doesn't need to be tricked into embarrassing itself. Today's Republicans do that every single day simply by supporting their president and his policies. That doesn't mean Who Is America? isn't worth watching, though. I hesitate to call it a comedy—there's not much funny about seeing sitting congressman advocate for arming pre-schoolers out of fear of losing the support of the NR—-but Who Is America? is a bleak, despairing, theoretically funny look at the real-life dystopia we've created for ourselves. Don't watch it to laugh or to learn anything, but to reaffirm everything you already know about today's miserable politics. —Garrett Martin (Photo: Showtime)
3. Pose
Network: FX
Last Week's Ranking: 3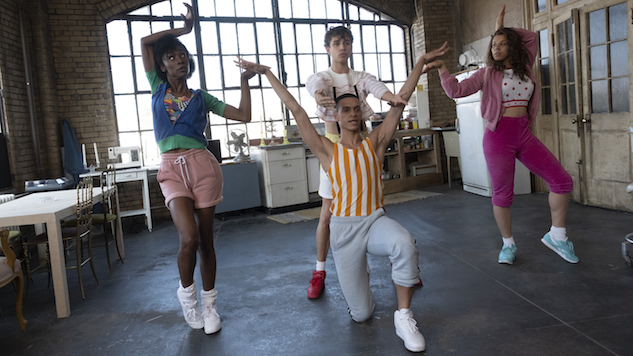 Relationship after relationship comes undone in "Pink Slip," the penultimate episode of Pose's sterling first season: Blanca (Mj Rodriguez) and Papi (Angel Bismark Curiel) fall out over his drug-dealing; "Daddy Dick" (the perfectly cast Christopher Meloni) cuts off Elektra (Dominique Jackson) after her surgery; Elektra's children, fed up with her neglect, leave Abundance to form the House of Ferocity; and Stan (Evan Peters), upon attending his first ball, drops Angel (Indya Moore) like a hot potato. "I hate to see what your nightmares look like," Pray Tell (Billy Porter) calls at the "bizarre"-themed affair, and as Pose sets up its finale, the reverberations from "Pink Slip" are sure to be felt into the second season. (Hurrah!) So, too, is the closing sequence, a masterly admixture of crosscuts and dissolves to the tune of Tina Turner's "Private Dancer." For Angel and Elektra, the loss of patronage is painful indeed, but the episode's aesthetic assurance suggests a new freedom, too: "Think avant-garde," as one member of Abundance says while choreographing a number for the ball. "Think otherwordly." And Pose always is. —Matt Brennan (Photo: JoJo Whilden/FX)
2. The Handmaid's Tale
Network: Hulu
Last Week's Ranking: 7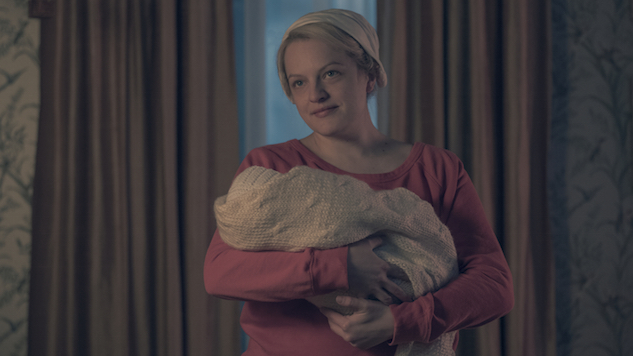 Despite the episode's ample flaws, the Season Two finale of The Handmaid's Tale is near the top of the list because of the Sophie's choice heard 'round the internet. In the closing moments of "The Word"—a surprise and rather nonsensical twist—June (Elisabeth Moss) gives her baby to a mentally unstable Emily (Alexis Bledel) so that they can escape to Canada. She then raises her iconic red hood, glowers at the camera and defiantly returns to Gilead to the tune of "Burning Down the House." Say what now? Want more confusion? She asks Emily to call the baby Nicole, the name Serena (Yvonne Strahovski) has given her—not Holly, the name June has given her, after June's mother. We guess that, now that June knows there's an underground network of Marthas and that Serena tried to rebel, she thinks she can hook up with a movement, rescue Hannah and reunite with Luke and Holly/Nicole (Holicole?) in Canada. But the whole thing felt rushed. We didn't even know enough about Commander Lawrence (Bradley Whitford) to care that he was an Uber-riding rebel. (I really need someone to explain to me the technology rules of Gilead). Why would Serena, who has literally sacrificed everything for a baby, give up Holicole? How many times can the drama hit the reset button by having June almost escape? But still, there were highlights. The only consistent thing about Serena's character this season has been Strahovski's performance, but man is she fabulous—and deserving of the Emmy nod she got last week. The underground sequence was stunning. June telling Fred (Joseph Fiennes) to go fuck himself was glorious. And let's be honest: No matter what our complaints, we'll be watching next season. —Amy Amatangelo (Photo: George Kraychyk/Hulu)
1. Sharp Objects
Network: HBO
Last Week's Ranking: 2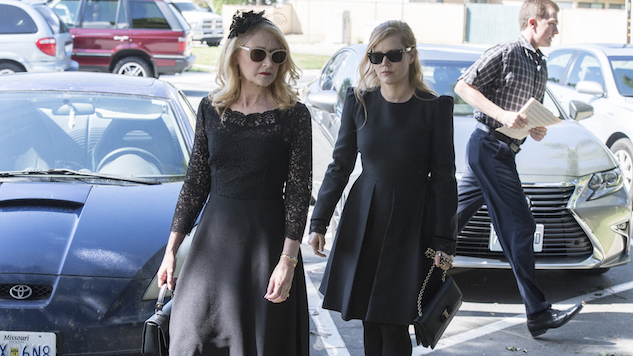 Our mind plays tricks on us. Our memories expand and contract. Become fuzzy and clear. Weave in and out of our subconscious. We can remember sad memories more happily or happy ones with more sadness. We are often the most unreliable narrator of our own lives.
This idea comes to life in the new HBO miniseries Sharp Objects. St. Louis Chronicle reporter Camille Preaker (the mesermizing Amy Adams) returns to her small Southern hometown of Wind Gap to cover the murder of one preteen girl and the disappearance of another. Camille has left Wind Gap and her overbearing mother Adora (Patricia Clarkson, in a career-best performance) behind. It's not just the small-town gossip Camille has escaped from; it's also the haunting memory of her younger sister Marion's death. Adora and Camille's step-father, Alan (Henry Czerny), now have Amma (major discovery Eliza Scanlen), a 15-year-old trying to escape the overbearing confines of Wind Gap much like Camille did years before her. This one is not to be missed. Sharp Objects cuts deep. —Amy Amatangelo (Photo: Anne Marie Fox/HBO)