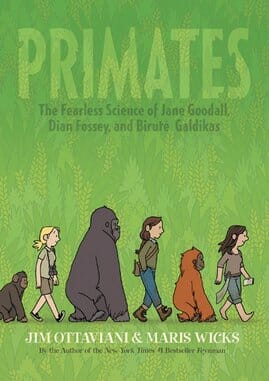 Writer: Jim Ottaviani
Artist: Maris Wicks
Publisher: First Second
Release Date: June 11, 2013
Jim Ottaviani appears to be making a career writing nonfiction comics, often scientific in nature. He made a sizable splash two years ago with his biography of Richard Feynman (generally well-reviewed, but overpraised) and has elsewhere covered Niels Bohr, the science of magic and early paleontology, and an impressive roster of female scientists. Here, he teams up with Maris Wicks, known for her mini-comic work with husband Joe Quinones and friend Liz Prince on projects like Coping With Death, Four Squares, and Duddits. Primates serves to distinguish three fantastic scientists from one another, rendering an interconnected story beautifully through smart visual choices. If you scratch your head, primate-like, trying to remember which conservationist Sigourney Weaver played in Gorillas in the Mist, your confusion will evaporate quickly after reading this book.
Ottaviani and Wicks work together to highlight each researcher's individuality. The pair accomplishes this not only through different lettering styles (Goodall, Fossey, and Galdikas each narrate large portions of their sections via unique typography, but sound effects, dialogue, correspondence, and even diary entries each receive their own visual treatment), but also through subtle artistic approaches. Goodall is direct and driven, focused on her goals, with her art stripped down to mirror her intense ambition. Fossey's trials with the human world and hyperactive mind translate to complexly-drawn natural environments in her segments. And Galdikas, perhaps the least prepared, constantly finds herself in the middle of situations she hadn't expected, shown in cropped action close-ups and the occasional broken panel. The scientists also knew one another and interacted through Louis Leakey, a famous anthropologist and mentor to all three, so the visuals ultimately work as a seamless whole, welding all the parts into one story.
Ottaviani keeps Primates within a brisk 133 pages, refusing to fuss with overly-scientific esoterica without dumbing the protagonists' journeys down. The stories have drama, but the narrative on the whole has a light touch despite Fossey's tragic end. Though Primates presents a complex topic through an accessible lens with buoyant art, it would be a shame to overlook this book as young readers' fare.