The Swedish Academy Has Chosen the Nobel Laureate in Literature Since 1901, But That's About to Change
Photo by Ragnar Singsaas/Getty
Books
News
Nobel Prize in Literature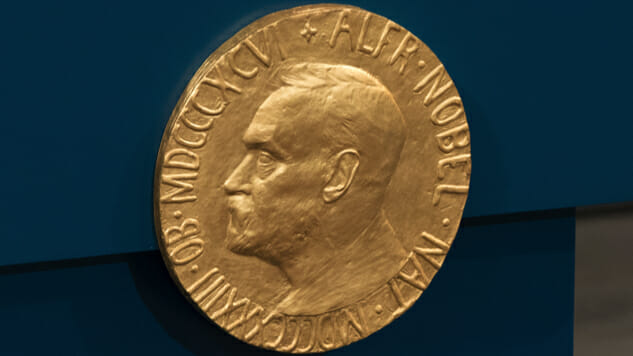 Since 1901, the esteemed Swedish Academy has annually decided who will be the laureate for the Nobel Prize in Literature, awarded in memory of the donor Alfred Nobel. That's about to change.
Two authors, two critics and one translator (all Swedish) will join five members of the Swedish Academy in picking the Nobel Prize winners for 2018, 2019 and 2020.
Over the past several months, the eminent institution has been working ceaselessly to resolve its tarnished image—the result of ties to a man accused and now convicted of rape.
The decision to rework the Nobel committee was made "in consultation with the Nobel Foundation," said Anders Olsson, the permanent secretary of the Swedish Academy, in a statement, per the AP.
"The Swedish Academy's work to restore confidence and come back as a prize winner is moving in the right direction," Lars Heikensten, CEO of the Nobel Foundation, said in a Google-translated statement.
"The new committee for nominating Nobel laureates presented by the Swedish Academy is another step in the right direction," continued Heikensten. "The intervention of many new independent members means that a distance is created for events of the past year."
The Nobel Foundation had previously warned that if the Academy could not properly settle the scandal, the Swedes could lose command of the prize.
Last November, photographer Jean-Claude Arnault, 72, was accused of sexually assaulting 18 women. Arnault became known internationally in the context of the #MeToo movement. Arnault is also suspected of leaking the winners of the prestigious Nobel Prize seven times, starting in 1996.
The accusations of misconduct led to mayhem for the Swedish Academy, whose then-member Katarina Frostenson is married to Arnault. The Academy had also provided financial support to Arnault's Swedish cultural center, Forum.
Altogether, eight of the group's 18 members, all of whom are elected for life, were either forced to leave or have quit since last spring.