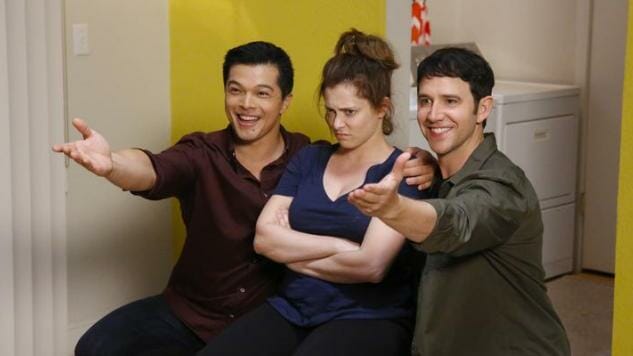 For one season and four episodes, Rebecca and Crazy Ex-Girlfriend have been maturing alongside each other. And in "When Will Josh and His Friend Leave Me Alone?" our protagonist and the series itself are both starting to realize who and what they really are.
This is no longer a show about an obsessive ex who moved across the country to chase after a boy. Now it's about a group of lost people who are all looking for answers: Darryl is decoding his sexuality, Paula is figuring out her career path, Josh is trying to become an adult, and Rebecca has got a lot of emotional work on her plate. But the transition from rom-com to ensemble comedy has been long and sometimes bumpy. It took a full first season to fully introduce the entire Crazy Ex family—and the strength of that supporting cast has often been overshadowed by the Rebecca-Greg-Josh love triangle. But no more.
"When Will Josh and His Friend Leave Me Alone?" is Santino Fontana's last episode of Crazy Ex-Girlfriend, as Vulture reported. That's heartbreaking news for Tumblr users like myself who shipped Grebecca so hard and for critics—again, like myself—who have been blown away by Fontana's singing voice and emotional range. It's even harder to say goodbye because this episode showcases his talents: Greg sings a crude farewell ballad about his toxic relationship and he plays the Donald O'Connor to Josh's Gene Kelly in an inspired tap number about all the places they've had sex with Rebecca. But sending Greg away to Emory is the right move for the character, for Rebecca, and for the show.
Getting rid of Greg makes room for Crazy Ex to complete the transition into an ensemble comedy. Rebecca's romantic antics are bound to continue into the second season but scrapping the love triangle narrative clears up some space for the secondary players to step forward. Steve Monroe, who plays Paula's husband Scott, has been doing excellent work the entire series. In this episode, he nails his chance to play a part rarely seen on television: a supportive husband who cares for his wife before and after an abortion decision. Vella Lovell has always been one of the show's hidden gems but after Greg dumped her, she went M.I.A. Now, thanks to a house fire and some careful plot contrivances, Heather is back in the mix as Rebecca's roommate. (At one point in the episode, Heather burns Rebecca's competitors in a douche mascot contest by saying that "they all look like gorgeous mermaids who grew feet and went to Coachella." Oh, Heather, how we missed you.) Even Valencia makes an appearance at the end of the episode and, if the title of next week's installment is any indication, she's back for good.
With so many cast members getting their turn in the spotlight, the main plot about Rebecca's post-double breakup identity crisis—which involves the aforementioned douche mascot contest and an ill-advised, Cyndi Lauper-inspired makeover—fits more neatly into the tapestry of the show rather than steamrolling the side stories. And that's as it should be. Way back in last season's Christmas episode, the entire cast sang a throwaway line about Carol, a henna tattoo artist at the West Covina shopping mall, who was 50 but "still finding herself."
"We're all finding ourselves!" the entire cast echoed.
In smaller scenes and subplots for the entire series, these characters have indeed been finding themselves, little by little. The difference now is that Crazy Ex finally has the time to pay attention to all of them.
---
May Saunders is a professional dog walker living in Minneapolis and an occasional freelance writer. In her spare time, she enjoys hanging out with her cat, who does not need to be walked. Follow her on Twitter.