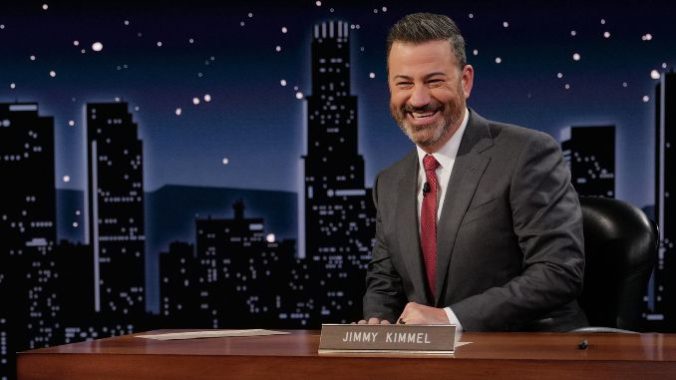 Jimmy Kimmel is one of America's best and brightest talk show darlings. It's almost impossible to talk about late night television without adding his name to the mix. He's charming, witty, gracious, fall-off-your-chair-laughing kind of funny, and one of the very few hosts that have what it takes to climb to the very top and stay there. He's a household name and beloved around the globe, and so it's no wonder that his talk show, Jimmy Kimmel Live!, is celebrating its 20th anniversary this week, after airing its first episode on January 26th, 2003.
After 20 years of airtime and well over 3000 episodes, Jimmy Kimmel Live! has seen it all. The show has had its fair share of ups and downs, controversy, hilarity, hair-raising pranks, and even heartfelt moments. It's no easy feat to whittle so many memorable events down to just a few, but someone had to do it. And so, here are my top picks for the best moments from Jimmy Kimmel Live! from the last 20 years:

That time Rihanna pranked Jimmy
Anything involving Rihanna naturally must rank highly on any list. That's just the rules, I'm sorry, I didn't make them. So I can't not mention the time the Rihanna, pop icon extraordinaire, pranked Jimmy for April Fool's Day in 2015. With a little help from Kimmel's wife, Molly Kimmel, Rihanna and her crew snuck into the Kimmel's home in the middle of the night and woke up Jimmy with an impromptu performance of her single "Bitch Better Have My Money," which she was promoting at the time. Luckily, Jimmy was a good sport about the whole thing.
---
Jimmy Kimmel and Matt Damon's never-ending feud
All true Kimmel fans know that Matt Damon and Jimmy Kimmel have had an infamous and longstanding feud, spanning over almost the entire history of Jimmy Kimmel Live! While the feud may be fake, the laughs the two have provided over the years have been very real. Their rivalry has led to plenty of unforgettable moments on the show, but one of the best of the bunch is from 2013, when Damon took Kimmel hostage and decided to host the show for himself.
---
Jimmy Kimmel's tribute to Bob Saget
When actor and comedian Bob Saget died unexpectedly in January 2022, Hollywood and the world of comedy were heartbroken. As tributes poured in for the Full House actor, one stood out amongst them all. Jimmy Kimmel's emotional eulogy for Saget gave us a wonderful insight into two of America's most loved comedians and their touching friendship. It was a tribute that could bring a tear to the eye of even the most hardened viewer and a truly special moment on the show.
---
President Obama's edition of "Mean Tweets"
The "Mean Tweets" segment on Jimmy Kimmel Live! is one of the most widely loved bits on the late night program. The premise is quite self-explanatory: Kimmel invites high profile guests onto the show to read mean tweets about themselves in front of the camera. It's funny and lets us see a more human side of some of the world's biggest stars. President Obama has taken part in the segment twice with humility, grace, and a good sense of humor, reminding us that presidents, they're just like us.
---
When Canada became the 51st American state
Jimmy Kimmel has absolutely no problem letting people make a fool of themselves. You could say he has a talent for it. So when his producers hit the streets to ask the public what they think of made up bands or fake news headlines, the results are always entertaining. One such edition of this well-known segment, "Lie Witness News," revolves around asking people what they think about the breaking news that Canada would become the 51st American state. The answers range from alarming to hilarious to Oscar-worthy, and remind us that there's no limit to what people will say when they're put on the spot.
---
Jimmy Kimmel's heartfelt monologue after the Uvalde shooting
After being a talk show host for 20 years, Kimmel has seen his fair share of tragedies, and he's felt compelled to address them publicly, too. When a gunman killed 19 children and 2 adults during a school shooting in Uvalde, Texas in 2022, Kimmel addressed his audience directly and pleaded for viewers to demand for gun reform. His response to the tragedy was sensitive, sensible, resolute, and entirely necessary in a nation that continues to be terrorized by illogical gun laws.
---
When Jimmy Kimmel dealt with some high profile interruptions
I can imagine that being in a live TV audience is some exciting stuff. You're sitting there filled with anticipation, wondering what might happen next or who might appear. In 2019, one lucky audience got far more than they could have ever expected as Margot Robbie, then Brad Pitt, and finally Leonardo DiCaprio all cut through the middle of stage while Jimmy was speaking to his audience. Of course, everyone, including Jimmy, were totally blindsided by the unexpected appearances and they were totally beside themselves once Leo DiCaprio piped up and invited the entire audience to the Once Upon a Time in Hollywood premiere that was taking place nearby.
---
Bryony Parker is a writer and artist currently living in São Paulo, Brazil and working on her Masters in International Affairs. You can find her at @par666ker on all social media.