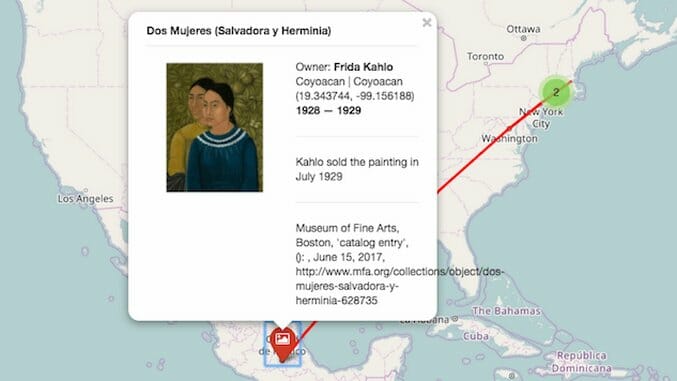 Ever been at a museum and wondered how a centuries-old painting ended up right in front of your face? Wonder no longer; architecture and history of art professor Jodie Cranston's website has you covered. Mapping Paintings is an easy-to-use database that allows you to see the travels of paintings that now live in museums.
The site is, for lack of a better phrase, so cool. Even if you aren't an art history buff, looking at all of the previous owners of famous works—and even not-so-famous works—is utterly fascinating. Many were owned by royals, and some went straight from the artist to a museum. Cranston explained the lure of the site to Hyperallergic: "I think that many visitors to museums don't realize that these artworks had interesting lives before they arrived on the museum walls, and it's neat to think about what these artworks witnessed and who else saw them."
Here is an example of a map for a Monet work that traveled throughout Europe before reaching its current residency at The Met.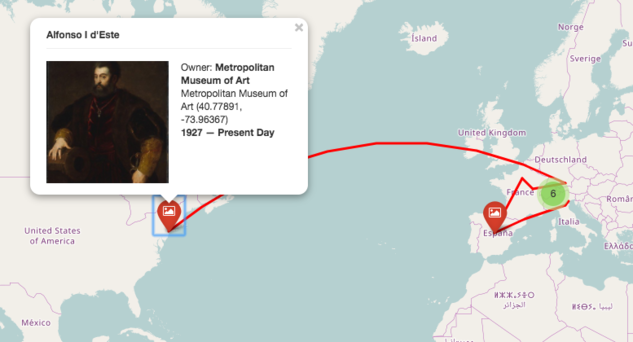 While the database is somewhat limited now, it's easy to see how the site will eventually grow to encompass many more works. "I think it's important to visualize the information," Cranston says. "Sometimes seeing that an artwork went somewhere unexpected is more impactful than reading it in a long list of text."
Funded by the Kress Foundation and Boston University, Mapping Paintings aims to add over 3000 works of European art from the Kress Collection by early fall of this year.
Check out Mapping Paintings for yourself here.