After exhaustive rankings of Christmas beers, imperial stouts and barrel-aged imperial stouts, it's probably safe to say that the Paste office is more than ready to bring the ABV down just a tad. Don't get us wrong—we thoroughly enjoyed tasting a combined 60 imperial stouts in the month of January, but working your way through that murderers row is by no means easy as far as organization, scheduling or overall liver health is concerned. In February, we take a short step back to approach a style that isn't quite so overwhelming.
Ah, porters. I love a classic porter. In some ways, they're emblematic of American craft brewing; the kind of historic style that was kindly brought over by the nation's English settlers before working its way into a separate, American ideal in the same way that pale ale or IPA did. When I think of porters, I think back to earlier years of American craft brewing, and how they were one of the styles that blazed the way for "dark beer drinkers." Visiting a brewpub in the late '90s, there was almost guaranteed to be an American porter on the menu.
Today, it's a style that is used as a canvas, as so many other classic styles are. Milk porters. Spiced porters. Coffee porters. Oatmeal porters. English-style porters. Hoppy porters that push the boundary between "porter" and Black IPA. Flavored porters of all description.
All styles have been included in our list, as long as they were American-made. As such, don't look for examples from say, Fullers or Samuel Smith. Although classic beers, we chose to focus exclusively on some of the best examples made in the U.S.A. These porters were tasted over the course of two days by a panel of tasters that included beer writers, brewery owners and BJCP-certified professional brewers. An ABV cut-off was set at 8% to include a few beers still labeled as "porter" by their breweries and beer-rating sites.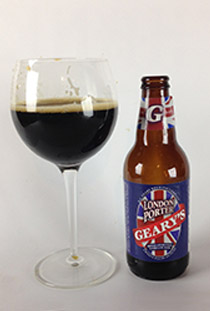 35. Geary's London Porter
City: Portland, ME
ABV: 4.2%
Key ingredient: A British yeast strain, presumably
Perfect for: Convincing you to order a Fuller's next time instead
The verdict: There's definitely a British-like minerality present in Geary's take on British porter, and more than a little metallic twang. A light, dusty roast is its saving grace, but sitting on the table next to all of these other porters, it simply couldn't keep up in the flavor department.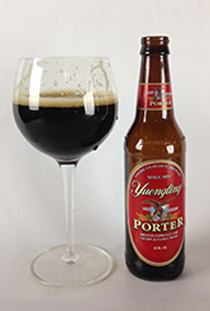 34. Yuengling Porter
City: Pottsville, PA
ABV: 4.7%
Key ingredient: Fond memories and goodwill
Perfect for: Drinking dark on the cheap
The verdict: Yuengling has been making this beer forever, so you really sort of have to cut them some slack. It seems clearly marketed toward the value end of the spectrum, and its drinkers probably like it just the way it is. "How it is" is very, very dry—the driest beer on the table—and more lager-like than reminiscent of classic porter. There's a restrained toastiness, a bit of cocoa and a moderately strong metallic character. Very thin of body, high emphasis toward quaffability. It's probably the porter your uncle Wayne loves to pound all night long.

33. Lonerider Deadeye Jack
City: Raleigh, NC
ABV: 6%
Key ingredient: Herbal hops
Perfect for: Boiling brats
The verdict: "Worty, peat smoke, molasses, and herbal hops" were among the tasting notes jotted down by those tasters who enjoyed Lonerider's offering, but others found it to contain a yeasty funk. A bit divisive overall, and lacking in roasted character.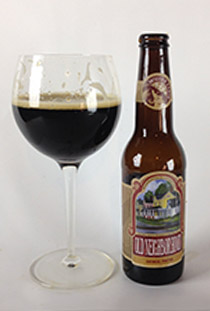 32. Mother Earth Old Neighborhood Porter
City: Kinston, NC
ABV: 5.5%
Key ingredient: Plenty of oats
Perfect for: Discussing the old country with Grandpa
The verdict: A classical oatmeal porter from North Carolina, Old Neighborhood is definitely on the dry side, with moderate roast and an earthy, grape nuts flavor, backed up by a silky texture from the oats. Not a bad example of the style, simply a little bit muted compared to some of the other oatmeal beers on the table.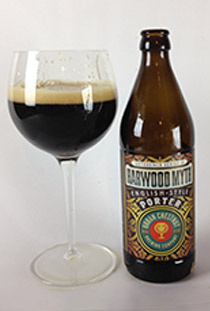 31. Urban Chestnut Harwood Myth
City: St. Louis, MO
ABV: 4.6%
Key ingredient: English ale yeast
Perfect for: Drinking in a very dark, very wooden pub lit by candlelight
The verdict: There's no mistaking this beer as a porter, and an English-style one at that, with prominent minerality that typifies the brown porter style. There's no shortage of cocoa notes, supplemented by herbal hops (thyme?), but also a copper-like metallic tinge that knocks it down a bit. A promising beer offset by a few unbalanced flavor notes.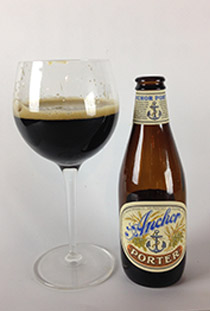 30. Anchor Porter
City: San Francisco, CA
ABV: 5.6%
Key ingredient: Northern Brewer hops
Perfect for: Reflecting on the history of American craft brewing
The verdict: Anchor refers to this beer as the "definitive American porter," and it's hard to disagree with that from a historical sense—it may have been the first modern, American version of the style when it was introduced in 1972. When compared to the rest of the lineup it's actually surprisingly unique, with a pronounced anise/licorice flavor and a subtle minty tone from the Northern Brewer hop variety, which you very rarely see used as a flavor hops in 2015. Not our favorite, but an American classic.

29. Kuhnhenn Brewing Co. Penetration Porter
City: Warren, MI
ABV: 6%
Key ingredient: Cascade hops
Perfect for: A fish boil
The verdict: Kuhnhenn's offering is a typical American robust porter, particularly in the inclusion of the iconic Cascade hop—there's nothing that says "American craft brewing" more than a little Cascade. They provide a slight citrus character, which pops up alongside a bit of cocoa and toasty cereal grains.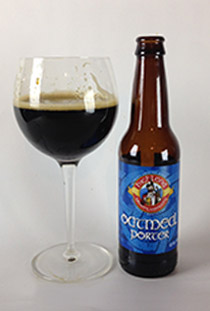 28. Highland Oatmeal Porter
City: Asheville, NC
ABV: 5.8%
Key ingredient: Flaked oats
Perfect for: Easing someone into the idea of oatmeal porter/stout
The verdict: Buttery and toffee-rich in flavor, but curiously lacking in roast, this ale is very approachable and would probably be a nice way to show new craft beer drinkers not to fear the dark side. Creamy body is contributed from the oats, which combines with that buttery character to almost suggest say, cream soda with a bit of cocoa powder. Pleasant, but doesn't "pop."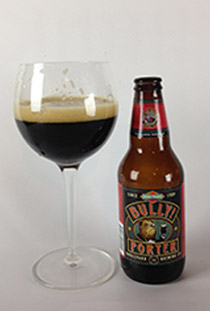 27. Boulevard Bully Porter
City: Kansas City, MO
ABV: 6%
Key ingredient: Malted wheat
Perfect for: (Overly sweet) Kansas City barbecue sauce
The verdict: Multiple tasters questioned this beer's actual "porter-ness," noting that it didn't have much in the way of roast but instead highlighted pleasant caramel and toffee flavors more akin to an American amber/red ale. Even the color is a shade lighter than most of the others, being close to a dark ruby than brown or black. Still, the interplay of caramel, toasted malt and citric hops is enjoyable, and very easy drinking.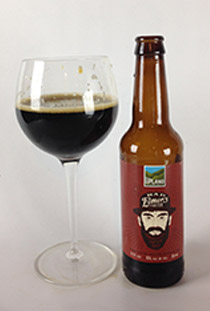 26. Upland Bad Elmer's Porter
City: Bloomington, IN
ABV: 5%
Key ingredient: Various roasted malts
Perfect for: Hoosier sugar cream pie
The verdict: Positively porter-y, Upland's Bad Elmer's Porter is the kind of beer it's almost difficult to describe because it so fits the style without jumping to the forefront. It's a little buttery, a little caramel, a bit of roast, a bit of woody hops, a bit of everything. It's an American porter, no doubt.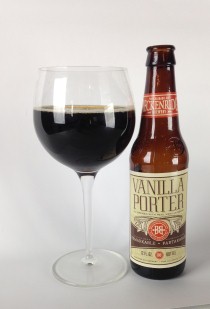 25. Breckenridge Vanilla Porter
City: Denver, CO
ABV: 4.7%
Key ingredient: New Guinea and Madagascar vanilla bean
Perfect for: Mixing into a "beeramisu."
The verdict: Thinner of body than many of the other porters, this Breckenridge offering waffles between dessert-like richness and drinkability. Light cocoa aroma gives way to moderate/strong vanilla flavor and graininess on the back end, with moderate sweetness. Not quite dessert beer, not quite session beer, but meeting somewhere in the middle.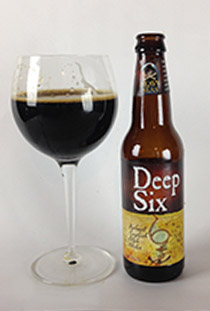 24. Heavy Seas Deep Six English Porter
City: Baltimore, MD
ABV: 6.8%
Key ingredient: Maris Otter Malt
Perfect for: An oyster bar
The verdict: English yeast provides unique, fruity notes—one taster noted figs and raisins in particular as prominent. Maris Otter and other British malts provide a great degree of malt complexity and nutty flavors, with even a hint of smoke. An interesting take on the classic brown porter.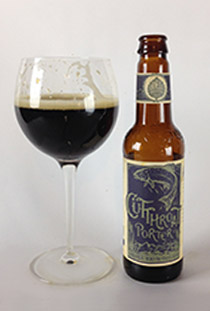 23. Odell Cutthroat Porter
City: Fort Collins, CO
ABV: 5.1%
Key ingredient: Floral hops
Perfect for: A green chile burger
The verdict: Another classic that's been around for ages, Odell's Cutthroat Porter almost seems to seek a balance between English brown and American robust porter with its prominently floral/herbal hop notes. Lightly chocolatey and easy drinking, it's another balanced, middle-of-the-road offering that doesn't venture too far in any one direction.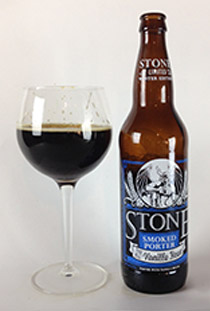 22. Stone Smoked Porter /w Vanilla Bean
City: San Diego, CA
ABV: 5.9%
Key ingredient: Vanilla bean, believe it or not
Perfect for: Cooking s'mores
The verdict: There's certainly plenty of vanilla here, but Stone's riff on their classic smoked porter stops just short of being cloying. The smoke, meanwhile, is tasteful but restrained—some tasters thought it was a little too subtle, and others found it to be just right in terms of intensity. Regardless, this is an ale of richness, much more assertive than some of the others, with a long vanilla finish. It delivers just about what the average drinker would expect from the name.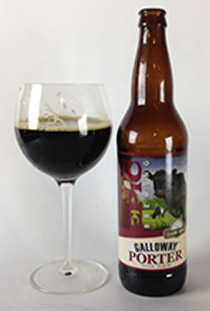 21. Epic Galloway Porter
City: Salt Lake City, UT
ABV: 5.4%
Key ingredient: Fruity esters
Perfect for: Chocolate-covered cherries
The verdict: This is an interesting, unusual porter, one that stands out specifically for its prominent berry notes—not a single other one in the tasting had a raspberry note quite like this one, which was noticed independently by multiple tasters. Aside from that one unique note, it's a pretty standard porter, with no other flavor component that really pops. A bit of cocoa, a bit of vanilla perhaps. But it was the pleasant berries that had us intrigued.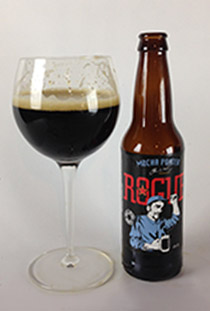 20. Rogue Mocha Porter
City: Newport, OR
ABV: 5.3%
Key ingredient: Pacman yeast
Perfect for: Porter lovers with a taste for Pacific Northwest hops
The verdict: Rogue's proprietary Pacman yeast has an unmistakable character that pops up here in the Mocha Porter, a beer they've also been making for a long time (notice a pattern there?). Being Rogue, there's also some piney hops working in the background, as well as some tannic black malt. Definitely a Pacific Northwest porter.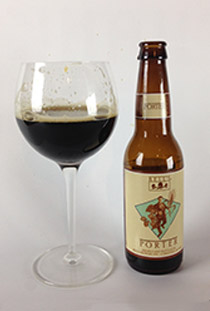 19. Bell's Porter
City: Kalamazoo, MI
ABV: 5.6%
Key ingredient: Chocolate malt
Perfect for: Getting snowed-in at a Kalamazoo bar … in April
The verdict: Bell's Porter boasts some excellent flavors of milk chocolate and especially a light coffee character, but remains one of the lighter-bodied, more approachable beers on the table, especially when compared to a few other stand-outs from the same region. A solid choice for those looking for a relaxed dark beer that isn't in your face.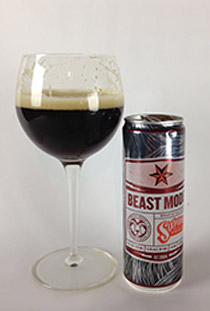 18. Sixpoint Beast Mode
City: Brooklyn, NY
ABV: 6.4%
Key ingredient: Tons of American hops
Perfect for: The porter drinker who would rather have an IPA
The verdict: Woah! Sixpoint's offering comes in completely out of left field to assert itself as one of the most unique on the table, purely through its carpet-bombing with hops. As soon as you crack the can you'll smell the waves of pine and citrus—it smells like an archetypal West Coast black IPA, and the taste isn't far off from that style either. Totally unexpected, but resiny and appreciable for hop heads. Although Sixpoint labeling this as a porter seems like wishful thinking.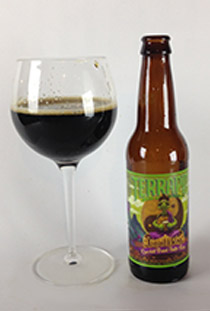 17. Terrapin Liquid Bliss
City: Athens, GA
ABV: 6%
Key ingredient: Peanut butter flavoring
Perfect for: Chocolate ice cream
The verdict: Confession time: I think most of us sort of expected this peanut butter porter to be either offensively sweet or artificial tasting, and it sort of is both of those things … but it's still not bad beer. Kudos to the flavor scientists who figured this out, because it tastes and smells EXACTLY like sugar-laden peanut butter, which means if you like PB, you may very well like this, or at least a few ounces of it before it becomes too much. We were all left pleasantly surprised. As one taster wrote, "Better than I expected, which is saying a lot."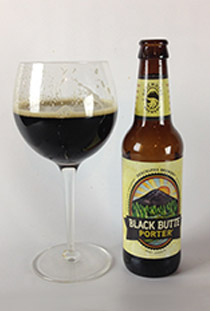 16. Deschutes Black Butte
City: Bend, OR
ABV: 5.2%
Key ingredient: Wheat malt
Perfect for: Pan-seared lake trout
The verdict: Deschutes is one of the few breweries in the country that actually has a robust porter as its flagship, so you know it's going to be a solid offering refined over time. Indeed, it's pretty much right down the middle as far as American porters go: light chocolate, buttery, toffee and a touch of roast are complemented by a creamy mouthfeel. A little on the lighter side, by design.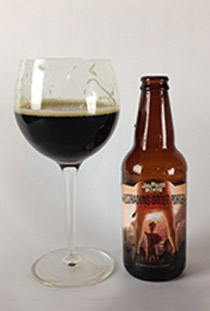 15. Jailhouse Restraining Order Porter
City: Hampton, GA
ABV: 6.5%
Key ingredient: Figs
Perfect for: Washing down creme brulee at dessert
The verdict: This flavorful, assertive porter has an interesting twist in the form of fresh figs, which give it a subtle undercurrent of dark fruitiness. There's caramel and toffee at work here, and flavors that made one taster jot down "fresh-baked toast, chocolate milk." An impressive twist on porter with only 8 total reviews on Beeradvocate to date.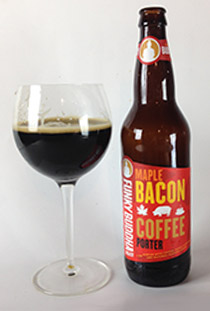 14. Funky Buddha Maple Bacon Coffee Porter
City: Oakland Park, FL
ABV: 6.3%
Key ingredient: Maple syrup
Perfect for: WAFFLES
The verdict: Fun fact: This is the #3 and #4 porter in the world from Beeradvocate and Ratebeer respectively, and although it didn't end up at the tip-top of the rankings, it's intriguing, fascinating stuff if you happen to be a fan of the flavor palette in play. Of the buzzwords from the title, maple is the dominant flavor, and it comes across in a very authentic way, like high-quality syrup from Vermont that comes in a little leaf-shaped bottle. Meaty smokiness is next, moderately strong, followed by coffee roast and a batter-like maltiness that makes one crave a stack of pancakes or waffles. You might not want to drink an entire glass of this, but there's some very skillfull brewing at work here.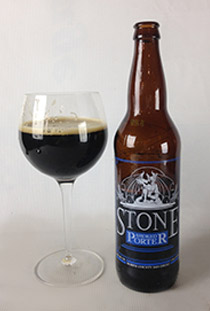 13. Stone Smoked Porter
City: Escondido, CA
ABV: 5.9%
Key ingredient: Peat-smoked malt
Perfect for: Baby back ribs, done low and slow
The verdict: A nicely charred-tasting porter with smoke flavor that doesn't hit you over the head, Stone's longtime offering is still among the better ones in its weight class. It also stands out for a significant charge of piney hops—who would have expected that from Stone, right? A great introduction to smoked beers for those who have never experienced the savory quality that smoked malt brings to an ale, and a big part of the reason that smoked malt is seen in dark beers so often.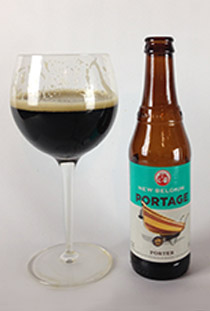 12. New Belgium Portage
City: Fort Collins, CO
ABV: 6%
Key ingredient: Munich malt
Perfect for: Watching the snow melt
The verdict: You don't exactly expect a brewery like New Belgium to fall back on a classic style like porter that they've never really made before, but their newest seasonal is just that—and it's actually quite good. This is a very clean, expressive ale, each flavor coming through crisp and clear—as one taster wrote, "muffins and chocolate cookies, great hop balance." An archetypal American porter that New Belgium managed to score in their first try.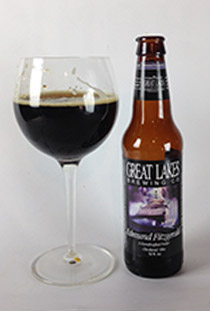 11. Great Lakes Edmund Fitzgerald
City: Cleveland, OH
ABV: 5.8%
Key ingredient: Roasted barley
Perfect for: An extremely high-cacao percentage bar of chocolate
The verdict: A much-lauded porter from Cleveland, the Ed Fitz is all about the dark side of the style. Roast is heavy and it overall leans toward the dryer side, but there's a saving grace of very dark, rich, chocolate on the back end, along with some fleeting, herbal hops and a bit of smoke. If you really enjoy dry, roasty porters and stouts, this is certainly one to seek out—in some respects, it's almost more stout-like than porter thanks to the inclusion of unmalted, roasted barley.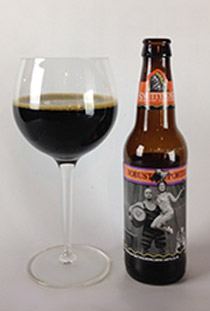 10. Smuttynose Robust Porter
City: Hampton, New Hampshire
ABV: 6.2%
Key ingredient: Belgian Special B malt
Perfect for: Using as a benchmark
The verdict: Smuttynose's most-awarded beer is their porter, and it's one of the best examples on the list of a well-executed, simple, straightforward example of the style. It's braced by tannic roastiness, but there's some sweetness there as well and a creaminess reminiscent of milk sugar/lactose. Bright, vivacious and flavorful.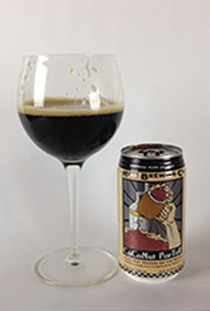 9. Maui Brewing Co. Coconut Porter
City: Kihei, HI
ABV: 6%
Key ingredient: Toasted coconut
Perfect for: The beach in winter
The verdict: You definitely won't miss the coconut in Maui Brewing Co.'s porter—it explodes out of the glass like some kind of unidentifiable, coconut-heavy dessert grandma used to make. On the sweeter side, there's a definite dessert tone to this brew, although the coconut stops short of getting ridiculous—it's more like coconut candy or a Girl Scout Samoa cookie. Your mileage will depend quite a bit on how much you like coconut, but if it's a favored flavor, then you should probably seek this one out immediately.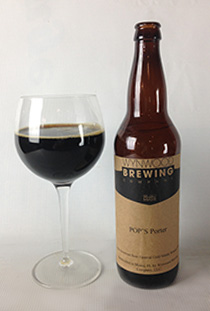 8. Wynwood Pop's Porter
City: Miami, FL
ABV: 6.2%
Key ingredient: Very efficient American ale yeast
Perfect for: People who like their porters bone dry and roasty
The verdict: We were especially curious to try this beer after its relatively unheralded Miami brewery earned a gold medal with it at the 2014 Great American Beer Fest (which I attended ). What we found was a a very dry, drinkable, roasty-heavy porter that embraces its darkness and ashy flavors of smoke and cocoa powder. A sophisticated ale that would probably be right at home with a Sherlock-style pipe.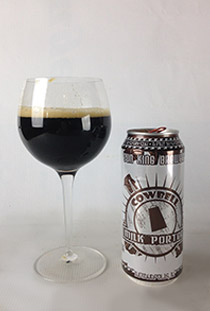 7. Sun King Cowbell Milk Porter
City: Indianapolis, IN
ABV: 6%
Key ingredient: Milk sugar/lactose
Perfect for: Big, chewy chocolate chip cookies
The verdict: Light of body, effervescent and drinkable, but still somehow creamy and flavorful, Indianapolis' Sun King has an interesting porter here. The lactose character is fairly mild, simply something to amplify the beer's creamy texture, chocolate flavors and add a bit of richness. Dangerously drinkable, it's easy to imagine tilting back pint after pint of this all night long—call it the Left Hand Milk Stout of porters.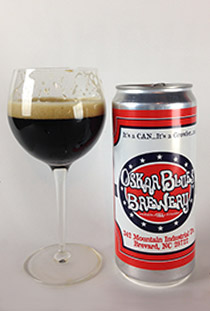 6. Oskar Blues Nib Sip
City: Longmont, CO
ABV: 8%
Key ingredient: Cacao nibs and coffee beans
Perfect for: Stretching the boundaries of "porter"
The verdict: This offering from Oskar Blues sits right on the dividing line of porter and "imperial porter," and is further treated with cacao nibs and coffee to create one of the more unique beers on the table. Tasting notes were all over the place: "Smoked chocolate." "Oatmeal cookies, dates, cinnamon." "Stretches the boundary of porter." Either way, it's a decadent, genre-bending treat.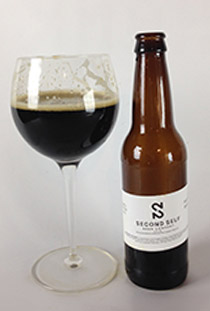 5. Second Self Mole Porter
City: Atlanta, GA
ABV: 6.5%
Key ingredient: Cinnamon, chiles
Perfect for: A big-ass plate of churros
The verdict: All of the tasters were impressed by the restraint displayed by this small Atlanta brewery in constructing a Mexican-themed porter with all its elements in harmonious balance. Toasted chiles are tastefully present in the background and give way to burnt toast roastiness and a sprinkling of cinnamon sugar. It's like a session-strength version of some of the great mole-spiced imperial stouts we drank in January, with everything appropriately reduced to still be engaging and unique.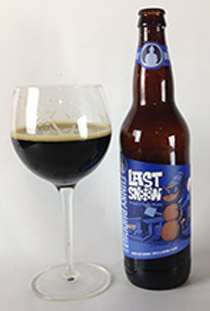 4. Funky Buddha Last Snow Coconut Coffee Porter
City: Oakland Park, FL
ABV: 6.5%
Key ingredient: Toasted coconut and coffee
Perfect for: Gambling on the final, unidentified chocolate from your heart-shaped Valentine's Day box.
The verdict: Remember the lauding I mentioned for this brewery's maple bacon porter? Well this one is also ranked #4 and #2 in the world, according to Beeradvocate and Ratebeer respectively, and in this case many of the tasters were in agreement. Somewhat more subtle in its coconut flavor than the beer from Maui, it's also tempered by strong, pure coffee flavors—think very strong, cold-brew coffee with plenty of sugar. It's notable that both the coconut and the maple bacon involve strong, enhancing flavors without losing sight of their inherent porter-ness.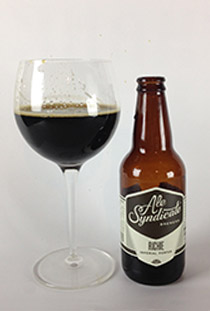 3. Ale Syndicate Richie
City: Chicago, IL
ABV: 8%
Key ingredient: More malt and a fruity ale yeast strain
Perfect for: A ribeye
The verdict: "Richie" is probably the biggest and most aggressive of the pure, unflavored porters on the list, and it brings some very welcome dark fruit tones to play that helped it stand out of the crowd. This is very rich, flavor-intensive beer, with roast and cocoa that complement dark fruity sweetness but also an unexpected note of orange that popped up seemingly out of nowhere. "Complex" is a word that appears on nearly all of the score sheets, and "memorable" would be another.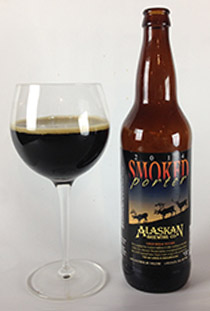 2. Alaskan Brewing Co. Smoked Porter
City: Juneau, AK
ABV: 6.5%
Key ingredient: Buckets and buckets of smoked malt
Perfect for: Ice fishing
The verdict: Alaskan's smoked porter is a beer that announces its presence the second you crack off the cap. Very meaty and assertive in its smoke flavor, it nevertheless manages to hang on to the porter behind it with a degree of roast, dark fruit and toasty spices. Praise on the score sheets was effusive: "Complex, deep roastiness." "The best smoked beer I've tasted." "I feel like I want to pair this with lox." And finally, "Why would anyone else make a smoked porter after this one?"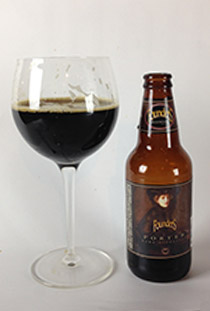 1. Founders Porter
City: Grand Rapids, MI
ABV: 6.5%
Key ingredient: A large percentage of chocolate malt
Perfect for: A big slice of birthday cake
The verdict: There were a lot of porters on this table in the same ABV range as Founders Porter, but you'd be hard-pressed to find any of them with such a depth, volume and complexity of flavor. As one taster wrote, "So much flavor for 6.5." It's a classic, style-defining take on American robust porter that bombards the taste buds with extremely rich dark chocolate, coffee and a touch of smoke, backed up by lightly floral hops. Drinking it side by side with some of the other ones on the table and comparing it, this beer's virtues become only more apparent. It's still one of the best commercial porters that anyone has ever made.

---
A note on beer acquisition: A consequence of the expansion of the craft beer industry that we don't think very much about is the slow degradation of classic brands, and in the course of doing this porter list, that was summed up by Sierra Nevada Porter. In trying to put together the most comprehensive lists possible, Paste reaches out to breweries all around the country in an attempt to acquire a bottle or two of various beers that aren't distributed around Atlanta. The ones with national distribution we typically don't bother to request—we can just buy them here ourselves, after all.
After the initial tasting, I realized that Sierra Nevada hadn't been represented, and I wondered how I'd missed it while buying porters for the tasting at our local beer shop. "No problem," I thought. "I'll just go pick some up and we'll add it in with the next round." But there was no Sierra Nevada Porter to be had. I visited no fewer than four of Atlanta's best beer shops—nothing. As it turns out, Sierra Nevada Porter simply doesn't make it here. Neither does the regular Sierra Nevada Stout. In a craft beer landscape that thrives on novelty and is all about what is fresh and new, these are the unintended consequences—one must presume that the old Sierra Nevada Porter just couldn't keep up with so many other beers in the fight for shelf space. Five years ago, it's a beer that you could have found in any of those stores. But now, for better or for worse, there's much more focus on novelty and of course on local product as well.
So if you're wondering why the likes of Sierra Nevada Porter isn't represented, that would be why. In the future, we'll look into availability of national brands a bit more closely in advance. It's just one more thing to think about in this ever-changing craft beer landscape we love so well.