Note: We opted to maintain Canadian spellings for an authentic flavour.
Growing up Canadian, I was always jealous of all my American friends who had their crazy Oreo flavours, wacky food mashups (can we talk about the Doritos Locos Tacos from Taco Bell?) or the endless amount of deliciousness found at Trader Joe's.
It wasn't until some of my friends started moving to the U.S. and requested homemade care packages specifically of Canadian snack foods that I began to realize that the foods we had grown up with and had a fondness for weren't always available outside Canada. Some of our neighbours across the border didn't even know what they were!
With that in mind, I've decided to compile a list of some of my favourite uniquely Canadian snack foods. These are iconic products that everyone (no matter where you're located) should know.
1. Jos Louis snack cakes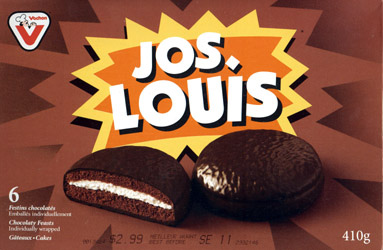 School lunches were so much better when a Jos Louis was packed! This snackable little cake (created by the Vachon Company) is comprised of two red velvet cake rounds filled with a creamy icing and covered with milk chocolate. Making packed lunches better for over 75-years, the Vachon company is one of Canada's most coveted snack cake and Canada's answer to America's snack cakes company, Hostess.
2. Hickory Sticks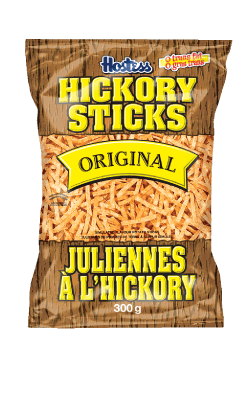 Are you a fan of french fries and a fan of chips? You might just be a candidate to try a bag of Hickory Sticky. Imagine a regular chip that has been julienned into thin, little strips and then infused with a hickory smoke flavour. Created by the Hostess Potato Chips (the best-selling chip brand in the 80s and 90s in Canada), these addictively smoky, salty snacks are perfect to shove into your mouth. See how many sticks can fit, if you dare!
3. Thrills Gum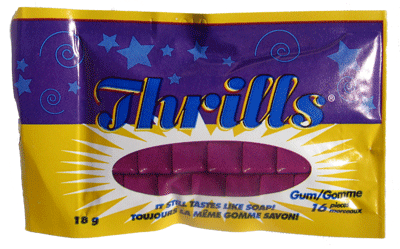 Did you ever hear about a gum that tasted like soap? Well, this is it! Gross, right? I remember people at school loved it or hated it, but it was still something we all talked about. Created by the O Pee Chee Company in London, Ontario, the gum was well-known for its bright purple colour and yellow packaging. The flavour was apparently supposed to taste of rosewater, but let's be real: it was just soap flavour. You know, whatever floats your boat.
4. Dare Maple Leaf cookies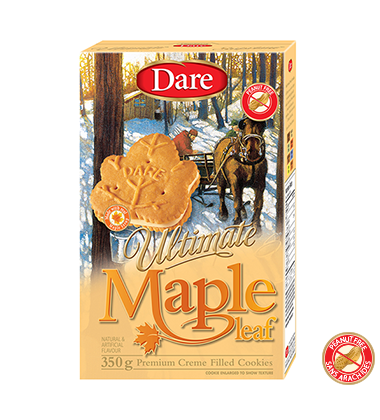 Like all good Canadian children, we grew up loving all things maple syrup and maple-flavoured items. This included Dare's Maple Leaf cookies, shaped in the form of a maple leaf and made from real maple. The cookies were healthy, wholesome and mom didn't mind passing them off to you, which meant you could eat bundles in a day! It has been reported that the Dare Maple Leaf cookies are now available in the United States, but the packaging is different.
5. Lay's Ketchup Chips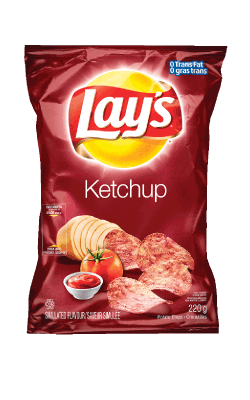 I was so excited when my mom would let me buy a bag of Hostess ketchup chips (the inventors of the ketchup chip) at the corner store back when I was a kid. A quintessential Canadian snack, I was befuddled when my American friends would tell me they didn't have ketchup chips. It's the perfect storm of potatoes (french fries) and ketchup! The best part: these chips stain your fingers very very red and leave you licking every bit off your fingers. I want to make a "how many licks" joke but…
6. Coffee Crisp chocolate bar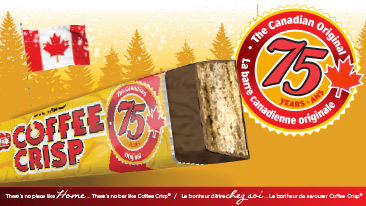 When everyone at Halloween would be really excited about their fancy chocolate bars, I was most excited about my Coffee Crisp. This chocolate bar, created by the Nestle Canada company, was first introduced in 1939 and probably had one of the largest cult followings. With its delicious combination of rich chocolaty taste, smooth coffee flavour and crispy wafer, it's no wonder there have been several different variations of the bar (French Vanilla and Triple Mocha, to name a few) over the years.
7. Ruffles All Dressed chips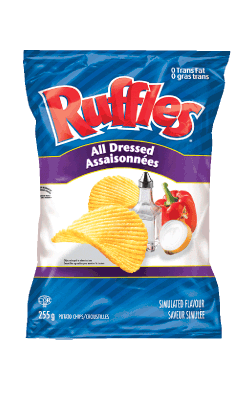 The All Dressed chip is exactly what it sounds like: all dressed. This chip's flavour profile is all things tomato, vinegar and sugar (with some hints of barbecue), which you would think would taste disgusting but oddly enough…it doesn't? It's like a perfect storm of chip heaven remixing every single flavouring in your mouth, and makes it so much easier than creating your own DIY chip buffet at home.
8. Crispy Crunch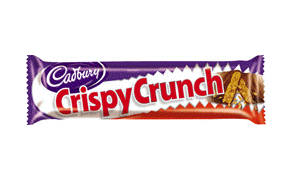 While you Americans have the Butterfinger bar, us Canadians have a little something (that we've been kickin' around since the 20s – it's OG) called Crispy Crunch. Similar in texture and flavour, the Crispy Crunch has a bit more saltiness in its original recipe. But in its current formation, less salt but lots of flaky peanut butter flavours honeycombed and coated in milk chocolate. I kinda want one right now!
9. Mackintosh's Toffee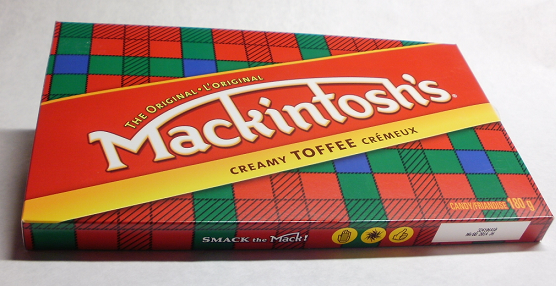 This toffee was created in England and brought over to Canada with its own version of Mackintosh's.
The difference was that the toffee was sold as a single rectangular bar of hard candy which was individually wrapped. It was more akin to a caramel rather than a toffee. The flavour was a blend of both American and British-style toffees (hard and softs), which Canadians came to know and love.
10. Kinder Surprise Eggs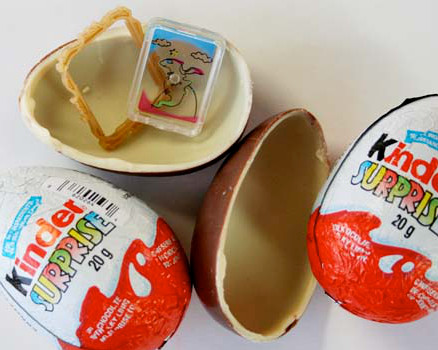 During Christmas and Easter, I was so excited when my parents use to give me a Kinder Surprise chocolate. It was one part surprise and one part delicious chocolate. Rewind to my adult years and reading about how the Kinder Surprise was banned from the United States. I couldn't believe my shock! Kinder Surprise, also known as a Kinder Egg, is a candy manufactured by Ferrero in the form of a chocolate egg containing a small plastic toy, often requiring assembly. The US Customs and Border Services banned the products, saying, "The embedded non-nutritive objects in these confectionery products may pose a public health risk as the consumer may unknowingly choke on the object." That's ok, America. More Kinder Eggs for me!
Amanda (Ama) Scriver is a full-time community builder and official 'head bee in charge' of the food, fat and feminism blog, Fat Girl Food Squad. When she isn't busy kickin' ass and takin' names, she is having serious feels for all things coffee, hip-hop, the art of drag, Kardashians, pizza and Doritos. You can find more bylines from her at Eater, BizBash and Toronto is Awesome.