10 Tasty Vegetarian- and Vegan-Friendly Restaurants in Nashville
Photos courtesy of The Post East and Graze
Food
Lists
Vegetarian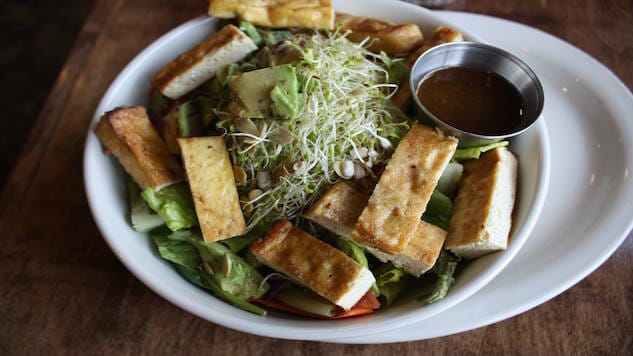 Nashville's dining reputation is no longer tied to only hot chicken and meat-and-three joints. Music City is now a top destination among foodies, makers and entrepreneurs, as well as an always steady stream of tourists and musicians. More and more people every day are calling Nashville home, and though there's plenty to complain about—many locals shudder at the sight of a "tall and skinny" going up or yet another bachelorette party passing through—there's lots to celebrate, too. Live music options are increasingly impressive, and scrumptious food spots continue to pop up all over town, including options for health-conscious eaters and restaurants owned by nationally heralded chefs.
Simply put, dining in Nashville in 2016 is a very different experience than what it used to be—especially for vegetarians and vegans. Here are ten of Nashville's tastiest vegetarian- and vegan-friendly eateries.
1. Wild Cow
The Wild Cow serves up delectable vegetarian and vegan fare in East Nashville. Popular menu items include garlicky kale and sweet-potato and black-bean tacos, which boast a tasty heaping of lime slaw, house-made jerk sauce and toasted pumpkin seeds. The Wild Cow also offers smoothies, kombucha, coffee, High Garden herbal teas, wine and beer. Be sure to pick up a "Hail Seitan" tee while you're there.
2. Avo
Round of avocado margaritas, anyone? After one sip, you'll be clamoring for another and trying to figure out how to make them at home. This smooth, easy-to-drink marg can convert even the pickiest of palates. Fend off your buzz by pairing them with selections from Avo's small-plate menu and a seasonal dessert offering or two.
3. Graze
Graze is a plant-based bistro and bar serving up sandwiches, entrees, salads, burritos, wraps and more. The citrus caesar is to die for, and the weekend brunch, encompassing treats like berries and cream bowls and tofu rancheros, packs a crowd. Keep your eye out for the vegan tiramisu special.
4. Woodlands
The vegetarian and vegan menu at Woodlands is extensive. Both North and South Indian offerings abound in the form of giant dosas, mouth-watering curries, scrumptious royal paneer and ten different bread offerings. Woodlands doesn't serve alcohol, but guests can bring their own wine.
5. Sunflower Cafe
The Sunflower Cafe is a beloved Berry Hill eatery known for its gourmet veggie burgers, vegan crab cakes and daily chef's specials. Sunflower Cafe uses fresh, local and organic ingredients wherever possible and has, arguably, the friendliest staff around.
6. The Post East
Every Sunday, The Post East hosts a bluegrass brunch with live music, waffles, breakfast jambalaya, coffee, fresh juices and a unique take on the classic toad-in-a-hole. The Post East also serves up tasty weekday treats for breakfast and lunch, making this a popular place for the have-laptop-will-travel crowd.
7. The Treehouse
Whether you choose the fairytale eggplant, sweet corn tartlet or the Carolina sweet potatoes with okra, green curry, pickled sweet peppers and spinach, you can't wrong. The offerings at The Treehouse are that good. And, yes, an actual treehouse towers above the patio. It's great for drinking or dining.
8. Epice
Carnivores and herbivores alike flock to this 12 South location to sample Lebanese delights such as Al-Raheb (roasted eggplant purée), falafel, Mujadara (lentils and rice pilaf with caramelized onions) and vegetable brochette, as well as an enticing selection of desserts and an impressive wine list.
9. Mas Tacos Por Favor
Get thee to Mas Tacos Por Favor for tacos, tamales, cocktails and more. This place is seriously amazing with offerings for both meat and plant eaters. Whether you opt for the fried avocado taco, elote or the black beans and plantains, there are no wrong selections.
10. Calypso Cafe
Calypso Cafe has been helping Nashville to choose better and eat smarter for more than 25. Calypso's vegetarian offerings include the legendary black bean salad, martinique callaloo, bean and corn salad and veggie burgers, as well as a vegetarian family-pack special.
Note: This list is not all-inclusive. Additional vegetarian- and vegan-friendly options worth noting include pop-up events from My Poor Tired Liver, baked goods from Vegan Vee, vegan options from Five Daughters Bakery, Lynne Lorraine's, Grins, Fido, Coco Greens, Atmalogy and Jamaicaway (among others.)
Emily Davidson Nemoy is a freelance writer based in Nashville, Tenn. When she's not at her computer or on her yoga mat, she can be found at live music venues happily spending her excess cash on concert tickets.