DanTDM Keeps It Clean on YouTube—And on the Stage
Photo courtesy of Live Nation
Games
Features
DanTDM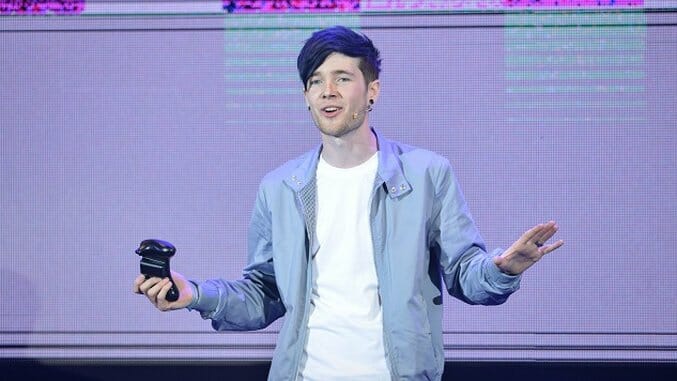 If you're not familiar with Daniel Middleton, AKA DanTDM, you're probably not a fan of the cultural phenomenon that is Minecraft. And you probably don't have young kids. Middleton has become an absolute icon for Minecraft-playing kids, as his age-appropriate YouTube channel, featuring videos of himself playing the game and exploring user-created worlds has reached almost fifteen million subscribers (by comparison, Miley Cyrus has less than ten million) and around ten billion views. And 2017 has been Middleton's most ambitious year yet, as he's published his first kids book (Dan TDM: Trayaurus and the Enchanted Crystal), released his first television series (Dan TDM Creates a Big Scene), and embarked on his first US tour, tickets for which are available at the link below. The famously ebullient Middleton spoke with us recently about the tour, his career and the secret to his success.
Before this year, Middleton had only been to New York and Orlando in the US, so the tour has afforded him an opportunity to see a lot more of the country. "I've been free to explore quite a lot, actually," he says. "We focus the shows on the weekends, so depending on where we are we've had up to a good four days to explore. In LA we had some good exploration. We've been to New York twice, and I quite like it a lot. Washington. Lots of places we've been able to explore before the shows."
Unfortunately, his famous pugs weren't able to make the trip. "We have three pugs, he explains, "and two of them weren't very well before we left. They've had a few operations since I left. But we're trying to get them out here for the next leg. By the time I get back on Monday, they should be pretty much back to normal."
Middleton actually does do videos on his channel covering subjects other than Minecraft, but Minecraft what put him on the map. The user-generated nature of the game was a big part of that, as it constantly gave him entire worlds to explore. "You get new stuff that people are making every single day. There's new stuff coming out even now. But in terms of making videos, for me, it was being able to almost use it as a kind of animation software, really. Because you can create anything in Minecraft, and then when you combine that with video making, you can make whatever videos you like. Which is really cool. So using Minecraft as a storytelling tool was the first thing that really launched my channel."
The gaming space is one that worries many parents, and often rightly so. But the world of Dan TDM has become a world parents can feel good about their kids exploring. "I guess the whole storytelling element that got popular does cater well to a younger audience," Middleton muses. "I do these meet and greets before the live show, and most of the comments I get from parents are things like, 'Thanks for being such a safe environment for my kid to enjoy content online.' Which is obviously really important, not just for the kids but maybe even more so for the parents. So I do make a real effort that all of my videos are things that, if I had kids, I wouldn't mind them watching."
A very noticeable part of that environment is that, unlike many of his YouTuber colleagues, Middelton doesn't curse in his videos. "I started this channel five years ago," he remembers, "and Minecraft started out with quite an older audience. And then really quickly it got a much younger audience. And as I realized that more kids were watching my videos I did take that out. And just in general, I feel really proud showing people content that is clean. If I wanted to show family or friends content that had loads of cursing in it, I wouldn't be as proud of that."
Despite the competition, Middleton is one of the true giants in the nascent field, and some of that is due to his being the first to approach his videos from a slightly different angle. "As far as Minecraft," he explains, "it was definitely the storytelling element. When I started making Minecraft videos, there was already a ton of them out there. But when I started introducing the storytelling element, which no one had done before, that's when my Minecraft traffic started picking up. In the past two years or so, I've shifted my focus to include a lot more stuff. That's where, hopefully, my personality is keeping people there. I think as long as I'm having fun, and I'm doing what I enjoy during the videos, it keeps people there. And I get to do that every day."
He's also really enjoying those previously mentioned expansions into publishing and television. Don't expect those streams to quit anytime soon. "I'd love to write a new book," he says. "With this year being so busy, it just wasn't feasible, because everything I do, I want to put 100% into. But next year, I'd love to write a new book, definitely. And the reception for this one has been incredible. Everyone I meet here has it." And his YouTube Red show is actually linked to this current tour. "We combined a 'behind the scenes' element from the tour," he explains, "with some extra story on top of that, and that's how that was born. So it still kind of spins out of the tour, but you can learn more about those characters in the extra storylines in the YouTube Red show, which is really cool."
For many young fans, though, the ultimate experience will be getting the Dan TDM experience live and in person in a city near them. And it's a live show that is as much an expression of his naturally exuberant personality as are his YouTube videos. "I'm very lucky," he says, "to be surrounded by people that, instead of dictating what they wanted me to do, they listened to me and we built an incredible tour that we're all really proud of. Even though it is a big corporation, there's still that core group of four or five people that 100% love the show and want to see it succeed. Which is a massive part of why it's become so successful, I think."
---
Michael Dunaway (https://twitter.com/michaeldunaway) is a filmmaker and Paste's Editor-at-Large. To see Dan TDM in person on his US tour, go here.