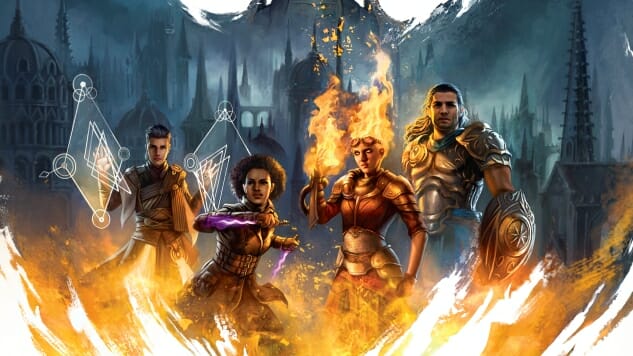 Magic: The Gathering's story has been a major part of the game for decades now. From comic books to short novels to web stories, the planeswalkers of the universe of Magic are constantly getting into hijinks that provide the framework of the spell-slinging card game. However, the last major Magic novel was released in 2010, and after an eight year break the game is back with a big, serious Magic novel.
In fact, there will be two novels. Both are written by Greg Weisman, whose credits stretch from Gargoyles to Star Wars Rebels, with the first being released in April of 2019 and the second following in the Fall. While fans of the Magic story have been able to keep up with the big moves in short installments that happen on the website, I'm glad that we're getting a couple of big ole fantasy novels to sit on the couch and read while a rainstorm blows at night. That's an optimal reading situation, and it's hard to really get there when you're forced to read on a screen.
As for the novel's content, Wizards of the Coast are being a little bit cagey. It's related to a card set coming out in 2019, and the story summary is simply this:
Planeswalkers from many disparate realities will team up with the Gatewatch against Nicol Bolas and his unstoppable army who has claimed dominion over Ravnica. The book will feature well known characters, like Chandra, Gideon and Jace, alongside all new characters.
In the current story, the Gatewatch (a kind of supergroup of magic-wielding planeswalkers) is pitted against Nicol Bolas, a giant dragon wizard who wants to control the universe. Starting soon, that story is going to the great world of Ravnica, which is dominated by guilds and their machinations against each other. It's a classic good versus evil story on a cosmic scale.
The story summary gives a bit of a spoiler, though, because it implies that the upcoming Ravnica sets are going to be all about Nicol Bolas taking over Ravnica. I'm looking forward to what that looks like, and presumably the story of the Gatewatch overcoming Bolas in the novel.
Pre-orders will be available for the novel starting Labor Day, and here's a sneak peek at the cover.