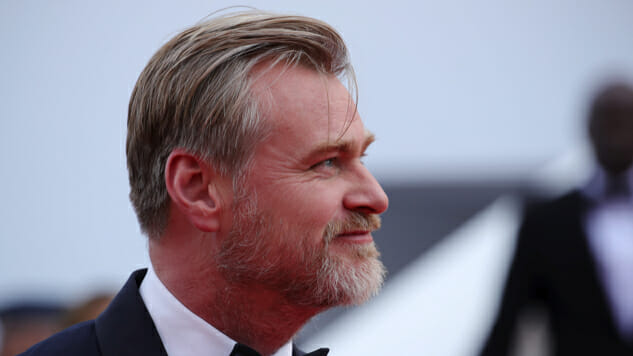 "Everything We Know about … " is Paste's series of deep dives into the forthcoming projects we're most excited about. Explore them all here.
A shroud of mystery surrounding a forthcoming Christoper Nolan film is nothing new, but to paraphrase a line from Alex Garland's Annihilation, the silence around his latest is even louder than usual. News of the project's existence broke in late January, but we've had precious little concrete information, both then and since. Here's everything we know so far about the much-anticipated 11th feature film from the five-time Oscar nominee—now in text and video forms.
---
The Basics
Warner Bros. first announced Nolan's new project on Friday, Jan. 25, revealing that the film would open in theaters and Imax on July 17, 2020. As THR pointed out at the time, a Nolan joint being released in July has plenty of precedent: Four of the filmmaker's last five movies have opened in mid-July, including 2008's The Dark Knight, 2010's Inception, 2012's The Dark Knight Rises and 2017's Dunkirk. Only his Interstellar deviated from that July release spot during that span, premiering in November of 2014.
Apart from describing it as an "event film," Warner Bros. revealed nothing about Nolan's new project's plot, cast or anything of that sort in their initial announcement. Anticipation skyrocketed regardless—after grossing $1 billion-plus with each of the final two films in his Dark Knight trilogy, and garnering his first best director Oscar nod with Dunkirk (which won three out of the eight Academy Awards for which it was nominated), Nolan is arguably riding higher than ever.
Another Piece of the Puzzle
For a while, that initial date reveal was all we had to go on—that is, until production designer Nathan Crowley spoke to Deadline about his work on Damien Chazelle's Oscar-nominated lunar landing drama First Man.
Though Crowley declined to confirm his involvement in Nolan's new project outright, he also admitted to Deadline that he "can't not work with Chris," suggesting that the frequent Nolan collaborator will indeed be back in the saddle for Untitled Christopher Nolan Project.
Crowley has served as production designer on seven of Nolan's films to date, including 2002's Insomnia, 2005's Batman Begins, 2006's The Prestige, The Dark Knight, The Dark Knight Rises, Interstellar and Dunkirk. A five-time Oscar nominee, he's been recognized for his work on four Nolan films—The Prestige, The Dark Knight, Interstellar and Dunkirk—as well as for his work on Chazelle's First Man.
Nolan films have benefitted immensely from his teams' consistent ability to create immersive, compelling worlds, from the sleek austerity of his Dark Knight films to the minimalistic futurism of Interstellar and Dunkirk's historic grit. Having Crowley back in charge of this new project's production design is a good sign that will continue.
Details at Last
New details of Nolan's project finally came to light on Tuesday, March 5, with reports of the filmmaker addressing London's U.K. Cinema Association conference in a remote keynote speech (per ScreenDaily). Nolan revealed in his speech that he is "about to start shooting" his new project, though he stopped short of revealing any further details, such as its title, or where the film will be shot.
Beyond that revelation, Nolan's comments mostly concerned the ongoing tug-of-war between the theatrical and streaming worlds, with the filmmaker saying his production "will certainly be asking [exhibitors] to really help us, and asking [them] to be our partners in terms of putting on a show for the audience and giving them a reason to come out for the evening, and engage with the world of cinema which we all love so much." Nolan also acknowledged, "The pressure is on us as never before to give people a reason to get out of the house."
Elsewhere, a more substantive reveal came courtesy of Production Weekly, who reported via Twitter that Nolan will reunite with his Oscar-nominated Dunkirk collaborator Hoyte van Hoytema, who has served as cinematographer on both that film and Nolan's Interstellar, as well as other acclaimed films including Spectre, Her and Tinker Tailor Soldier Spy.
Production Weekly's tweet also provides our first details of any kind concerning Untitled Christopher Nolan Project's plot: They report that the film is being described as "a romantic thriller, North by Northwest in tone meets Inception," adding that the film is scheduled to begin production this June.
DoP Hoyte van Hoytema is planning to re-team with Christopher Nolan on his upcoming production scheduled to begin filming this June. The Warner Bros. feature is described as a romantic thriller, NORTH BY NORTHWEST in tone meets INCEPTION…more at https://t.co/hPqNyEDRAupic.twitter.com/vJWAbSROGw

— Production Weekly (@prodweek) March 5, 2019
Romance isn't exactly Nolan's strong suit, but this tease has only further piqued the film world's collective curiosity. After all, a war movie seemed like an odd next choice for Nolan, only for Dunkirk to become one of Paste's top films of 2017. There's much more to be learned before we can identify where the filmmaker is taking audiences next, other than to the movies.
The Latest
The biggest Untitled Christopher Nolan Project scoop to date came on March 19 with the revelation that John David Washington will star in the still-mysterious film. The initial Variety report on Washington's casting notes that Nolan recently finished the film's script, and that one insider calls it "a massive, innovative, action blockbuster." Production is expected to begin later this year.
Just one day after Washington's casting, it was revealed that Elizabeth Debicki and Robert Pattinson will join him in the cast of Nolan's new film. There is still no information available about any of their characters.
Pattinson shed a tiny bit more light on the production in an April interview with USA Today, saying he's been "sworn to secrecy" as far as plot details are concerned. "I got locked in a room to read the script—I don't have it myself," he told the outlet. "I've been a little wary of doing big movies for years and years, but there's just something about Chris Nolan's stuff. He seems like the only director now who can do what is essentially a very personal, independent movie that has huge scale. I read the script and it's unreal."
Warner Bros. announced on May 22 that Nolan's new film, titled Tenet, has begun production and set its full cast. Washington, Debicki and Pattinson will joined by Aaron Taylor-Johnson, Michael Caine, Kenneth Branagh, Clémence Poésy and Dimple Kapadia in the film, which is being shot on location across seven countries using both IMAX and 70mm film. Key creatives working on Tenet include director of photography van Hoytema, production designer Crowley, editor Jennifer Lame, costume designer Jeffrey Kurland, visual effects supervisor Andrew Jackson and, in a pleasant surprise, composer Ludwig Göransson.
According to Estonia's ERR (via IndieWire), Tenet's production budget is a staggering €200 million, or approximately $225 million USD, making the film one of Nolan's most expensive, trailing only the reported $250 million budget of his Batman franchise capper The Dark Knight Rises.
The first teaser for Tenet surprise-debuted in appropriately Nolan-esque fashion in early August, screening exclusively in theaters ahead of summer 2019 Warner Bros. blockbuster Hobbs & Shaw. A THR report describes the teaser itself as follows:
The roughly minute-long first look at Tenet opens on a bullet hole that's punched through some glass. Behind the glass stands John David Washington's character. The teaser slam cuts to the words, "Time has come for a new protagonist." Washington's character walks up to examine the glass. The camera tracks him as he moves to the side, revealing more cracks in the glass. […] The teaser then slam cuts to the words, "Time has come for a new kind of mission." Then, it reenters on people dressed as SWAT team members, or perhaps members [of some] kind of special operative unit. Quick cuts of Washington in action flash before the teaser holds on a shot of Washington, with an oxygen mask over his mouth as he slowly breathes. Beneath the trailer is a pulsing, almost wobbling score, with the bass particularly powerful.
We'll have more for you when the teaser makes its way to the actual internet.
As of Aug. 27, the Tenet teaser is still a no-show, but the film itself has added another star: Yesterday breakout Himesh Patel, who Variety reports has "nabbed one of the last roles in the film."
So much for that teaser: Warner Bros. debuted the first full-length trailer for the film on Dec. 19, offering us a good look at Tenet that nonetheless provides more questions than answers. Take a look below.
---
Keep an eye on this space—we'll have further updates for you as time keeps ticking.