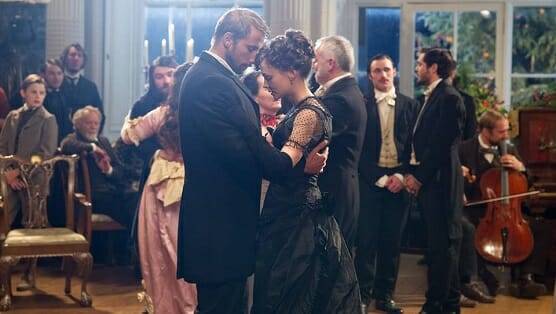 Try not to judge Thomas Vinterberg's adaptation of Thomas Hardy's Far From the Madding Crowd as a product of Dogme. For one thing, that Dutch-born filmmaking movement (which Vinterberg co-founded with career bad-boy Lars von Trier in 1995) disbanded 10 years ago. For another, Vinterberg and von Trier built Dogme around strict rules, and we all know that rules are meant to be pooh-poohed at one's personal discretion. A Victorian-age romance yarn about female independence that honors the law of Chekhov's gun seems a poor fit for a philosophy created in the pursuit of cinematic purity.
But Far From the Madding Crowd isn't a Dogme film. It's a latter day Thomas Vinterberg film, and a damn good one at that. Vinterberg is best-loved for his excellent 2012 film The Hunt, a story of communal insularity and the fracturing effect a lie can have on the body politic. With Far From the Madding Crowd, he again studies the effects of rumors and murmurs on a person's reputation, but that element is less prominent in Hardy's novel than his profound examination of feminine will. Like the text, and like John Schlesinger's 1967 take on the material, Vinterberg's film tells the tale of Bathsheba Everdene, a young woman possessed of fierce self-determination to complement with her good bearing. Bathsheba's wish is to work hard and prosper free from the yoke of matrimony. She wants to run the estate she inherited from her late uncle. She doesn't want to be reduced to the status of "wife."
Too bad for Bathsheba, because in relatively short order the narrative tosses a handful of potential suitors in her direction: soulful, down-to-earth Gabriel Oak, wealthy and lonesome farmer William Boldwood, and cocky, erratic Sergeant Francis Troy. Most of the film's running time is spent on the deflections Bathsheba offers in response to each man's propositions. She's keenly aware that accepting marriage means forfeiting her treasured autonomy. Dynamic in her sovereignty, Bathsheba—tough as nails but achingly vulnerable, untested in her talents but eager to find out what those talents are—is easily one of the best female role models of the post-Hunger Games pop culture landscape (which feels appropriate given her influence on the architecture of that YA titan). There are strong female characters, and then there are strong female characters. Above them all, there's Bathsheba Everdene.
It's to Far From the Madding Crowd's benefit that Vinterberg has a smart casting department. More than four decades ago, Schlesinger called on Julie Christie, Alan Bates, Peter Finch and Terence Stamp to play his principal characters. Today the men have been replaced, respectively, by Matthias Schoenaerts, Michael Sheen and Tom Sturridge, and Carey Mulligan occupies the position of leading lady. Her male counterparts are splendid in their roles (particularly Schoenaerts, who uses his physical presence with his hangdog eyes to tremendous effect as the lovelorn Mr. Oak), but Mulligan operates in another league from all of them. Beneath curly locks and delightful hats, Mulligan makes Bathsheba into a real force. She's sharp, incisive, empathetic, and full of brio. When Mulligan joins her workers in bathing her sheep without a care for her adorned finery, or assists Gabriel in protecting haystacks from a violent rainstorm, she does so with authority. At the same time, her outward confidence veils her inward anxieties, which Mulligan reflects as two sides of the same coin through her performance. Like Bathsheba, the actress's goal is to astonish, and astonish she does.
There's another important figure in the chronicles of Ms. Everdene, and that's the English countryside. Vinterberg's longtime cinematographer, Charlotte Bruus Christensen, applies similar flourishes to Far From the Madding Crowd as she brought to The Hunt: The film's setting is decidedly more pastoral than suburban, so nature takes greater priority in her compositions. At times, the backdrops are simply gorgeous. At others, they're foreboding and ominous. The world is a big place, and in the film's vast remoteness Bathsheba is given the tools she needs to shape her existence as she sees fit instead of conforming to convention. This is a film about patriarchy's constricting grasp—"It is difficult for a woman to define her feelings in language which is chiefly made by men to express theirs," Bathsheba intones at one point—and in that sense one could argue that Far From the Madding Crowd '15 might have benefited from a woman's perspective behind the camera. But Vinterberg understands that Hardy's tome is also about the luxury of choice. Why accept a piano when you can have the sweat on your brow and a life to call your own?
Director: Thomas Vinterberg
Writer: David Nicholls (screenplay), Thomas Hardy (novel)
Starring: Carey Mulligan, Matthias Schoenaerts, Michael Sheen, Tom Sturridge, Juno Temple
Release Date: May 1 (NY/LA), May 8 (Boston)
---
Boston-based critic Andy Crump has been writing online about film since 2009, and has been scribbling for Paste Magazine since 2013. He also contributes to Screen Rant, Movie Mezzanine and Badass Digest. You can follow him on Twitter. He is composed of roughly 65 percent Vermont craft brews.