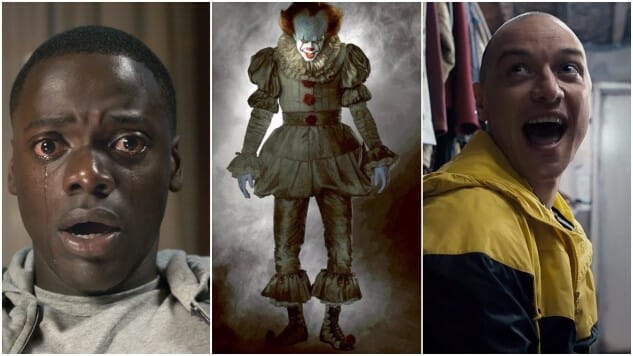 This has truly been a landmark year for the horror genre, at least in terms of box office fireworks. From the very beginning of 2017, horror films have been performing exceptionally well in theaters, and with the exclamation point that is the adaptation of Stephen King's It, they've crossed over into some truly uncharted territory. With two months left to go in 2017, horror releases have now grossed $1.1 billion, easily the most in history.
"It's really been an incredible year for horror at the box office. We've seen horror films do well, but usually it's at a smaller scale with these low-budget films that easily turn a profit," said comScore's Paul Dergarabedian. "But 2017 has seen a lot of well-received and well-marketed films in the marketplace, and it's been a big help for movie theaters in a year that's had a lot of ups and downs."
The largest of those films has obviously been It, which has shattered records as the highest grossing horror film in U.S. history (excepting if you adjust for inflation, in which case The Exorcist still leads for now), not to mention one of the highest grossing R-rated movies of all time. It has truly been a phenomenon, the likes of which the genre hasn't seen for quite a while.
But even the success of It is only a chunk of why the horror genre surpassed $1 billion in 2017. That killer clown flick made more than $300 million, but this was already shaping up to be a big year for horror before It arrived. The year kicked off with M. Night Shyamalan's thrilling return to form Split, and then segued quickly into Jordan Peele's searing directorial debut Get Out, which has remained one of our top films of 2017. Both performed well, bringing in a combined $313 million. Annabelle: Creation was also a big earner, at $102 million. One of the constants was the presence of Blumhouse Productions, which has built a very profitable business as the preeminent horror film distributor around.
Compare those numbers with 2016, when The Conjuring 2 was the top-grossing horror film of the year with "only" $102 million, and you'll see why 2017's growth is such an outlier. Four films surpassed that total this year, not to mention solid performances from others such as Happy Death Day and even 47 Meters Down, a shark movie that was meant to be direct-to-video before getting a theatrical release.
The horror genre, in fact, has been one of the only bright spots in an overall year of sales decline in the film industry, marked by record lows during summer blockbuster season. Family films in particular are down from where they were last year, replaced by the unexpected shadow of horror. Only five family films are currently in the top 20 highest grossing movies of 2017, as opposed to nine last year.
Temporary blip, or true horror renaissance? We certainly wouldn't mind the latter being the case.