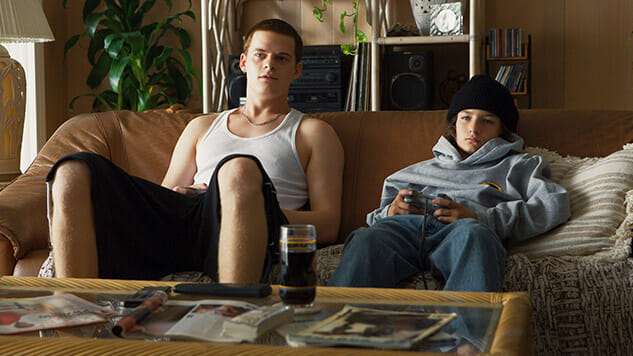 Amidst the detritus of its titular era—all the Super Nintendo controllers clicking apathetically through Tony Hawk combos, the Ren & Stimpy tee-shirts, the JNCO jeans, the CDs and discmen and A Tribe Called Quest (which played in the theater before the movie started) and The Source magazine and Blockbuster runs for My Cousin Vinny—mid90s can't quite figure out why it's doing what it's doing. What it's doing is taking place in the mid-1990s, and writer-director Jonah Hill admirably recreates what was obviously a formative moment in his life. He captures being that age (13) then, basing his first film on his adolescence with an immaculate attention to detail and an impeccable recall for the visceral inscrutability of being so full of ignorance and optimism and unexpected, sleeping balls of screaming, pathetic rage. Why then though; why not now? Especially when whatever lean story Hill's squeezing out of his scenario sags under any scrutiny looking to get past all that nostalgia.
We stick close to Stevie (Sunny Suljic), a slight teen living in L.A. with his horrible, apoplectic older brother (Lucas Hedges) and his lonely mother (Katherine Waterston) witnessing the only two constant people in her life push her from theirs. At least, that's how it seems through Stevie's eyes, Hill a natural observer, intuitive with the camera as he follows the budding skateboarder into a friendship with the local kids who hang out at a skate shop seemingly unsupervised by adults, instead run and staffed by 18-year-old Ray (Na-kel Smith), on his way to a pro career and by far the coolest kid Stevie's ever met. Ray's cohort entails best friend Fuckshit (Olan Prenatt), a heavy-lidded near-dropout with a mop and heart of gold, plus videographer Fourth Grade (Ryder McLaughlin) and token kid without a nickname (Gio Galicia), who, as fellow young one, inevitably develops a shallow rivalry with Stevie (nicknamed Sunburn for reacting to the question of "Do black people sunburn?" with, inexplicably, "What are black people?"). A few montages accompanied by vaguely related retro radio songs pass, and soon Stevie's getting drunk, smoking weed, having his first sexual experience and, most importantly of all, getting incrementally better at skating.
The language the kids speak is blunt and dumb, but suffused with a lot of genuine love for each other, for spending the best days of their lives doing mostly nothing together. Every scrap and hiccup of dialogue Hill crafts with a lot of obvious, beautiful care, the bond he fosters between them all the more believable this being everyone's first acting role but Suljic's. Dick and shit jokes abound, the occasionally dropped "fag" pretty starkly a relic of the so-called mid-'90s—sometimes relished like it's a privilege of setting the movie then—but the back-and-forth between the main five never registers as anything less than honest and earned, all no doubt due to Hill's talent shepherding a small production like this. Clear chops abound.
Where mid90s loses its charm is in some of Hill's unforgivable, sentimental plot maneuverings. The worst offender is his nonsensical conclusion, which forces every shred of conflict in this already mostly even-keeled film to a solid resolution, overlooking how Fuckshit would definitely be in jail. Seriously, how does he not go to jail? Even the film's shortchanging of Hedges, America's #1 Sad Boy of the moment, makes sense were we to insist that Stevie doesn't actually know much of anything about his brother, and Hill wants to keep us squarely in Stevie's head. Hedges' flailing young adult his little brother only understands in weird outbursts and thudding violence.
Still, where Hill's characters fill every frame with warmth and empathy, the world they inhabit is as contrived as a memory one trusts too much. This is more Hill's world than it's ours, even if he does a magnificent job trying to offer us a way in. He just doesn't give us much of a reason to remember it as fondly as he does.
Director: Jonah Hill
Writer: Jonah Hill
Starring: Sunny Suljik, Katherine Waterston, Lucas Hedges, Na-kel Smith, Olan Prenatt, Gio Galicia, Ryder McLaughlin
Release Date: October 19, 2018 (select cities); October 26, 2018 (wide)
---
Dom Sinacola is Associate Movies Editor at Paste and a Portland-based writer. You can follow him on Twitter.