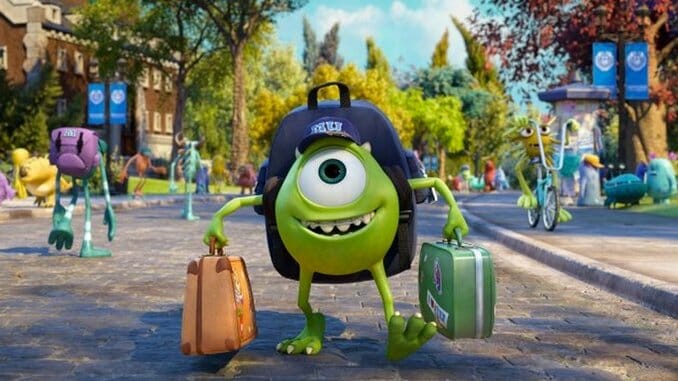 The Internet Movie Database offers a fun bit of trivia about Monsters University, asserting that Pixar's latest CGI comedy is the second-ever "college"-themed film to receive a "G" rating," after Disney's 2008 Martin Lawrence vehicle, College Road Trip. Given that excessive depictions of booze, sex and drugs usually define college films, it's a surprise that the Pixar's prequel to Monsters Inc. would share a genre with the likes of Animal House and Rules of Attraction.
Monsters University proves to be a defiantly peculiar project, but fortunately an entertaining one. Director Don Scanlon presents the follow-up to Pixar's fourth feature film Monsters Inc., which depicted two misshapen beasts who harvest the screams of young children as an energy source—but also happened to be likable working stiffs and big-hearted buddies. The new film flashes back to the college days of one-eyed Mike Wazowski (Billy Crystal) and hulking James "Sully" Sullivan (John Goodman). The concept initially seems like a one-joke premise better suited for a Pixar DVD era, and while Monsters University lacks the imaginative scope of Pixar's best, it nevertheless finds an affecting emotional center.
While most prequels suffer from a kind of predestination, since the audience already knows the characters' futures, Monsters University does an excellent job of playing off the established rules and relationships. The opening scene reintroduces us to the Monsters Inc. company through the eyes (make that "eye") of Mike as a tiny grade schooler on a class trip. The "scarers" who venture into the potentially toxic human world command a status like astronauts or professional athletes, and Mike instantly wants to grow up and join their ranks.
Jump ahead to Mike's first day as a freshman at Monsters University, a candy-colored campus where freakish creatures play hacky-sack and seek recruits for groups like the improv club. An enthusiastic, bookish know-it-all, Mike enrolls in the Scaring program, even though his diminutive size and lack of presence make him an unlikely candidate. Meanwhile, Sully coasts through classes on the strength of his family name and innate ability.
Monsters University asserts that being a scarer is essentially the same as being a jock, and the star Scare Majors are the BMOCs (Big Monsters on Campus). Still, the only genuinely creepy character is Dean Hardscrabble (Helen Mirren), who has a gargoyle face, dragon wings and the lower body of a centipede, as well as the most intimidating characteristics of Professors Snape and McGonagall from Harry Potter.
Since we know Mike and Sully will become best friends, Monsters University feels free to give them a deeply bitter rivalry: their palpable dislike proves rather bracing, and Crystal's voice performance is always funniest at its most indignant. Both find their futures as scarers in jeopardy, so Mike reluctantly teams up with Sully for the campus "Scare Games" as a last-ditch shot at redemption. When they join the Oozma Kappas, the fraternity of misfits and losers, Monsters University almost exactly imitates the "Greek Games" subplot of Revenge of the Nerds. Nathan Fillion voices the ringleader of the "snob" fraternity.
The Oozmas turn out to be forgettable duds even as a comedic ensemble, which comes as a shock, given Pixar's gifts for assembling such funny groups as Finding Nemo's "tank gang" or Andy's playthings from Toy Story. The only breakout character is Art (Charlie Day), a fuzzy space-case who resembles one of the regulars from Yo Gabba Gabba. The film follows the trajectory you'd expect from a "team of underdogs" story and culminates with an unplanned, real-world test of the characters' skills (a twist that may have been inspired by the finale of Top Gun). The film never matches the heights of Monsters Inc.'s spectacular chase through the doors, however.
For a cheerful, fast-paced comedy, Monsters University touches on the unexpectedly knotty idea that some dreams may not be achievable, and your aspirations don't always match up with your abilities. The idea gives Monsters some thematic teeth, while its heart comes from Mike and Sully's dawning awareness that they can achieve more together than apart. For a Disney film about higher education, Monsters University proves impressively willing to teach a harsh lesson.
Director: Dan Scanlon
Writers:Robert L. Baird, Daniel Gerson, Dan Scanlon
Starring: The voices of Billy Crystal, John Goodman
Release Date: June 21, 2013