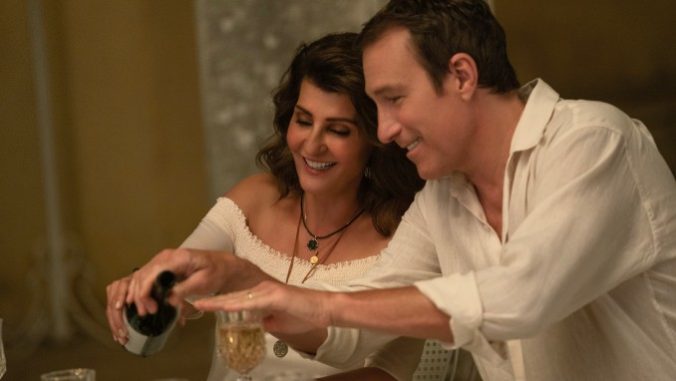 When My Big Fat Greek Wedding premiered in 2002, it was a surprise pop-culture phenomenon. The romantic comedy, written by and starring Nia Vardalos, remains the top-grossing romantic comedy of all time and garnered Vardalos an Oscar nomination.
The story of a 30-year-old Toula Portokalos (Vardalos) who loves her overbearing Greek family but goes against their wishes by secretly dating Ian (John Corbett), a non-Greek schoolteacher, was hilarious, poignant and relatable to so many who come from loud, opinionated and loving families. The much-less-praised sequel in 2016 found Toula's parents Gus (Michael Constantine) and Maria (Lainie Kazan) renewing their vows while Toula and Ian's daughter Paris (Elena Kampouris) applied to colleges. 
As much as I enjoy the franchise, I'm not sure anyone was clamoring for My Big Fat Greek Wedding 3. But here we are. I feel a little bit about the threequel the way I feel about watching Grey's Anatomy for 19 seasons: I've stopped really caring about what happens with the characters, I'm just happy to see them again. 
Seven years may have passed between the second and third movies, but only a year or so has passed in Toula's world. The second movie ended with Paris being dropped off at her college dorm. In My Big Fat Greek Wedding 3, Paris has just completed her first year at NYU. The decision to keep Paris college-aged doesn't make a lot of sense. It certainly seems like having Paris be a young adult would bring the franchise full circle and provide more dramatic fodder. (Maybe that's being saved for My Big Fat Greek Wedding 4?)
Still adorable, devoted and patient, Ian has now retired. "A Greek man retires a week after he dies," a relative tells Ian. I have to agree. It doesn't seem like the wisest move given what we know about the cost of college tuition. But let's pause for a moment to reflect on Corbett's extremely wise career choices. The man is in not one, not two, but three very successful franchises. In the Greek Wedding trilogy, he's a doting and charming husband. In the three To All the Boys I've Loved Before movies and its TV spin-off XO, Kitty, he's a supportive widowed dad to three daughters. And in Sex and the City and its current sequel And Just Like That, he's one-third of the most iconic TV love triangles of all time. Corbett should teach classes on how to spot a successful project. Maybe we all should be asking him about what stocks to invest in.
But I digress. In comparison to the first two movies, My Big Fat Greek Wedding 3's plot is a very light lift. The majority of the cast returns except for Constantine, who passed away in 2021 and for whom My Big Fat Greek Wedding 3 serves as a touching love letter. Toula and her extended family return to her father's Greek village for a family reunion and to fulfill her father's wish that Toula give Gus' childhood friends a journal he kept about his life. (I kept hoping throughout the movie that Toula had at least made a copy of such a precious family heirloom.)
Filmed on location in Athens and Corfu, My Big Fat Greek Wedding 3 also serves as a terrific tourism commercial for Greece. The settings are breathtakingly gorgeous and the production makes excellent use of all the scenery and locations Greece has to offer. Montages of the gorgeous landscape occur early and often throughout the film. 
As both director and screenwriter, Vardalos tries to infuse the script with current issues. Syrian refugee Qamar (Stephanie Nur) is in love with a young Greek man whose parents only want him to marry someone from Greece. The village's mayor Victory (Melina Kotselou) is vivacious, charming and nonbinary. But both Victory and Qamar are underdeveloped characters with not enough screen time.
What resonates more is the portrayal of Toula and Ian as a couple still very much in love, who continue to enjoy spending time together. Even when they disagree—particularly about how involved they should be in their daughter's life—they treat each other with respect. I'm sure three movies and 20-plus years into the franchise, it might have been tempting to give Toula and Ian some additional marital strife, but Vardalos wisely avoids that.
My Big Fat Greek Wedding 3 also touches on the reality we all face as the generation above us grows older. Toula's widowed mother has the early signs of dementia and is unable to make the trip. The scenes where Toula's brother Nick (Louis Mandylor) searches for the oldest tree in his father's village, because his dad talked about playing there, are touching. Toula and Nick reflecting on who will now be the head of the family will be familiar to anyone who has watched their parents and loved ones grow older and more frail. 
Even though the plot of the movie is wispy, it still features the humor that made the original so beloved. The always-fabulous Andrea Martin as Toula's Aunt Voula gets some of the film's best lines. "I like you," Victory says to Aunt Voula. "Everybody does," Voula deadpans. In the end, though, a better title may have been My Big Fat Greek Vacation Commercial. 
Director: Nia Vardalos
Writer: Nia Vardalos
Starring: Nia Vardalos, John Corbett, Louis Mandylor, Elena Kampouris, Gia Carides, Joey Fatone, Melina Kotselou, Maria Vacratsis, Elias Kacavas, Stephanie Nur, Lainie Kazan, Andrea Martin
Release Date: September 8, 2023
---
Amy Amatangelo, the TV Gal®, is a Boston-based freelance writer and a member of the Television Critics Association. She wasn't allowed to watch much TV as a child and now her parents have to live with this as her career. You can follow her on Twitter.