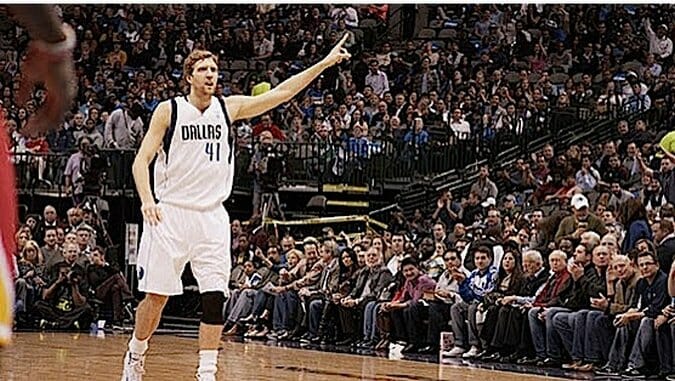 As a hagiographic ode, Sebastian Dehnhardt's documentary covers the life and career of Dallas Maverick's all-world superstar, Dirk Nowitzki, from gangly kid in Würzburg, Germany, where he was often told he was "too small to play," to NBA top gun. For such a rah-rah career-capping fist bump, The Perfect Shot offers enough surprises, insights and revelations to be more than just a Sports Center highlight reel.
Part of that comes in the fact that Dehnhardt is German too and has deep personal knowledge of Nowitzki's roots and the history of basketball in their homeland, which was brought there in the '30s, by an obsessive who went to America to encamp with the game's founder, James Naismith. We catch up with Nowitzki, now in his mid-thirties, heading toward retirement and the Hall of Fame, at the doctor where we learn that most of his joints have severe ailments from the stress of the game. One teammate remarks that it's amazing that Nowitzki is so stiff and gimpy yet can take the court and "drop in thirty or forty points, and [make] it look easy."
One reason for that is Nowitzki's longtime partnership with Holger Geschwinder, who's been a mentor to Nowitzki since he was a teen and now serves as part of the Mavericks' coaching staff. Their workout sessions are long, grueling ordeals during which Geschwinder—who teammate Vince Carter refers to as "the mad scientist"—is always looking for a new physiological or scientific (he has a physics background) means to give Nowitzki the edge. Geschwinder, Mavs' coach Rick Carlisle and rival Kobe Bryant all weigh in on conditioning, endless practice and execution. In his down time, Geschwinder seeks the object of the film's title—a shot that's not blockable and able to drop through the hoop without possibility of hitting and bouncing off the rim (which he calculates to require an arc of sixty degrees).
The relationship between Nowitzki and Geschwinder becomes the heart of the film, with the contemplative mentor offering a unique and charismatic presence that's a refreshing counterpoint to the NBA norm. From overseas, too, there are endearing insights into Nowitzki's humble roots and rise to first round draft pick—something considered very risky at the time (1998) because of the trend of European players to flame out state-side. The modicum of adversity present in the film comes in the form of the Mavs' playoff struggles (they lose in the 2006 finals to the Miami Heat), the pressure on Nowitzki to win and an unwise engagement.
Dehnhardt caringly gets at the man behind the stats (a ten-time All-Star, League MVP and Championship MVP—something only Larry Bird, Bryant and a a handful of others have done) too, depicting an accessible, down-to-earth persona who's remained even keeled even after raking in millions. (His mom is his business manager.)There's also a goofy, sweet side to the seven footer, best encapsulated in a scene playing nerf basketball in scrubs with kids in a hospital or singing "We are the Champions" when the Mavs finally win it all. Dehnhardt propels it all with an '80s-styled guitar riff, apt in that its amiable hokiness mirrors Nowitzki's essence right down to his awkward lope on the floor. The Perfect Shot may be air kiss light, but in its aim, it's nothing but net.
Director: Sebastian Dehnhardt
Writer: Sebastian Dehnhardt
Starring: Dirk Nowitzki, Holger Geschwindner, Kobe Bryant, Rick Carlisle and Vince Carter
Release Date: July 10, 2015
---
Tom Meek is a writer living in Cambridge, MA. His reviews, essays, short stories and articles have appeared in The Boston Phoenix, Paste Magazine, The Rumpus, WBUR's ARTery, Charleston City Paper and SLAB literary journal. Tom is also a member of the Boston Society of Film Critics and rides his bike everywhere. You can follow him on Twitter.