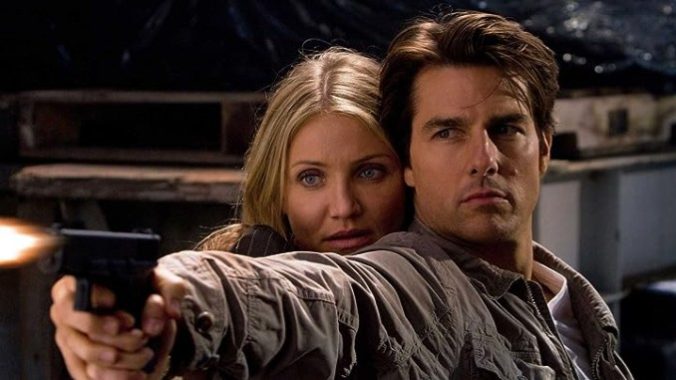 He saved cinema last year. His Ethan Hunt has become nearly synonymous with James Bond (I said nearly!). His stunts have made him a living legend. Tom Cruise remains one of the biggest movie stars in the world. But it wasn't always like this. Only 15 years ago, he was a cautionary tale. A has-been. An also-ran.
So when exactly did Tom Cruise get his groove back? Before we answer that question, let's start with a question that's easier to answer: When exactly did he lose his groove? Most agree it was May 2005 on The Oprah Winfrey Show. We all remember. There was a couch, and Mr. Cruise jumped on it. The remainder of the War of the Worlds promotional tour only got worse, lest we forget the "glib" Matt Lauer interview later that summer. One year later, the lackluster performance of Mission: Impossible III served as the nail in the proverbial coffin. Paramount distanced itself from its once-brightest star and Cruise began a career rebuild in mid-plummet, the only way you'd expect him to. Only, this time, he didn't stick the landing.
He bought a piece of a storied movie studio (United Artists) and released (and starred in) a political drama that nobody saw (the Robert Redford-directed Lions for Lambs) as well as a WWII thriller (Valkyrie) that received a lukewarm reception. The most positive thing to come out of the latter was a new creative partner for Cruise: Christopher McQuarrie. Now, we're back at that first question. When did Cruise get it back?
Short answer: When he started getting in on the joke. It's there in his gonzo studio head character Les Grossman in Ben Stiller's comedy epic Tropic Thunder. That film was crazy enough to be called a hit and even earned Cruise a Golden Globe nod, not to mention an Oscar nomination (!) for a resurgent Robert Downey Jr. But the Grossman character is a glorified cameo, and one would wager most audiences didn't even realize it was Cruise in the role until the end credits. It's easy to poke fun at your industry and your place in it when you're hiding under pounds of make-up.
The real pivot point came in 2010, when writer Patrick O'Neill and director James Mangold finally made Knight and Day after years in development hell. The film stars Cruise as superspy-on-the-run Roy Miller, who pulls unwitting Boston civilian June Havens (Cameron Diaz) into his world of MacGuffins, double-crosses and whirlwind romances. It grossed $258,751,370 worldwide on a reported budget of $117 million. Despite this disappointing result, the film had good word of mouth, rebounding from a very soft opening weekend ($20 million not including preview screenings) to gross nearly a 4x multiplier domestically. The film also did considerable business on DVD and Blu-ray, and, like all Cruise pictures, performed well internationally.
Mixed results aside, the comedic Knight and Day would inform much of the success that came after for Cruise. His Roy Miller is a knowing punchline. Miller is a construct designed to laugh with the audience about the person playing him. In 2010, Tom Cruise's Q score (which measures likability of celebrities and brands) was dangerously low. He was no longer the appealing hunk who danced in his underwear and mixed fancy cocktails. He was weird! He was intense! And so, his Roy Miller is weird and intense, and Mangold leans into it—as does Cruise.
Consider a sequence early in Knight and Day. Roy and June sit in a diner across from Rodney (Marc Blucas), her firefighter ex-boyfriend. Once Rodney realizes that June has been taken hostage by the fugitive spy, Roy is forced to hold her at gunpoint and make an escape. In the process, he kicks a poor waiter to the ground, then immediately apologizes to both the waiter and the entire diner. "Pie for everybody!" he declares, as a make-good. He then has to shoot Rodney, who's making chase. Again, he says sorry and explains that the wound is "through-and-through" and the gunshot will assuredly get him that promotion he's been wanting. Another make-good. "It's all good!" Roy says. 
Or how about a smaller moment, when Miller is attempting to land a plummeting commercial airplane? June asks "Are we going down?!" Roy replies calmly, "No, no June, it's just a rapid descent." 
This is manic stuff. It also feels like exactly the kind of thing the real Tom Cruise is capable of doing. If any portion of Knight and Day doesn't fully work, it's the romance between Roy and June. Cruise and Diaz have good-enough chemistry, but the love story doesn't mesh well with the knowing nods. Nevertheless, here—in the summer of 2010—is where Cruise's code was cracked: Play into the strange intensity, the uncomfortable niceties. 
Eighteen short months later, Christopher McQuarrie was brought on to Mission: Impossible—Ghost Protocol to rescue the picture. A designed pivot to make rising star Jeremy Renner the new franchise anchor wasn't really working. McQuarrie helped the filmmaking team re-focus on the Ethan Hunt character, reminding all involved that Cruise is the Mission: Impossible franchise. Only, in this fourth movie, Hunt is funnier than before. Sillier. As directed by Brad Bird (who came from animation), Cruise's IMF agent is closer to a cartoon character than in his first three films. He literally yells "Mission accomplished!" before stopping a nuclear missile and after surviving a minutes-long Looney Tunes-esque battle in the world's most convoluted parking garage.
Ghost Protocol was a bigger success than anybody anticipated. Five long years after the disappointing returns of Mission: Impossible III, the fourth installment became both the highest-grossing Mission movie and the highest-grossing film in Cruise's storied career. With the new mold shaped, the star has been wise to stick to silly more often than not. Whether it's real-life dramedies like American Made, rock musicals like Rock of Ages or goofy sci-fi epics like Edge of Tomorrow, Cruise is mining his complicated reputation for all it's worth.
But then, maybe that awareness was always there? After all, one of his most iconic performances in Jerry Maguire is full of many of these traits. A blockbuster back in 1996, the Cameron Crowe film netted Cruise his second Oscar nomination. And the character is a mess! Charming? Sure. Intense? You betcha. Funny? Oh yeah. It was a clear-eyed glimpse into the future for the daredevil. Unfortunately, it seems there has been an undeniable trade-off in the recovery. Being weird is rarely sexy. And if the move is to make fun of yourself, intimate gestures may not always feel genuine. Remember the earlier mention of the failed romantic plot in Knight and Day? One imagines Cruise will never again be able to earnestly sell a line like "You complete me." What a shame that is. And yet, don't count Tom Cruise out. Not now, not ever.
---
Dan Mecca is a writer based out of Pittsburgh. He co-founded The Film Stage and spends most of his time raising his kids, producing short-form media, and watching as many movies as possible. You can follow him on Twitter (@djmecca) and Letterboxd to see what he's watching currently.