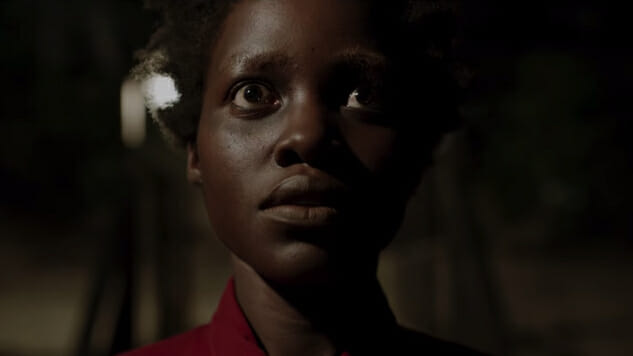 Despite an underwhelming Super Bowl, at least Sunday afforded us a plethora of trailers to enjoy, including not just the new Twilight Zone and Toy Story 4 clips, but also a second look at Jordan Peele's forthcoming social-horror thriller Us. The Pats didn't win yesterday; Peele did.
The first Us trailer, released on Christmas Day, sent a whole host of shivers down our spines. This newest clip doesn't disappoint in that department either, delving into the "string of eerie coincidences" mentioned in the YouTube video's plot synopsis, though it doesn't deliver much more than that. And that's a good thing—the trailers are creepy enough to pique our interest without giving much away.
Us follows Lupita Nyong'o as Adelaide Wilson, who brings her husband (Winston Duke of Black Panther fame) and two kids (Shahadi Wright Joseph, Evan Alex) on vacation to her childhood home on the Northern Californian coast. Her own haunted past and a series of strange coincidences put Adelaide on edge—these fears are confirmed when night falls and the family is hunted down by malevolent versions of themselves.
It's a promising follow-up to Get Out, which garnered Peele his first Academy Award for Best Original Screenplay and established his talent outside the world of comedy. The Us writer-director is also producing the film via his own Monkeypaw Productions, alongside Sean McKittrick, Jason Blum and Monkeypaw's Ian Cooper.
Us hits cinemas on March 22. Watch the new trailer below and explore everything we know about the film so far here.