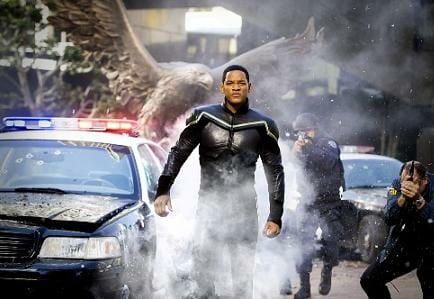 Release Date: July 2
Director: Peter Berg
Writers: Vy Vincent Ngo and Vince Gilligan
Cinematographer: Tobias Schliessler
Starring: Will Smith, Jason Bateman, Charlize Theron
Studio/Run Time: Columbia Pictures, 92 mins.
Perhaps the oddest take on superheroes that film has offered yet, Hancock (Will Smith) is a drunken crime fighter with publicity issues stemming from his tendency to constantly cause collateral damge.But after saving the life of Ray (Jason Bateman), he ends up back in the world's good graces.Where it would be easy to take this premise and turn the filminto a superhero version of Pursuit of Happyness, instead, Hancock manages to riff on its genre with both humor and truly unexpected, if somewhat bizarre, plot twists. While the film never quite reaches an Alan Moore-level deconstruction of the superhero mythos, it has a fun time offering up all the joy of a big-budget action movie without taking things too seriously.Hancock's execution ultimately falls short of what it attempts, but the movie's overall charm and willingness to stick to its guns makes it more than just a blockbuster cash-in.