Amy Grant Is Still The Queen of Christmas
Sorry, Mariah—Grant's holiday catalogue reigns supreme
Photo by Jason Kempin/Getty
Music
Features
Amy Grant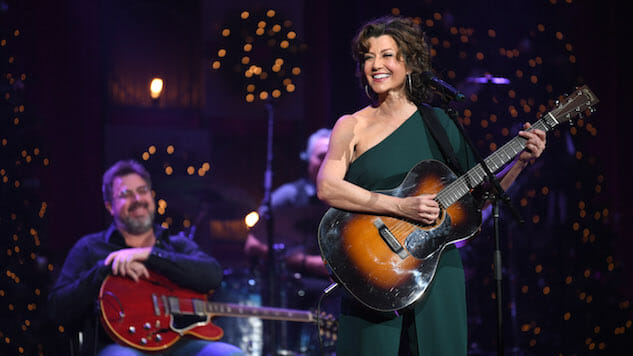 When I think of Christmas music, it's not Bing Crosby or Nat King Cole who come to mind first. It's Amy Grant, the Christian singer-turned-pop-act who has released at least five holiday albums, including one with Art Garfunkel (if you count her singing on his 1985 children's compilation, The Animals' Christmas, which I do!). Songs from those records fill her new Amy Grant Christmas collection, released this year, just in time for her annual Christmas residency at the Ryman in her native Nashville, which wrapped Sunday. I can't remember a Christmas without Amy, particularly her tale of a "tender Tennessee Christmas," which we play every single year. Like sausage balls and midnight mass, it just sounds like Christmas in the South. Amy Grant brings an earnest, non-pretentious spirituality to holiday music that I've hardly been able to find elsewhere among pop acts, yet she can also easily finesse covers of frilly, just-for-fun classics like "Sleigh Ride" and "Winter Wonderland."
I'm not the only one who treasures Grant's mystical, majestic Christmas fare: Last year, she greeted an eager crowd at NPR's Tiny Desk, to which she was invited specifically to play three holiday tunes, including the aforementioned "Tennessee Christmas." It had been 35 years since she wrote that song, which is sentimental but never cheesy, soft-baked but never too squashy.
"Tennessee Christmas" appeared on Grant's first holiday compilation, A Christmas Album, which arrived in 1983 and is one of the best Christmas albums ever, according to us. It's a daring mix of music, surely ahead of its time. What other modern Christmas albums in 1983 featured such a strange but enjoyable combination of roaring synth-pop and thick theology? It shouldn't work, but it does.
But lest we forget Grant's other solo Christmas albums: Home For Christmas, A Christmas To Remember and Tennessee Christmas. They're all hearty and touching, but they never shy away from the season's more bittersweet moments. To commemorate nearly four decades of fireside holiday jams courtesy of Amy Grant, we compiled a few of her best original tunes for your holiday listening pleasure. You're going to want some cocoa for this. Long live the Christmas queen!
"Breath of Heaven"
Grant recorded this moving song for 1992's Home For Christmas, which aligns our modern jadedness with that of the Virgin Mary. I can't count how many times I've heard it at school concerts and Christmas Eve services, but that doesn't lessen its effectiveness. It's a beautiful plea to a higher power that somehow hits home even if you're not exactly in Mary's situation.
"Little Town"
A new twist on the traditional "Little Town of Bethlehem," this charged take on a Christmas classic sounds like Mannheim Steamroller got lost in the choir chambers. Grant's alto is the stuff of legend, and here she sounds like a star, not to be confused with the stars she sings about so elegantly. No song about Bethlehem has ever sounded this badass.
"Grown-Up Christmas List"
Grant is really good at reminding her listeners that you don't need to be a child to enjoy Christmas. On the title track from "A Christmas To Remember," Grant hinges her holiday hopes on Nat King Cole and new fallen snow, but on "Grown-Up Christmas List," she does away with childlike awe in exchange for loftier longings: goodwill for the world at large. Released a few years after "We Are The World," it's a feel-good, let's-hold-hands kind of tune. But it's also pretty sweet.
"Heirlooms"
Here, Grant likens holy gifts to memorabilia in her attic to illustrate the fleeting passage of time. This is one of the more explicitly religious songs in her Christmas bank, but her delivery of it feels so true and real. Amy Grant has never been one to gussy up her faith for an audience—she just tells it like it is.
"Tennessee Christmas"
Songs about home tend to be the most truthful, and Grant's cozy retelling of bygone family Christmases somewhere in the heart of The Volunteer State is the crown jewel of her Christmas catalogue. The rhymes are timed perfectly, and the melody is sad yet festive, not at all unlike Judy Garland's first go at "Have Yourself A Merry Little Christmas." "L.A." and "Denver" and the rest of the world might be calling out your name, but there's no Christmas like a "tender Tennessee Christmas / The only Christmas for me / where the love circles around us / like the gifts beneath our tree." The great thing about this song is it'll make you feel something no matter where you call home and no matter which holidays you celebrate.
Listen to Amy Grant's new Christmas collection right here.