Daytrotter Session - Oct 12, 2012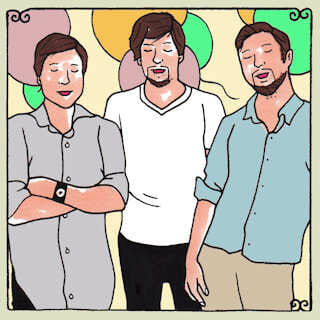 Welcome to Daytrotter
Spider
Unconvinced
Semaphores
All The Lights In New York
The hell if Autumn Owls don't make everything feel like subterfuge. They make light and being feel deceptive. Everything's got a hidden agenda, and it's all heavy-handed, heavy-lidded. It's like we've been kidnapped, thrown into a burlap sack, hustled off to parts unknown and then thrown out into the middle of somewhere that doesn't feel at all bad. In fact, it feels interesting and new. It feels like it's completely indifferent to us, but we're curious as hell about where we've been placed. We wouldn't have selected here as a destination, but now that we've arrived, all of our senses and curiosities have piqued.
There are parts to this place – an extension of the sounds and the moods that the band from Dublin, Ireland present – that are written in death's script. There are voices in rubble. There is the "second heartbeat that keeps me awake." There is that threat of drowning, of the city that's a bed of nails, of all of it crumbling to the ground. So much of these feelings seem circuitous, as if we were going to be able to arrive at them from every direction, but by no clear path.
The songs that lead singer Gary McFarlane writes and sings, are by no means difficult to love and appreciate, but they are incredibly adventurous and exploratory. They are like the freaky, gothic songs that AA Bondy hasn't written yet. They are what's left of desperate souls when there's no benefit to desperation anymore, when the lights have dimmed.