The Best Female Friendships in Music
Photos by Jamie McCarthy/Getty, Dimitrios Kambouris/Getty
Music
Lists
Beyoncé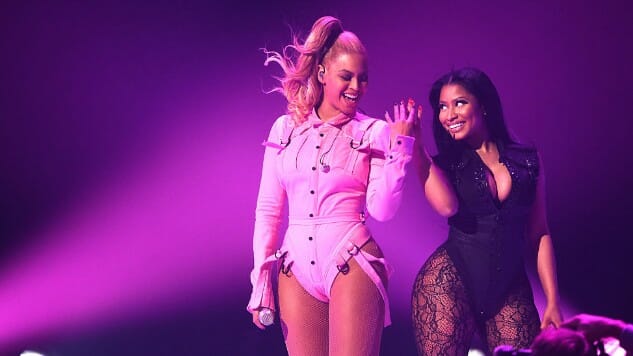 As much as we love a good Mariah Carey "I don't know her" shade sesh, it's 2019, folks, and seeing female musicians support each other in an effort to make great music is far more gratifying than any amount of side-eye ever will be. Below, we've listed 10 of our favorite female friendships in music to honor the ladies who empower and inspire us.
Beyoncé and Nicki Minaj
Unless you live under a rock, nay, boulder, nay, tombstone, you know who Beyoncé is, and if you live for great verses and greater drama, you also know who Nicki Minaj is. The women are longtime friends, frequently collaborating and sharing stages (and occasionally impersonating each other on SNL). Beyoncé once even invited Nicki to perform live with her during her On the Run tour in matching Versace outfits (someone get me a fainting couch). If you're one of the privileged four-to-six people who have a Tidal account, watch the pair collab in the video for "Feeling Myself" here, but for the rest of us plebs, enjoy Beyoncé's remixed version of "Flawless" featuring Queen Nicki herself below.
Annie Clark and Carrie Brownstein
St. Vincent, i.e., Annie Clark, i.e., queer beacon of the Grammys and crusader against phallic guitar imagery, and Portlandia and Sleater-Kinney's Carrie Brownstein are the gifts to female friendship that just keep giving. Remember when St. Vincent covered Sleater-Kinney's "Modern Girl"? Beautiful. Or when Brownstein directed those out-of-left-field mockumentary promotional spots for MASSDUCTION? Amazing. What about when it was announced that Clark would produce Sleater-Kinney's first new album in four years? I'm not crying; you're crying. If you're a God-fearing hipster at all worth your weight in craft beer, watch St. Vincent's Portlandia-inspired music video for "Laughing With A Mouth Of Blood" off 2009's Actor below.
Lana Del Rey and Courtney Love
Resident flower goddess Lana Del Rey and Hole frontwoman Courtney Love aren't shy about their mutual respect for each other's work—notable, considering the amount of flack both women have taken over the course of their careers. The women have affectionately exchanged their favorite songs written by the other (Love likes Del Rey's "Blue Jeans" off Born to Die, Del Rey prefers Hole's "Celebrity Skin") and Del Ray even dedicated a Spotify playlist to Love, in an ultimate testament to their friendship. Read Love's interview with Del Rey for Dazed here, and watch Love open for Del Rey at the Hollywood Bowl below.
Aaliyah and Missy Elliott
When Missy Elliott and co-producing partner Timbaland collaborated on the title track for the Aaliyah's sophomore album One in a Million, one song became nine and the women quickly developed a close friendship and working relationship. Aaliyah was featured on the track "Best Friends" on Elliott's seminal Supa Dupa Fly, and after Aaliyah's untimely death in 2001, Elliott dedicated the first half of the double music video "Take Away/4 My People" to the singer's memory (though the music video's clubbier second half, a tribute to the victims of 9/11, has aged less gracefully).
Linda Ronstadt, Dolly Parton and Emmylou Harris
After years of scheduling conflicts and label squabbles, friends and larger-than-Dolly's-hair legends Dolly Parton, Linda Ronstadt and Emmylou Harris recorded together in 1987—"Nobody else thought it was a good idea except for us," joked Ronstadt—and the subsequent product is Trio, an album filled with harmonies that only genuine connection could produce. The unlikely lead single off the album, "To Know Him Is to Love Him" (originally popularized by Phil Spector's first vocal group, The Teddy Bears) was successful enough that the ladies would record two more albums together. Watch the music video (directed by Ronstadt's then-boyfriend George Lucas — I know) below.
Kathleen Hanna and Kathi Wilcox
Resident riot grrrls Kathleen Hanna and Kathi Wilcox met as teenagers at The Evergreen State College. They formed Bikini Kill—the zine, then the band—with Tobi Vail shortly afterwards, helping to spark a new feminist movement in the midst of that friendship. After the band's breakup, the women reunited under the moniker The Julie Ruin (as well as for a few friendly rounds of the newlywed game) and in January, Bikini Kill announced a brief reunion tour to reign as queens of the neighborhood once more.
Marilyn Monroe and Ella Fitzgerald
Let's be clear: if Marilyn Monroe was allowed to pant her way through "Happy Birthday, Mr. President" at JFK's birthday party, she is an established enough singer to land a place on this list. Monroe was a great fan of Fitzgerald's—when asked who her favorite singer was, Monroe responded "Well, my very favorite person, and I love her as a person as well as a singer, I think she's the greatest, and that's Ella Fitzgerald"—and studied the jazz legend's recordings to improve her own voice. After the women became friends in 1954, Monroe learned that Fitzgerald was unable to land a gig at The Mocambo, an LA. nightclub, because of her race and weight. Monroe propositioned the owner, promising to sit in the front row of the club during each performance if he booked Fitzgerald. He agreed, and the show quickly sold out. "After that, I never had to play a small jazz club again," Fitzgerald later told Ms. magazine.
Janelle Monáe and Erykah Badu
When Janelle Monáe released "Q.U.E.E.N.," the lead single off The Electric Lady featuring Erykah Badu, she credited her discussions with the vocalist (and mentor) as the song's inspiration. Monáe called the song an anthem for the ostracized—the title is an acronym for Queer, Untouchables, Emigrants, Excommunicated and Negroid. After she and Badu collaborated on the "emotion picture" for the track, Prince hailed it as the best music video of 2013. The pair frequently refers to each other as "wonder twin" on Instagram—though Badu was lovingly offended on the platform because she had to hear Monáe's coming out statement on Dirty Computer instead of in person—and Badu isn't shy about expressing her respect for Monáe's work. "I love her mind," she told Redbull. "Our music is nothing alike, but we have a kindred thing."
Ariana Grande, Tayla Parx and Victoria Monét
Yeah, yeah, you know Ariana Grande, that singer with the 4.5 octave range who briefly dated SNL's most eligible man-child. You probably don't realize how much you know about two of her besties. Tayla Parx (who played Little Inez in the Zefron-powered movie version of Hairspray) penned Grande's "thank u, next" and "7 rings" as well as Panic! At the Disco's "High Hopes" and Janelle Monáe's "Pynk." Monét also contributed to "thank u, next," in addition to numerous songs from Grande's album of the same name. All three friends appear in the music video for "thank u, next," and Parx and Monét were each the recipients of one of those seven rings. Watch the power trio pay homage to The First Wives' Club during Grande's performance of "thank u, next" on The Ellen Show.
Lucy Dacus, Julien Baker and Phoebe Bridgers
Recorded over the span of just four days, the self-titled debut by indie supergroup boygenius was one of 2018's most stunning EPs. Friends Lucy Dacus, Julien Baker and Phoebe Bridgers combined their individualized styles to create an EP the dazzles via breathless harmonies and harrowing narratives. The group's name is a jab at the black hole of supposed-male greatness that frequently overshadows female performers, and the women clearly admire each other's talents. Baker lauded her friendship with Dacus and Bridgers with NPR, stating "Lucy and Phoebe are incredibly gifted performers, and I am a fan of their art outside of being their friends, but they are also both very wise, discerning and kind people whom I look up to in character as much as in talent." Read our review of the group's debut here, and watch boygenius perform "Souvenir" below.