Birdy Leaves the Nest
Careening through young adulthood, the wunderkind singer/songwriter turns to a bolder sound on Portraits
Photo by Thibault Theodore
Music
Features
Birdy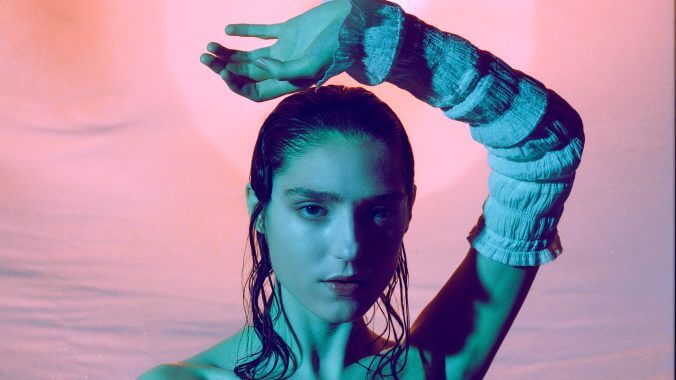 Birdy's quiet, but she isn't fragile: On our cross-continental call one early August evening, the singer/songwriter makes this clear to me. Throughout our conversation, the 27-year-old musician—aka Jasmine Lucilla Elizabeth Jennier van den Bogaerde—is pointedly self-aware, if not self-conscious; there's practically none of the artistic bravado one might expect of an artist who rose to platinum-certified fame at the age of 14. But it's apparent, too, that she's in control.
Birdy's cover of Bon Iver's gut-wrenching monolith "Skinny Love" skyrocketed across Top-40 charts in 2011, and it has since served as the backing-track to innumerable tweenage breakup lamentations. Through no fault of her own, she fell into the trap of the soft-spoken songstress: Birdy's name became synonymous with the sort of slow, weepy ballad she'd gained acclaim with, and follow-up albums—including critically well-received forays into indie-pop and folk—failed to climb the charts with the same momentum that her early-decade Fault in Our Stars dirges once had. But, as her early fame simmered, Birdy grew bolder while toying with her sound. Synths and '80s drumlines emerged from the austere quiet of her family's ancestral estate; a louder, deeper voice; brasher lyrics. At the beginning of the 2020s, Birdy decided she wanted to make an album that felt different—one that felt alive.
Birdy mentions Patti Smith as an inspiration—if not the patron saint—of her new album Portraits. I think of that infamous beseechment made of Smith by her one-time lover and longtime friend, Robert Mapplethorpe, as she first groped her way through the music world: "Write something I can dance to." There's a bit of that ethos in Birdy's latest work: the delicious fear of your 20s, the tenuous threads that bind. Patti Smith didn't follow Mapplethorpe's request initially—she couldn't do it on command. Birdy's journey feels a bit analogous, to allow for an oversimplification: The waifish, guarded-faced teen enters the world of the aesthetic before she really understands herself, tracing the outlines of her youth through her art. As she moves onward, she sees her work morph in front of her into something made to prove that she is here and connected and a part of it all. "I just wanted to make something I could move to," she says, with the same disarming sincerity that first made her lamenting ballads so affecting.
That determination, mixed with a quiet, demurring gravitas, draws me to Birdy as we talk. With soft-spoken seriousness, she describes how parts of the album were inspired by Portishead and PJ Harvey, others by trapeze artists and Japanese theater. She did a lot of painting, she tells me, while she wrote Portraits, reifying its name as she went along. "You paint something that's not reality, and you see what you want to see. Falling in love with that [picture] instead of the real thing; I love that," she notes. Her process itself seems synesthetic: Birdy writes imagining a film score, thinking about her father, envisioning the New Romantics. As she records, she finds herself wanting to score an orchestra and learn circus tricks.
Portraits is sprinkled with simple, personal inspirations all throughout; unlike Young Heart, the 2021 pandemic folk album which, ironically, saw Birdy work with an ever-expanding group of collaborators. She felt in control in a way she hadn't for a while. Writing Young Heart, she found herself "searching" for the right way to move forward; "There were a lot of opinions about it," she admits. "I got a bit lost during that." Working with a small group of people who understood her and her goals helped shoulder the project forward. "So often you write with someone, and then you just never see them again…it's quite strange, because you're telling them so much. It's nice to build those relationships a bit," Birdy adds.
Young Heart took the wind out of her sails in more ways than one. A record crafted to mimic small intimacies, it didn't find mass success and left Birdy vulnerable to criticisms she couldn't shake. "It was a folk record; there's nothing really commercial on it. So there was pushback on it, and I really struggled with that," she explains. In the darkness that followed, Birdy found the room to make the record she wanted. "Making [Portraits] was quite liberating for me," she laughs, "because, I guess—it's more commercial." She pauses for a moment. "But I was making it because I really wanted to make it! I decided to do it, because that's just how I felt. It wasn't a forced thing."
Something about her makes you believe it. There's a glee in her description of the speed with which this record was made, the relative ease that came with artistic freedom: "It's breathing; it's quite, like, commanding [to make a record like Portraits]." You get the notion that she was more in charge here than she's ever been before—which is no small thing for a one-time teenage sensation who remembers sitting in rooms full of older male writers, feeling small and uncomfortable. "It kind of doesn't work sometimes, because you don't know when to trust yourself," she explains. Being in charge is "just something new, as you get older." It's comforting—if not a tad bit amusing—to imagine this turn to pop music as Birdy reclaiming the direction of her work, rather than as her ceding it to some seedy studio exec. Plus, the commercial turn isn't as obvious a move for Birdy as one might think. Her mother, Sophia Patricia, was a concert pianist, and her childhood home wasn't exactly ringing with early-aughts pop. "Maybe ABBA," she chuckles.
It's probably prescient to add here that longtime Birdy fans won't be at all disappointed by Portraits; it's full of the love that always seems to be slipping through her fingers with rushing instrumentals and a sighing lament. "I Wish I Was A Shooting Star," Birdy's personal favorite track, shakes and soars with her new vocal range and a Florence + the Machine-esque determination; "Your Arms," one of the album's more classically funereal songs, glows with a gentle, wounded desire rivaling that of her early gut-punchers.
Even a new, empowered Birdy gets lonely sometimes. The album is inspired by "portraits of moments that we exist," she notes, softly. "A lot of it is about goodbyes, and how we sort of drift in and out of each other's lives, constantly. But not really goodbyes, in that we always have these memories." It just has a little more oomph behind it this time, like in the dance-pop anthem "Heartbreaker" or the '80s-drenched "Automatic"—and so does its mastermind. It shows in Birdy's excitement about playing live: "It needs to be heard, loud!" she yelps. She's entering a new era of music-making, happy to be in control of her art once and for all. As for the rest, Birdy's thrilled to find herself at the mercy of her mid-20s. When I ask her what she's planning on next, she grins triumphantly. "I actually have no idea," she muses. "I can't wait to play some shows."
Watch Birdy perform "Wild Horses" during her Paste studio session in 2016 below.
---
Miranda Wollen is Paste's music intern. She lives in New York and attends school in Connecticut, but you can find her online @mirandakwollen.