Coldplay's Everyday Life is a Surprising Return to Form
The English arena band embrace genre fusion and spoken-word samples on their first album in four years
Music
Reviews
Coldplay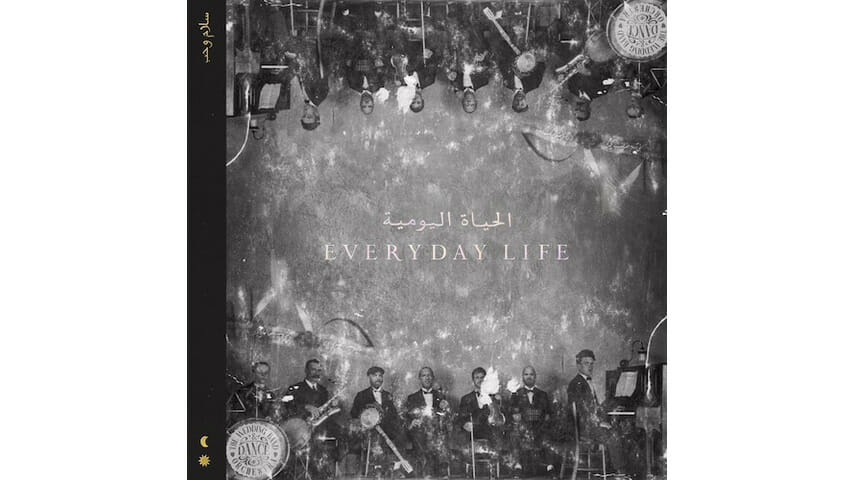 Coldplay tend to draw visceral reactions from people. Perhaps it's disgust for their unbearably earnest personalities, often cringeworthy lyrics or attire that looks like some Portland hipster started a faux artsy clothing line for charity and named it after a Chinese character. Recent headlines that Coldplay won't be touring their latest album for environmental reasons or that Chris Martin is voting for the U.K.'s Liberal Democrats drew instant and justifiable social media jeers, and many felt an urge to hide their love of a band that's just so painfully themselves. Aesthetics aside, fans all over the globe intensely adore their soaring stadium rock melodies and Chris Martin's calming falsetto, both so powerful that it's possible to overlook their seemingly naive, warm and fuzzy calls for unity that often appear tone deaf.
Despite starting on a high note, the four-piece band has had a rough go around this past decade. In 2011, they were faced with the insurmountable task of following their 2008 masterwork Viva La Vida or Death and All His Friends, and dropped their mostly-triumphant fifth studio album, Mylo Xyloto, which was full of glow-in-the-dark guitar pop and even a well-executed Rihanna collaboration. Three years later, Martin and co. channeled their widely-celebrated debut Parachutes with Ghost Stories, a somber, reserved breakup album that occasionally took synthy Bon Iver-esque turns with lukewarm results. A Headful of Dreams arrived a year later in 2015, and its bland embrace of radio pop resulted in their corniest effort to date. The four-year break that followed included a live album and an inescapable Chainsmokers feature that was as bad as you'd expect, so things were looking bleak for fans hoping for a return to form. Earlier this year, rumors began to swirl about an "experimental" new Coldplay album, which considering their back catalog, is a pretty intriguing idea.
After notes were mailed to Coldplay fan forum members and ads with the album tracklist were published in newspapers around the world in mid-October, their forthcoming double album, Everyday Life, was confirmed. With such a mushy album title (the first half is titled "Sunrise" and the second, "Sunset," though that's still not as bad as the clunky A Headful of Dreams or the superhero pajama energy of Mylo Xyloto) and the band dressed in old-timey suits on its cover, there was much to be skeptical about. Though it would definitely be a stretch to consider this album "avant-garde" (or even a double album, given its 52-minute run time), it's surprisingly experimental by Coldplay's standards.
Everyday Life opens with an elegant strings instrumental from frequent collaborator Davide Rossi (Viva La Vida or Death And All His Friends, Mylo Xyloto), but instead of going the majestic, classical-leaning route, Coldplay responds with a mellow fusion of acoustic pop, spoken-word and gospel music. It's an album that's infinitely more enjoyable when listening to from front to back and ignoring the lyric sheet.
Coldplay wading into socio-political commentary is about as welcome as Starbucks CEO Horward Schultz's short-lived presidential bid, but they try their hand anyway on tracks like "Trouble in Town," which addresses racial discrimination in America and features a sample of a Philadelphia cop pulling over and berating a black driver. Elsewhere, on the bluesy acoustic number "Guns," Martin calls out the backwards right-wing logic of decreasing gun violence by arming everyone. He also takes a jab at corporate deforestation ("Poor is good for business / Cut the forests / They're so dumb"), and in possibly the most hilarious and welcome surprise on this album, Martin drops the first-ever f-bomb of their career ("Everyone's going f***ing crazy").
Even though Martin's commentary is about as milquetoast as you could imagine (and he's the last person you'd want writing a song about Africa), the songs are rather moving, culminating in get-along anthem and final track "Everyday Life," which features lines like "How in the world am I going to see you as my brother not my enemy?" They continue to fumble a bit lyrically (which they've done for most of their career), but they sound like a confident musical unit, blending genres with ease. Their frequent use of diverse backing vocalists (Jacob Collier, Norah Shaqur, Stromae, Tiwa Savage, children from the African Children's Feeding Scheme, among others) brings a worldly flare and charm, and the songs are also stranger than they appear at first. In fact, the record is easily their best since Mylo Xyloto, which may seem like a low bar, but it's been ages since they've sounded this carefree.
Some songs are fairly minimal like the gospel-tinged "BrokEn," which resurrects the gorgeous simplicity of their 2008 B-side "Death Will Never Conquer." Elsewhere, tunes like the piano ballad "Daddy" or "When I Need a Friend" recall their more affecting Ghost Stories tracks. Coldplay also infuse the playful, interesting and unexpected textures of Viva La Vida or Death And All His Friends: "Trouble in Town" sounds akin to Viva cut "Yes" with its mysterious aura and alluring richness via cinematic horns and a masterful guitar solo from Jonny Buckland. "Arabesque" could have appeared on Viva or its companion album Prospekt's March with its military beat and funky riff, but its Eastern rhythms, prominent saxophone and French vocals make it a bit more unconventional. Even Everyday Life's poppiest song "Orphans," which takes a page from A Headful Of Dreams, sounds exuberant after you get over the initial discomfort induced by their calculated whoops and the eternal unease of Martin singing about getting drunk.
Everyday Life isn't Coldplay's The Times Are A-Changin' or Kid A, but their willingness to try new things is commendable and pays off more often than not. The two things you can count on with every Coldplay album are their melodic effortlessness and Martin's stupidly pretty, soothing vocals, and both are out in full force this time around—you're guaranteed to get goosebumps from at least one song on this album. Everyday Life lives between the stripped-down comfort of Ghost Stories and the mercurial nature of Viva La Vida, but most importantly, it provides more hope than ever that they have another masterpiece in them.