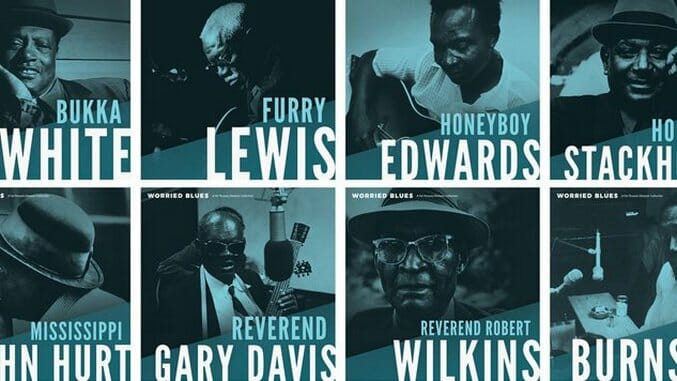 The blues are some of the most iconic sounds of America. What began in the South in the late 19th century as a mix of work songs and spirituals evolved into a mostly secular, acoustic guitar driven musical embodiment of suffering, struggle and—in the best case scenarios—triumph that proliferated during the early-to-mid 20th century. But the blues also encompass a range of regional dialects. The West Coast blues, mostly centered in California, incorporated more piano work and jazz influences during the 1940s, while the Chicago blues electrified some these sounds in the 1950s and '60s. The Hill Country blues of northern Mississippi used a rhythmic, repetitive style of guitar playing with mirrored vocals. But it was the Delta blues, hailing from the area surrounding the delta of the Mississippi River, which truly began the movement of the blues and encapsulates the style, genre and soul of what we now call, "the blues."
Last week, Oxford, Miss.-based independent record label Fat Possum Records teamed up with Amazon Music to release a 10-album collection of previously unearthed blues cuts called Worried Blues. Each record highlights a different artist, ranging from Delta blues originators like Skip James and Bukka White to lesser-know performers like Furry Lewis and Honeyboy Edwards. With such an expansive set of new old music to discover, and considering the seemingly endless troves of blues history, we decided to create this entry point to the originators of the genre with the 15 best Delta blues songs.
15. Big Bill Broonzy, "Key to the Highway"
Lee Conley Bradley, known by his nickname Big Bill Broonzy, is actually credited with co-writing this blues standard with Charles "Chas" Segar. The song is performed as a traditional 12-bar blues and depicts the migratory, transitory nature of many lower class workers in the South. "Key to the Highway" was inducted into the Blues Hall of Fame in 2010 and a range of artists including The Rolling Stones, Eric Clapton, Led Zeppelin and Bob Dylan have covered it over the course of their careers. In fact, Sonny Landreth just offered a slide-filled version in the Paste Studio that you can hear right here.
14. Mississippi John Hurt, "Avalon Blues"
Mississippi John Hurt spent most of his life working on farms in Carroll County, Miss. (about 100 miles north of Jackson). This song, which features his iconic quick-paced finger picking, is about his home in Avalon, Miss. Although he didn't gain much recognition as a musician in rural Mississippi, once he left the state in 1963, he began playing shows and festivals across the country. Hurt's first recordings from 1928-29, including this song, have since become some of the classics of the canon.
13. Howlin' Wolf, "Smoke Stack Lightening"
Although he became one of the most famous voices of the Chicago blues movement, Howlin' Wolf was actually from Clay County, Miss. The man born Chester Arthur Burnett got his start in the 1930s listening to Charlie Patton at local juke joints. "Smoke Stack Lightening," one of Wolf's most famous works, represents a sort of bridge between the Delta and Chicago. While the harmonica interludes and ooh-ooh refrain position the song closer to the northern blues rock future, its foot stomps and traditional structure keep it firmly rooted to its stylistic origins.
12. Big Joe Williams, "Baby Please Don't Go"
Known for his use of a strange nine-string guitar, Big Joe Williams also became a transitional figure in the blues. While a young Muddy Waters tagged along with him during his travels through the Mississippi Delta, Williams also made a name for himself at folk and blues festivals across the country in the 1960s. "Baby Please Don't Go," a song he adapted and popularized in the mid-'30s, has since been covered and interpreted by Van Morrison, AC/DC, Aerosmith and more outside of the blues canon.
11. John Lee Hooker, "Boogie Chillen"
John Lee Hooker's oft-imitated style didn't necessarily reflect his roots. His home of Tutwiler, near Clarksdale, Miss., is technically the land of Hill Country Blues—where the slow crawling guitar melodies meander up and down guitar necks like North Mississippi's dirt roads. Instead of continuing this tradition, Hooker mastered the 12-bar blues that fit as well on the Ford factory lines he worked on in Detroit, as well as rural Mississippi. His incessant foot-stomping and tempo-fluctuating tendencies while performing live earned him the title the King of the Boogie. This song, "Boogie Chillun," showcases Hooker's famous boogie blues and helped him sell a million copies of the single in 1948.
10. Skip James, "Hard Time Killing Floor Blues"
Nehemiah Curtis "Skip" James was one of the most important Delta blues musicians (as noted by his inclusion in the Worried Blues collection among other reasons). His recordings from the 1920s are now considered foundational, but James didn't really earn widespread acclaim until the folk and blues revival of the 1950s and '60s. This song in particular, "Hard Time Killing Floor Blues," showcases James's fingerpicking and preference for open tunings. Additionally, its inclusion on the O Brother Where Art Thou? soundtrack proves its relevance and continued resonance. Check out a few tracks from the 1968 Hampton Jazz Festival in Hampton, Va. in Paste's own exclusive archive here.
9. Mississippi Fred McDowell, "Shake 'Em On Down"
At age 55, Mississippi Fred McDowell had been discovered in 1959, when he was first recorded by music historian, Alan Lomax. Those recordings, which would see release spread out over multiple compilations, Deep South-Sacred and Sinful and Yazoo Delta-Blues and Spirituals on the Prestige label; and Sounds of the South and Roots of the Blues issued by Atlantic Records, announced McDowell to a new legion of fans. These recordings would launch McDowell's career as a professional musician. "Shake 'Em On Down," one of his highest energy numbers, is also one of his most important songs. Check it out below and listen to the rest of his set from the 1968 Newport Folk Festival in our exclusive archive here. —Alan Bershaw
8. Elmore James, "Dust My Broom"
Although originally credited to the blues master himself, Robert Johnson, Elmore James's version of "Dust My Broom" is the one that's considered the classic—the one that's in the Grammy Hall of Fame and the Library of Congress' National Recording Registry. James takes the 12-bar blues format of the original, but beefs it up with a bit of a boogie rhythm, some harmonica riffs and slide guitar work. His vocals, too, seem more strained and urgent than other past plodding blues. But while some of these elements reflect the changing characteristics of the blues in the 1950s, both the song and the performer's origins trace back to the Delta, making it fit for inclusion here.
7. Geeshie Wiley and Elvie Thomas, "Last Kind Words Blues"
When The New York Times published this in-depth history of Geeshie Wiley and Elvie Thomas, women in the blues began to receive some of the credit they're due. Although powerful female vocalists like Bessie Smith and Ma Rainey are still (and rightfully) lauded among the most important Southern singers, neither sang in a true Delta blues style. Geeshie Wiley and Elvie Thomas, however, come the closest with this songs and its riff reminiscent of "Für Elise." As a result, "Last Kind Words Blues" serves as one of the most important songs from the region written and performed by women.
6. Bukka White, "Parchman Farm Blues"
Another bluesman in the Worried Blues compilation, Booker T. Washington "Bukka" White actually started playing fiddle music on the violin before picking up guitar. White was known for playing resonator guitars in open tuning, which contributed to his distinctive sliding, buzzing style. While his version of "Shake 'Em On Down" could have also been included on this list (we chose Mississippi Fred McDowell's instead), this song about his time at the Mississippi State Penitentiary has become representative of both his career and the jail's infamy, as Parchman Farm (as it came to be known) was one of the cruelest in the South. "Parchman Farm Blues" was eventurally released on folklorist/ethnographer Harry Smith's Anthology of American Folk Music, Vol. 4 and precedes a rich tradition of musicians performing songs in and about their time in jail.
5. Muddy Waters, "I'm Your Hoochie Coochie Man"
Like Howlin' Wolf, Muddy Waters (born McKinley Morganfield) became synonymous with the electric Chicago blues. But again, like Wolf, Muddy was born and raised in the Delta and steeped in its tradition. "I'm Your Hoochie Coochie Man" was written by Willie Dixon (yet another Mississippian who moved north and became known as the Father of the Chicago Blues), but Muddy Waters infused it with the spirit of their shared homeland. In Robert Palmer's 1981 book Deep Blues, Muddy's quoted as saying, "When you're writin' them songs that are coming from down that way [Mississippi Delta], you can't leave out somethin' about that mojo thing. Because this is what black people really believed in at that time … even today [circa 1980], when you play the old blues like me, you can't get from around that." For this reason, it's important to consider "I'm Your Hoochie Coochie Man" among the finest of the Delta blues songs.
4. Lead Belly, "Good Morning Blues"
It would have been easy to claim "Goodnight, Irene" as the most iconic Lead Belly song, but "Good Morning Blues" wins out as Lead Belly's best Delta blues songs. Born Huddie William Ledbetter, the folk and blues icon recorded played 12-string guitar, piano, harmonica, mandolin, fiddle and more. "Good Morning Blues" starts with a walking bass line (but still performed on his guitar) and some talking blues. By the time he gets to the chorus, Lead Belly unleashes a hollering chorus. Although seemingly optimistic with its "Good Morning" greeting, the song actually addresses those blues that seem to follow you wherever you go and through whatever you do.
3. Son House, "Grinnin' In Your Face"
"Death Letter" might have been the most influential Son House song until Jack White hadn't revived interest in "Grinnin' In Your Face." The scene in It Might Get Loud, the documentary equivalent of supergroup that was released in 2009 featured a pivotal scene in which the typically-emotionless White seems to get lost in sentiment while listening to the a cappella Son House song punctuated by the old bluesman's claps. Noted by his particularly expressive and gruff vocals, Son House ranks alongside Charley Patton as one of the forefathers of the Delta blues.
2. Charley Patton, "High Water Everywhere"
Nicknamed the Father of the Delta Blues, Charley Patton spent almost his entire life in the Mississippi Delta. While he recorded an impressive body of work over the course of his career, this song recorded in 1929 is arguably his most influential. "High Water Everywhere" details the Great Mississippi Flood of 1927, the largest flood in American history, but also serves as social commentary on treatment of residents, who, of course, were primarily African American. Distilling that kind of racial discrimination into a blues song makes this one of the earliest examples of protest music in the Delta blues.
1. Robert Johnson, "Crossroads"
Even music fans who don't listen to much of the blues have likely heard folklore about how the Delta blues musician named Robert Johnson went down to the crossroads and sold his soul to the devil in exchange for success. "Crossroads," also stylized as "Cross Road Blues" showcases Johnson's slide guitar work and flexible tempos that fluctuated with his impassioned singing. Although the song has not specific mention of the devil or any sort of negotiation with him, mythology must dictate "Crossroads" as the most important Delta blues song.