French Film About 2015 Terror Attacks During Eagles of Death Metal Concert Put on Hold
The network will hold Ce Soir-Là (That Night) until victims' associations are "widely consulted"
Photos by Victor Moriyama/Getty
Music
News
Eagles of Death Metal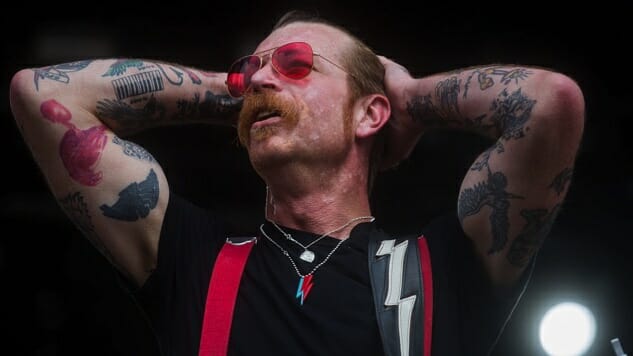 On Friday, Nov. 13, 2015, a black Volvo pulled up outside the Bataclan concert hall in Paris where the Eagles of Death Metal were headlining. Several heavily armed gunman got out, and 130 people were killed in what ended up being one of the more violent attacks the city had ever seen. Not only was this barely over two years ago, but also, this was a real-life event that left the city of Paris and the rest of the world grieving.
So it's really no wonder that the film Ce Soir-Là (That Night) that was set to broadcast on network France 2 has come under immense critique from the victims' families, as BBC News reports. The film will be shelved until said families and victims' associations are "widely consulted."
A brief synopsis of Ce Soir-Là (That Night): A single mom and Afghan refugee fall in love while rescuing survivors of the Bataclan attack.
Claire Peltier's partner David was among those killed in the shooting—she's written a petition calling for the "scandalous" film to be shelved. "What interest for us, bereaved families, victims and relatives of victims, to relive this event as part of a TV movie?" she writes. "Do you really think that this project is likely to pay tribute to our dead, to our loved ones? Would you like us to tell you about the night of horror we experienced between the 13th and the 14th, far from the love story you imagine?"
The petition would only need 10,000 more signatures to reach its goal, but the network has already announced that the film will not air. "Two years later, our wounds are still alive, our sorrows are immense, our lives are bruised," as Peltier writes.