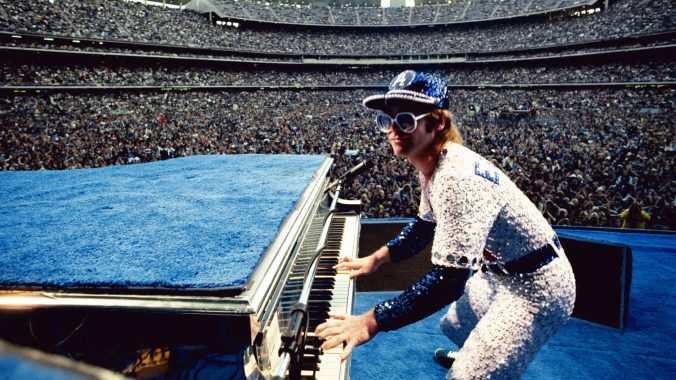 Deducing what the greatest Elton John songs are is an almost impossible task. Almost! I have avoided considering what his best work is for a long, long time. But, I noticed that no one here at Paste has ever dared to dabble in the stressful, discourse-provoking wonders of ranking Elton's best songs. I have called myself an Elton John fan for as long as I can remember, and there's a certain bliss to not knowing when, exactly, I found him. His work has always been there, enveloping me like a silk robe with a butter voice. After nearly three full decades of his music cradling me in warmth, it is time I return the favor. And, as a man with many cruxes—one being that I am always game to make people angry with me online over putting things in order—I knew I was up to the task to alienate myself from the coterie of Elton-Heads who are much older than I am and likely have much louder beliefs about his music.
In the deepest part of my soul, I wanted so very badly to put Elton's "Cold Heart" duet with Dua Lipa on this list. In another world, it's there, nestled right in-between some half-century-old classics. But, for my own cyber safety, I've elected to make it the number-one song in my heart forever and always and leave it at that. Truly, though, what brings me to this hotbed of opinions is that, 50 years ago, Elton put out both Don't Shoot Me I'm Only the Piano Player and Goodbye Yellow Brick Road within a few months of each other. The two LPs quickly became the best in his catalog at the time, and the latter endures—usually—as his greatest album. In a six-decade career, Elton, along with his partner-in-crime and songwriter extraordinaire Bernie Taupin, has become one of the greatest rock stars the world has ever known—and that alone is worth celebrating.
And that seven album run of his—Tumbleweed Connection, Madman Across the Water, Honky Château, Don't Shoot Me I'm Just the Piano Player, Goodbye Yellow Brick Road, Caribou and Captain Fantastic and the Brown Dirt Cowboy—in the mid-1970s remains rivaled only by Stevie Wonder and God, probably. Often more myth than legend, Elton has transcended categorization. To pay tribute to a half-century since Sir Elton Hercules John's greatest year in music, there's no better time than now to look at his 25 greatest tunes and put them in order for everyone to debate about. Of course, this ranking is subjective, though I know you will likely disagree with it. To that I say: "What have I gotta do to make you love me?"
25. "Honky Cat" (1972)
I am a "Honky Cat" truther. I don't know what or who the Honky Cat is, but I'll ride with him anywhere. Let's go to the city or grab a bite, I'm buying! The almost-title-track from Honky Château is a jangly little bar tune where Elton John is just having so much fun singing about "boppin' in the country" and "fishin' in a stream." It's a fun pivot from Tumbleweed Connection, as he's done with his cowboy fantasies and wants to embrace the city lights. In the pre-Goodbye Yellow Brick Road days, Elton wrote often from a place of wanting to find change—and "Honky Cat" is a direct example of that. "How can you stay when your heart says no? / How can you stop when your feet say go?" he sings, daring to leave the farm life behind for bigger, brighter endings.
24. "Ego" (1978)
It's uncertain if "Ego" was written as a jab at David Bowie or as a flaunt of Elton John's own megalomaniac tendencies, but we're here for it either way. The best cut from his bloated 1978 album A Single Man, "Ego" came at one of Elton's worst moments—as he was knee-deep in a speedball of bulimia, seizures and addiction, and he hadn't made a great album in three years. With a gorgeous teardrop synth plucking atop his scratched vocals, Elton finds a way to make a dud project look appetizing. Thank God for "Ego," or else A Single Man would be a Grade-A flop. "Take a look at me now, take a look at my billing / I'm not in it as an extra, I'm in it for the killing / Inflate my ego gently / Tell them heaven sent me," he sings. Whether it's a flaunt from an over-confident rock star—whose career is on the decline—or a cry for help from someone unable to outrun his own self-destruction, "Ego" is a tragic-yet-terrific late-1970s offering from the man who once dominated the decade just a few years prior.
23. "Sorry Seems to Be the Hardest Word" (1976)
The biggest highlight off Blue Moves, "Sorry Seems to Be the Hardest Word" finds Elton John taking on the persona of a down-and-out lounge singer lamenting about a dying love. It's hard not to see the turmoil of non-stop touring and a swelling addiction playing out across the three-minute runtime. "Oh, it's a sad, sad situation / And it's getting more and more absurd," Elton sings. Though there's nothing overtly special or glitzy about "Sorry Seems to Be the Hardest Word," the plainspoken vulnerability in Elton's vocals and Taupin's lyrics speaks volumes. It's hard to fathom that, two years later, Elton would retcon the "What do I have to do to make you love me?" opening line with the hedonistic flex of "Ego." "Sorry Seems to Be the Hardest Word" was, for a while, the last truly tender, grounded piece in his catalog.
22. "Your Song" (1970)
I can feel the pitchforks getting closer. Look, "Your Song" is the first great Elton John song. It's his "Piano Man"; the checkpoint where his oeuvre begins. As a love song and as a ballad, it's a gorgeous tune. And the 16th-best Elton John song is miles better than 99% of everyone else's absolute best song. But "Your Song" doesn't bring to the table anything that hundreds of other soft rock classics have, aside from that singular tenor vocal that Elton has etched so perfectly beneath his name. The track implements that symphony of strings we'll get a lot more of over the next decade, and this line always stays with me: "If I was a sculptor, but then again, no / Or a man who makes potions in a traveling show / Oh, I know it's not much, but it's the best I can do / My gift is my song and this one's for you." It's a sentiment Elton has often returned to, in which he questions his own worth and comes out on the other side with the songs he's made. You can't overlook the way that "Your Song" ignited the man's career, even if there are 21 songs I think are better than it.
21. "Elderberry Wine" (1973)
Boy, I do love an old-fashioned kooky tune. Much like other parts of Don't Shoot Me I'm Only the Piano Player, "Elderberry Wine" doesn't take itself too seriously. It's a carnival rendition of a glam-rock song, and I love it beyond comprehension. It has one of Taupin's worst lyrical showings, yet I return to it so often that it's getting comical. But I'll ride-or-die for "Elderberry Wine." With saxes galore, the song soars and bends to the curve of the sun. It's one of my favorite vocal performances from Elton, as it is so emblematic of how he was still tweaking his finesse back then. Goodbye Yellow Brick Road was on the horizon, but "Elderberry Wine" couldn't have been more sonically different. Many say the former is Elton's opus, but have they ever heard a Rock God sing "You aimed to please me / Cooked black-eyed peas me"? I didn't think so.
20. "Don't Let the Sun Go Down On Me" (1974)
I wish more people talked about Caribou, Elton John's 1974 follow-up to Goodbye Yellow Brick Road. The star-power of the latter would overshadow every subsequent release of his, but that doesn't diminish the greatness of Caribou around these parts. Let me shout it to the heavens: Paste Magazine fully endorses Caribou as a perfect album! The lead single "Don't Let the Sun Go Down On Me" is a stunning ballad that peaked at number-two on the Billboard Hot 100. Perhaps the version of this track that features Elton dueting with George Michael at Live Aid in 1985 helps its legacy endure in a much more palpable way than other ballads in his arsenal, but I do think that the original recording of "Don't Let the Sun Go Down On Me" is one of his best vocal performances ever. It's soulful to the max and features Carl Wilson and Bruce Johnston of the Beach Boys on backing harmonies. I mean, are you joking? The Beach Boys and Elton John? Sign me up, no questions asked. "Don't Let the Sun Go Down On Me" would garner a Record of the Year nomination at the Grammys a year later, unjustly losing to Olivia Newton-John's "I Honestly Love You," but it'll forever be the true winner in our hearts.
19. "Saturday Night's Alright For Fighting" (1973)
I will admit, I got a better appreciation for this song after spending countless hours with it while playing Grand Theft Auto V. Few songs are better for outrunning a calvary of cops after hawking a crisp sports car from an innocent Los Santos citizen than "Saturday Night's Alright For Fighting." This is all just to say: Sometimes you come to a song in an unorthodox way, but sometimes that song comes to you. I did not ask to forever be indebted to "Saturday Night's Alright For Fighting," but here we are. It's actually wild to consider that this was Goodbye Yellow Brick Road's lead single, given that it has since been consistently outshined by the title track, "Benny and the Jets" and "Candle in the Wind." But don't get it twisted, legends were made on this song. Davey Johnstone proves why he deserved more widespread consideration for every "greatest guitarist of all-time" poll because, wow, does he shred beyond comprehension on this joint. If Elton had quit the soft piano stuff and made a full pivot to seering glam rock—and if I were alive to see it happen—I would have given him my full, unrelenting support.
18. "Step Into Christmas" (1973)
I have long been known to fight to the death for my beloved mid-century, rock 'n' roll Christmas songs. I have nearly gone to war over Paul McCartney's "Wonderful Christmastime." Perhaps if anyone comes for me in the QRTs on Twitter, I will need to emblazon a "Support the Troops" bumper sticker on my car for all of the work I've done to outmuscle the naysayers. Don't speak ill of Elton John's "Step Into Christmas"; it's the catchiest holiday song ever made. I'll listen to this song in the middle of the summer, I don't care. Inject that chorus into my veins! The only reason it's not in the top five is because not everyone is down to ensconce themselves in the December festivities year-round. To each their own, but I implore you to let the soft animal of your musical taste want what it wants. Give in to the temptation of "Step Into Christmas. If you needed more reason as to why 1973 was Elton's greatest year, look no further than here. It's one of the slickest, coolest jams that our beloved English rock thespian has ever translated on-stage from Taupin's lyrical musings.
17. "Don't Go Breaking My Heart" ft. Kiki Dee (1976)
Long live the righteous pipes of Kiki Dee! A regular collaborator of Elton's, Kiki appeared in the background of many of his compositions between 1973 and 1975 before striking gold on "Don't Go Breaking My Heart" in 1976. Drawing inspiration from Marvin Gaye and Tammi Terrell's Motown duets, Elton and Kiki perfect the give-and-go of collaboration. The charm and simplicity of the arrangements were able to thrive, and Elton and Kiki's chemistry was off the charts and then some. It never made it onto an LP, though it was recorded during the Blue Moves sessions, making it one of the rare album-less singles in Elton's career. We're cool with it, though. It's one of the best one-off singles of the 1970s, and—maybe—one of the best duets ever.
16. "Philadelphia Freedom" (1975)
"Philadelphia Freedom" is one of those Elton John tracks that I keep returning to and loving more and more with each listen. It was a pivot—at the time—for Elton, as he made his first real attempt at crafting a proto-disco song before disco ran the gamut on the mainstream. Coupled with inflections of soul architecture, Elton paid homage to the Philadelphia Freedoms tennis team—which his dear friend and tennis star Billie Jean King was a part of—and the Philadelphia soul sound that fused funk, baroque pop, big band and R&B and played a critical role in turning the American eye in-favor of disco. Very rarely did Elton drop a one-off single with such power. "Philadelphia Freedom" is not an exception to the rule, but the rule altogether.
15. "Rocket Man (I Think It's Going to Be a Long, Long Time)" (1972)
Few Elton John songs are as immediately recognizable as "Rocket Man." Honky Château is the album of his that I return to most-often, as I can't resist the perfect pop-rock symphonies of "Honky Cat," "I Think I'm Going to Kill Myself" and "Rocket Man." Oh, to be alive in the wake of the Apollo 11 moon landing and in love with rock 'n' roll all at the same time. In 1969, David Bowie made "Space Oddity" and hit the fast-track to stardom—but Taupin and John were more inspired by Ray Bradbury's short story "The Rocket Man" and the former catching a glimpse of a shooting star than the Thin White Duke's cosmic daydreams that capitalized on the Space Race's and the world's lunar obsessions. Though there is something very cheeky about an English pianist singing about a Mars-bound astronaut processing his fears of leaving Earth, I've always felt like it spoke greatly about Elton's worries of alienation and loneliness in the wake of impending musical fame more than anything cosmic or otherworldly. "I'm not the man they think I am at home" still cuts all the way down to the bone.
14. "Crocodile Rock" (1973)
I can hear the groans now: "Matt, why the hell are you ranking 'Crocodile Rock' higher than 'Rocket Man'?" Just trust me. Open your heart to the delicious, corny odyssey of "Crocodile Rock"; you deserve to fall in love with Elton's Farfisa organ, which embalmed the song with a theme park-style youthfulness that oozes nostalgia. I used to spend hours playing on Poptropica listening to this song on repeat—and this was long before I had access to a streaming service, so I would have to manually change tabs and restart the song on YouTube. That's how serious I am about this. Is "Crocodile Rock" Elton's greatest sonic achievement? No, but I'm sure there's someone out there who will argue that it is. Is it Elton's funnest song? Absolutely, no question about it. The lyrics make zero sense, and I have no idea who Suzie is, but I can't help but get all giddy and bubbly when Elton careens into that nasally "la-la-la-la-la" at the end of the track. Not everything has to be a ballad about suicide, drug addiction or heartache! Taupin was onto something here, and I wish we'd gotten more playfulness like this over the years. Hey, it was his first-ever US number-one hit for a reason.
13. "Candle in the Wind" (1973 and 1997)
There are two versions of "Candle in the Wind" to choose from: There's the OG version—penned in honor of Marilyn Monroe 11 years after death—and then there's "Candle in the Wind 1997"—which found Elton rewriting it as a tribute to his good friend Princess Diana, who had recently died in a car accident. You can't go wrong with either one, although the latter definitely carries much heavier, timelier themes. Princess Diana's death was at the forefront of world culture and shocked the globe and, in turn, "Candle in the Wind 1997" won Elton a Grammy Award and is—according to the Guinness Book of Records—the second highest-selling physical single of all-time (behind Bing Crosby's 1942 rendition of "White Christmas"). Elton is probably the only musician who can remake a song and have it go big each time, and that "Goodbye Norma Jean / Though I never knew you at all" line—which Elton changed to "Goodbye England's rose / May you ever grow in our hearts" 24 years later—is still unequivocally beautiful and properly encapsulates the all-too-human tendency to feel heartbroken about a celebrity's passing
12. "Amoreena" (1970)
I hate how overlooked Tumbleweed Connection is in Elton John's catalog. It preceded all of the big, breakout hits that were still a year away, but it's a gem of its own accord nonetheless. A standout on the tracklist has always been "Amoreena," as Elton and Taupin attempted to capture their own articulation of the Americana they did not grow up immersed in outside of the cinema. It's funny, in retrospect, to hear Elton sing about cowboy fantasies, but he's the only Englishman I'd ever trust to do the themes justice. Employing a vast array of roots rock, blues, pop and soul, the result is not only the most-underrated album of Elton's career but a great 47-minute slice of singer/songwriter perfection. The greatest love song Elton ever sang, "Amoreena" is the cream of Tumbleweed Connection's crop, as his Hammond organ sings brightly and the electric, Southern-rock-inspired guitars squeal ever-so-gently behind him. "And when it rains, the rain falls down / Washing out the cattle town / And she's far away / Somewhere in her eiderdown / And she dreams of crystal streams of days gone by when we would lean / Laughing fit to burst upon each other," Elton sings. Put that imagery on a postcard, because it doesn't get much more vivid than that.
11. "Funeral For a Friend/Love Lies Bleeding" (1973)
"Funeral For a Friend/Love Lies Bleeding," the opening number on Goodbye Yellow Brick Road, is among the most-overlooked pieces in Elton John's discography. It's one of his few attempts at making a prog-rock song and, to no surprise, he clears with flying colors. Beginning with a near-six-minute instrumental intro—which Elton penned after he was inspired to make something he would like to hear played at his own funeral—"Funeral For a Friend" perfectly glides into "Love Lies Bleeding," a massive, classic rock anthem of romantic longing rife with death-inspired metaphors and break-up song undertones. "I wonder if those changes have left a scar on you / Like all the burning hoops of fire that you and I passed through / You're a bluebird on a telegraph line / I hope your'e happy now / Well, if the wind of change comes down your way, girl / You'll make it back somehow," Elton sings, before Davey Johnstone's blistering electric guitar outruns an earthquake of percussion, as it races to the finish line. There's something to be said about a song that greatly influenced the composition of "November Rain": We cannot forget the blueprints that birthed the architecture, even if we are more familiar with the latter.
10. "Madman Across the Water" ft. Mick Ronson (1971)
I am a glutton for a good, long Elton John song. Once he crosses that five-minute threshold, I'm all in. No questions asked. When you're positioned in a tracklist with "Tiny Dancer" and "Levon," of course it'll be hard to be as revered. Yet, the title track from Madman Across the Water is such a face-melter that goes through every motion you want—no, need—in a rock 'n' roll track. It stands on its own in a room full of heavyweights. Calling upon session guitarist Mick Ronson—who made headway being David Bowie's right-hand-man for five albums in the 1970s—Elton was prepared to unleash one of his grandest, most-versatile songs to-date (and probably ever, in retrospect). "The ground's a-long way down but I need more / Is the nightmare really black / Or are the windows painted? / Will they come again next week? / Can my mind really take it?" he sings. Elton wouldn't fully try his hand at a rock opera for another year, but "Madman Across the Water" is a good first taste of what kind of shapeshifting concerto he and Taupin could cook up. And that Ronson solo that erupts midway through the joint and returns near the end? I'll take a thousand more of those, please. Thank you.
9. "I'm Still Standing" (1983)
I will be the first person to admit that Elton John's post-1970s repertoire is weak. Step back and look at everything he put out after 1983 and things are bleak—save for the Lion King tune that won him an Oscar and Grammy, and the Princess Diana-ode-slash-revision "Candle in the Wind 1997." That being said, 1983's Too Low for Zero was Elton's last stroke of front-to-back brilliance. He's had good albums and great songs since then, but his 17th studio album remains the last full body of work to land as a career touchstone. The second single from Too Low for Zero, "I'm Still Standing," is such a cheeky, borderline-corny pop tune. And yet, it's so good. Those harmonies behind Elton's vocals? Gorgeous. Those Reagan-era synths and that MTV-worthy guitar solo? Perhaps Elton had more left to give after all. Not to mention, "I'm Still Standing" is a loving celebration of Elton's survival as a queer rock star and recovering addict. It's hard to root against the tune; in-fact, I think it's one of his best ever.
8. "Goodbye Yellow Brick Road" (1973)
I don't think it's a stretch to say that Goodbye Yellow Brick Road is Elton John's magnum opus. After Taupin wrote the lyrics in under three weeks, Elton composed all of the melodies in three days at the Pink Flamingo Hotel in Kingston, Jamaica. Initially, the album was supposed to be recorded there, partly because the Rolling Stones had just made Goats Head Soup there. But, it was eventually put together at the Château d'Hérouville in France. With a 76-minute run-time and 17 tracks, the album tests every limit of what Taupin could do as a lyricist and what shape Elton could will his piano into.
The title track, in-particular, plays around with Sgt. Pepper-style vocal layerings, as Elton makes his voice sound 10 harmonies thick. It's cinematic, childlike and semi-autobiographical. Taupin, inspired by The Wizard of Oz, wrote about his parents' farm in Lincolnshire and reflected on his time growing up there. It's one of those balmy moments where we get a bird's-eye-view into Taupin's life and Elton is merely the translator on-tape. "You know you can't hold me forever / I didn't sign up with you / I'm not a present for your friends to open / This boy's too young to be singing the blues," Elton sings. The track peaked at number-two on the Billboard Hot 100, Goodbye Yellow Brick Road has sold 20-million copies worldwide and its legacy is unshakeable.
7. "Tiny Dancer" (1971)
You could argue that "Tiny Dancer" is Elton John's greatest track, in terms of what it means to his legacy as a performer. When Rolling Stone revamped their 500 Greatest Songs of All Time ranking in 2021, "Tiny Dancer" clocked in at number 47—which is a big feat, given that that revision of the list included input from dozens of modern music minds. What that says to me is that "Tiny Dancer" is eternal, but we've always known that to be true. The fact that it peaked at only 47 on the Billboard Hot 100 baffles me. When I first saw it hit in that now-infamous scene from Almost Famous, I had assumed it had always been a behemoth, career-defining moment for Elton. And maybe it was, I can't say for certain. "Tiny Dancer" came out 27 years before I was born; my mother was only a year old when it was released as a single. But, 50 years on, when you hear Paul Buckmaster's orchestra chime in as Elton rips into that classic "Hold me closer, tiny dancer / Count the headlights on the highway" chorus, you sing along. You don't nod your head to the melody or hum quietly; you belt that shit. Maybe when Elton gets to the "Lay me down in sheets of linen" part, you also coil your vocals into a way-too-high-pitch until you sound like a dying cat. "Tiny Dancer" is a cultural moment that forever has a VIP +1 pass in the zeitgeist, and we must respect it as such.
6. "Bennie and the Jets" (1973)
Part of what elevates the legacy of "Bennie and the Jets," for me, is how Elton wills it into one of the greatest live songs ever splayed across a stage. Where were you when you learned that the version of the song we hear on Goodbye Yellow Brick Road wasn't actually recorded live? It's true, though. Producer Gus Dudgeon added the live sound effects after Elton and his band laid the track down in the studio. Taupin penned "Bennie and the Jets" as a story about a fictional, proto-science-fiction band. The bandleader was a genderqueer figure inspired by Helmut Newton's style of photography, and Taupin's lyrics are some of his most far-out and vivid: "We'll kill the fatted calf tonight / So stick around / You're gonna hear electric music / Solid walls of sound," Elton sings.
It's unlike anything he'd ever sung before, and nothing has come close to touching it since. The track is so monumental that it was later sampled beautifully on A Tribe Called Quest's final album. "Bennie and the Jets" could've been an entire album about an outfit of futuristic, weirdo punks, and I'm a little bit jaded that it never was. Elton and Taupin robbed us of the beautiful, queer, science-fiction rock opera we deserved. Sigh. We'll always have Captain Fantastic and the Brown Dirt Cowboy.
5. "Daniel" (1973)
Elton John is one of our greatest balladeers. For over 50 years, he's perfected the art form so well he should have his own subgenre. To that end, "Daniel," the opening track from Don't Shoot Me I'm Only the Piano Player is such a heartwarming, timeless number. There are no theatrics to Elton's vocals; no glamorous arrangements that'll ignite fireworks across every stadium in the world. No, the magnetism comes through his ability to send shivers down your spine through a well-done story alone. This is a track I return to almost more often than any other Elton John song, not just because it's my favorite singing performance of Elton's ever but because Taupin crafted such a generous, loving ode to a now-gone brother. "Daniel is traveling tonight on a plane / I can see the red taillights heading for Spain / Oh, and I can see Daniel waving goodbye / God, it looks like Daniel / Must be the clouds in my eyes" is a verse practically unmatched in all of Elton's catalog.
4. "Someone Saved My Life Tonight" (1975)
What did I say about those long Elton John songs? Like the operatic masterpieces that preceded it, "Someone Saved My Life Tonight" is Elton's most-vulnerable track ever and the centerpiece of Captain Fantastic and the Brown Dirt Cowboy. Inspired by his struggles with suicidal thoughts a decade prior, Taupin wrote about how Elton's friend Long John Baldry offered him life-saving advice. It's well-documented that, very soon after the song's release, Elton took five-dozen valiums and nose-dived into a pool, shouting "I'm going to die!" Thankfully, we still have him with us and, up until his supposed last show ever on July 8, 2023, he has continued to gift us renditions of this tune. It's one of the few ballads in the world that can hush an entire stadium and bring adults to their knees.
Coupling those Goodbye Yellow Brick Road-style vocal runs with a perfect dance atop his ivories, Elton and Taupin found a career-defining magic in "Someone Saved My Life Tonight." Yes, it remains a document that shines a light on how destructive Elton's life was, but it's also a testament of hope masquerading as a play on romantic strife. "I'm strangled by your haunted social scene / Just a pawn outplayed by a dominating queen / It's four o'clock in the morning / Damnit, listen to me good / I'm sleeping with myself tonight / Saved in time, thank God my music's still alive," he sings. 50 years later, that last line endures, and thank God for that.
3. "The Bitch is Back" (1974)
Say goodbye to the upbeat jams on the list, this is their final stop. With all softies from here on out, let us take a moment to pay proper gratitude to Caribou opener "The Bitch is Back," the sexiest, coolest, most-electric song Elton John ever made. The track solidifies one thing about him that I think often gets buried beneath his ability to spin a tender ode into a mountain-moving ballad: He can rock out with the very best of them, and he often ran circles around his peers. Inspired by Taupin's wife Maxine Feibelman saying "the bitch is back" every time Elton threw a tantrum, the tune is an adrenaline-filled (and likely drug-fueled) bender of mass-destruction and raucous glam-rock.
There's a reason that Elton considers it to be his theme song: No other composition of his so proudly displays such an enduring confidence. How can you listen to this song and not think you're the finest cat around? "Eat meat on a Friday, that's alright / I even like steak on a Saturday night / I can bitch the best at your social do's / I get high in the evening sniffing pots of glue," Elton sings. It's a pastiche of hedonism and macho-man resplendents, and he was absolutely cooking on this thing. To follow-up the operatic Goodbye Yellow Brick Road with "The Bitch is Back" was a genius page-turn that only Elton and Taupin could pull off. It's one of the greatest decisions the duo ever made.
2. "Mona Lisas and Mad Hatters" (1972)
I really, really wanted to put "Mona Lisas and Mad Hatters" in the top spot, because it's such a perfect eclipse of soft-rock. And I'm actually quite frustrated that a couple of Englishmen were able to write a more tangible pastoral of New York City than most of the New Yorkers working alongside them in rock 'n' roll. Inspired by both Taupin hearing a gunshot near his hotel window on his first-ever trip to the Big Apple and Ben E. King's "Spanish Harlem," "Mona Lisas and Mad Hatters" is a poetic ode to the conflicting beauty and loneliness of the greatest American city. On one of the most-beautiful lyrical sequences in all of Elton's career, he sings: "This broadway's got / It's got a lotta songs to sing / If I knew the tunes I might join in / I'll go my way alone, grow my own / My own seeds shall be sown in New York City / Subway's no way for a good man to go down / Rich man can ride, and the hobo, he can drown / And I thank the lord for the people I have found." Atop stripped down instrumentals—fit only with Elton's piano and Davey Johnstone's mandolin—the story transcends the sometimes-goofy, theatrical meanderings of Honky Château and becomes something timeless. If Goodbye Yellow Brick Road was Elton's magnum opus, then "Mona Lisas and Mad Hatters" was Taupin's.
1. "Levon" (1971)
"Levon," the second track from Elton John's seminal 1971 album Madman Across the Water, is a bluesy, orchestral stroke of passion from Elton and Taupin—stretching from Paul Buckmaster's string arrangements all the way to Brian Dee's harmonium. The titular character was supposedly named after Levon Helm, the drummer of The Band—though Robbie Robertson once said that Helm hated the song and said that "Englishmen shouldn't fuck with Americanisms." Look, I love the Band! "The Weight" is an all-timer; "I Shall Be Released" is, too. But, I return to "Levon" way more often than I return to anything that ever came out of Big Pink.
The song's story, which arrives like the birth of a working-class, 21-century Jesus Christ, pulls me in every single time. I can picture Elton singing "Levon like his money / He makes a lot, they say / Spends his days counting / In a garage by the motorway / He was born a pauper to a pawn on a Christmas Day / When the New York Times said 'God is dead / And the war's begun'" in the studio. God, I bet he didn't labor one bit laying that vocal track down. When I play it back, the finesse is there. Elton had not yet become the Elton John that would transcend generations of rock 'n' roll, but I don't think he reached an apex higher than "Levon."
Matt Mitchell is Paste's assistant music editor. He lives in Columbus, Ohio, but you can find him online @yogurttowne.