10 Folk Artists You Need to Know in 2019
Listen up, because these folkies are going to be everywhere this year.
Photos by Raez Argulla
Music
Lists
Folk Music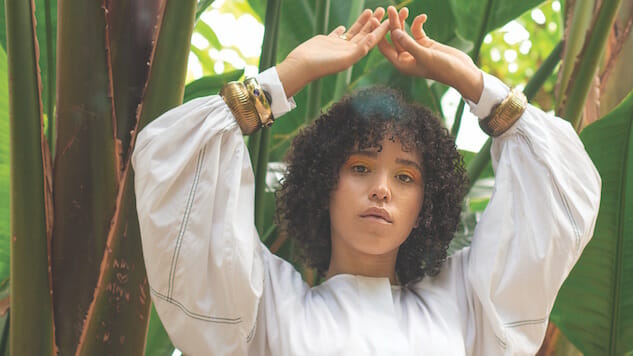 These days, the genre "folk" is folkin' difficult to categorize. When we rounded the up the best folk albums of 2018, the list consisted of veterans (like Laura Veirs and Alela Diane) and newcomers (Tomberlin, Anna St. Louis and Caroline Says) alike. But it seemed the newer faces also brought with them a new swath of sounds: St. Louis could just as well be a country songstress, and Caroline Says is paving her own path with a glossy kind of digital folk. But it's all "folk" music, at least by today's standards (or lack thereof).
So as we look ahead in 2019, many newcomers to the folk, roots and bluegrass arenas aren't easily categorized. These artists are bending traditions, experimenting with their instruments and challenging the definition of acoustic music. This year, they'll release albums on traditionally folk labels and play folk festivals, but they'll also likely find fans in unlikely places. Because in 2019, folk isn't just old-time music. It's not just banjos and knee slaps and fiddles. It's music made by talented instrumentalists, singer/songwriters and bands who are not content to make boring art. And as the folk tradition goes, many of these artists value political protest and a social conscience, not to mention the magic of collaboration. Maybe it's not quite a revival, but there's certainly change stirring in roots music. Here are the people behind the shake-ups, listed in alphabetical order.
1. Allison de Groot & Tatiana Hargreaves
Allison de Groot and Tatiana Hargreaves have each pushed folk boundaries in their own separate projects. De Groot has made a name for herself as one of the best clawhammer banjoists in Canada, and Hargreaves is a skilled fiddler who's toured with the likes of Gillian Welch and Laurie Lewis. Together, they're breaking even more folk stereotypes, and on March 22, they'll officially be in a partnership of sorts when they release their debut, self-titled album as a duo. Their reckless sounds signal a change of pace in Appalachian music and a rebuff of old-time traditions. In a musical community that so frequently emphasizes collaboration, you never know when a new team will be worth hearing, but de Groot and Hargreaves are a can't-miss pair in 2019.
2. Emily Fairlight
Emily Fairlight writes both poems and lyrics, and you can tell. The New Zealand singer/songwriter makes music that feels purposefully introspective and intimate, the kind of thing you might listen to alone in the kitchen or with a few friends on the couch, but not too many friends—you'll want to keep these sounds and words to yourself. She released a thoughtful new album, Mother of Gloom, in 2018, which landed her a spot as a showcasing artist at this year's South By Southwest festival in March.
3. Jennah Bell
Los Angeles' Jennah Bell is not just a folk singer. She's a master picker, yes, but her songs are heartier and brighter than your run-of-the-mill singer/songwriter ditty. That's probably due to her soulful voice—she sounds ready to belt out a pop song or try out for a singing competition show, in a good way. She's a natural talent, and her debut full-length, Anchors & Elephants (out Feb. 22) is sure to stun. The Berklee College of Music grad made the record with help from master mixer Russell Elevado (The Roots, Erykah Badu) as well as producers Michael Haziza and James Poyser, also a member of The Roots. You may want to pre-order the record: Jennah Bell is one showcase set away from exploding.
4. Kaia Kater
For rising folk star Kaia Kater, embracing her heritage is one of the most important parts of storytelling. On her 2018 album Grenades, the banjo-toting singer/songwriter explores her identities as both a Canadian and Grenadian. The result is a fascinating roots record about embracing who you are. Kater stopped by the Paste Studio in early January to play three of the best tunes from the record, "Meridian Ground," "Canyonland" and "Everly."
5. Lula Wiles
In 2018, a folk trio and supergroup called I'm With Her took the bluegrass world by storm with their grounded, spritely compositions and golden harmonies. Now it seems their successors have arrived in the form of Lula Wiles, a Boston-based trio made up of Isa Burke, Ellie Buckland, and Mali Obomsawin, three friends who began collaborating in college, released their self-titled debut in 2016 and have since played major folk festivals like Newport and Philadelphia. They're a Smithsonian Folkways signee and released their sophomore album, What Will We Do, on the label on Jan. 25. Their three-part harmonies are warm, their lyrics real and smiles contagious, but What Will We Do also promises serious concepts: "Good Old American Values" critiques country music's history of exploiting Native American stereotypes ("Good old American cartoons / Indians and cowboys and saloons / It's all history by now / And we hold the pen anyhow"). "Love Gone Wrong," the album's opening track, is an examination of lost love and self blame. Lula Wiles' sound is rooted in old-time traditions, but their energy is distinctly modern.
6. Molly Tuttle
Molly Tuttle may as well be folk music's version of an internet influencer. Her YouTube videos, which range from vintage guitar test runs to clawhammer tutorials to lessons on rhythm lead switching, have racked up hundreds of thousands of views. And it's easy to see why people can't get enough—she's a stellar picker with a creamy voice and status as the International Bluegrass Music Association' first ever female Guitar Player of the Year. The 25-year-old's talent is no secret among the Americana and roots populous, but this year, with the release of her debut solo LP When You're Ready on April 5, she's bound to break beyond her home scene.
7. Our Native Daughters
It's no coincidence that many of the best supergroups are folkies. From the protest collaborations at the first Newport Folk Festival to the mythical Crosby, Stills, Nash & Young to more recent formations like I'm With Her, folk artists know they're more powerful when they work together. Rhiannon Giddens, Amythyst Kiah, Allison Russell, and Leyla McCalla are the latest solo artists to the go the way of CSN&Y in the form of their new supergroup, Our Native Daughters. Russell wrote the latest single from their debut album (Songs of Our Native Daughters, out Feb. 22) about her ancestor, a slave, who survived a transatlantic crossing from West Africa. Together, the four women make up a masterful collective of storytellers.
8. The Honey Dewdrops
Laura Wortman and Kagey Parrish, the two musicians behind Americana duo The Honey Dewdrops, call Baltimore home, but they sound like they ran here straight from an Appalachian valley somewhere outside Asheville, N.C., which is sort of what they did. Worman and Parrish are originally from Virginia, and they carry their roots with them as they tour the world, which they've been doing almost continuously for nine years. On March 1, they'll independently release their fifth album, Anyone Can See, and it promises more warm acoustic guitar, masterful vocals and their charming improvisational mood.
9. The Small Glories
Cara Luft and JD Edwards are The Small Glories, a Winnipeg-based bluegrass duo with a knack for nostalgic lyrics and chipper harmonies. Luft is an absolute whiz on the banjo, and Edwards, who plays guitar, has the voice of a classic old-time country singer. Together, they crank out lively stories and songs rooted in long-held tradition and realism. Their first album, Wondrous Traveler, arrived in 2016, but they're due for another sometime this year, according to their Facebook page.
10. Twain
With his songwriting project Twain, Mat Davidson goes the indie-folk route. Twain's music is a bit more sonically layered than that of many of the traditional artists on this list, which is a good thing if you're trying to get into folk but you're not quite ready for a hootenanny. Davidson plays with a full band, and they've already got two albums under their belt (2014's Life Labors in the Choir and 2017's Rare Feeling). On Jan. 25, they released 2 E.P.s, a collection of songs from the Rare Feeling sessions. Twain will also be on the road in 2019 with Buck Meek and Rubblebucket.