"Hallelujah" Is a Reflective Celebration of HAIM's Bond as Sisters
Images via Grant Spanier, Columbia Records
Music
News
HAIM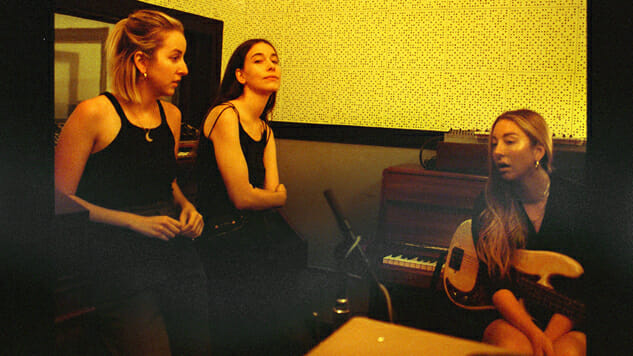 "I met two angels, but they were in disguise," Danielle Haim soulfully begins her band's new track, "Hallelujah," written with her sisters, Este and Alana Haim, along with their friend and fellow songwriter Tobias Jesso Jr. The track is highly personal in a different way than their latest poppy single "Now I'm in It," which the band described as highlighting experiences with dark depression. "Hallelujah" is a celebration of the highs of life that can be found in others and recognizing the luck of having such people.
The songwriting is certainly the focus of this song as a guitar accompanies the sisters' reflective voices. Lyrics like "Laughing together like our thoughts are harmonized" evoke visions of joy that sound how golden hour looks in California, and the slow simplicity, yet monumental meaning of the track makes it reminiscent of Stevie Nicks' twangy longing on the Fleetwood Mac classic "Landslide."
The sisters each tweeted a note about what their verses meant to them.
From Este:
our new song hallelujah comes out tomorrow. this song is for anyone struggling with chronic illness and the people around us who we truly rely on for help and guidance. pic.twitter.com/xd6wBOuAli

— HAIM (@HAIMtheband) November 17, 2019
From Alana:
We have a song called hallelujah coming out on Monday. It's a song about family, love, loss, and being thankful for it all. It's hard to talk about my verse in the song but I wanted to open up about it so here i go… pic.twitter.com/0KqdNx7syq

— HAIM (@HAIMtheband) November 16, 2019
From Danielle:
HALLELUJAH OUT NOW. my verse is about our relationship as sisters. that feeling of knowing what your sibling is gonna do or say before they do it. Sibling telepathy is a real thing!!!! that is what inspired the concept for this video. pic.twitter.com/hAyfcHZNjh

— HAIM (@HAIMtheband) November 18, 2019
The band's Golden State aesthetic is captured in sound and visuals once again by Paul Thomas Anderson, who has directed many of HAIM'S videos starting with "Right Now," "Valentine," "Little of Your Love" and "Night So Long" off their sophomore album Something to Tell You, and most recently "Summer Girl" and "Now I'm in It" this year. The lyrics are subtly literal in the video, which is cast in a heavenly warm glow.
The track was produced by Ariel Rechtshaid, Rostam Batmanglij and Danielle Haim. Watch the video below and revisit HAIM's 2012 Daytrotter session further down.