Daytrotter Session - Jan 17, 2012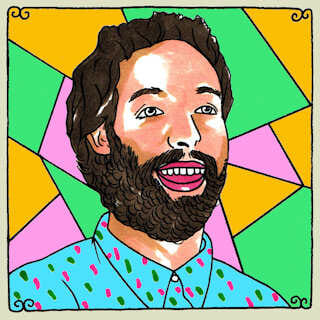 Welcome to Daytrotter
FFAP
Hibernation
Land of Feeling
Old World United
It was well after dark when Luke Temple and his band, Here We Go Magic, showed up out front of the crumbling old school house that was built in the 1890s. He appeared to have smoked through a bunch of cigarettes and whatever that day, anything to pass the time, anything to soothe himself. He was sporting a scraggily beard that was full of commas and wilderness. Two lips pulled together and bit down on could eliminate all trace of bare skin on 75-percent of his head. We recognized our old friend in a different way than we ever had before. He'd been growing into his music, his pensive and labyrinthine songs more and more as the years have come along, taking on their characteristics, if it's even possible for a song to have physical characteristics that could be configured to a man's form.
He has been inhabiting these curious dimensions of himself in more experimental and oddly more personal and slightly scary ways that – even when he processes all that he's feeling, seeing, climbing and fighting – it comes out in his very peculiar tongues. His thoughts have been coming out so steadily mutated over the last few records that he's transformed himself as a writer into one who is increasingly posing some of the most enthralling riddles to solve in the forms of he and his crack squad of players' (Michael Bloch, Peter Hale, Jen Turner and Kristina Lieberson) seemingly demented cracked mirror of a picture.
The songs are the craziest of snakes now, combining recklessness, bubbling and bursting backbeats, Temple's at times bushy and at others quivery and sweet vocals and these stories of people who sound as if they've cracked up a bit. They've taken some mushrooms along the way and we're seeing them in the way that they're feeling. He sings of a "weary daylight" on the song "Hibernation," and it's one of the points of the madness, but then we're also treated to the parts of these lives that are those in-between sections where things aren't spinning so wickedly, when there's more grace to the pessimism that they're dealing with.
"Land of Feeling," comes off as one of these moments of post-hibernation, post-shock therapy cool down, where the mood is still very Belleville at lights out time, for the reflective crowd, trying to come to terms with why they're here, or why they can't feel the way they're supposed to feel. They're supposed to feel normal, or in a sense, they're supposed to feel happy. Why can't they just be happy? The answer seems to jump out from the crouched spots in many Here We Go Magic songs. It's just because there's too little normal to go around. There's not all that much more happiness, even if sometimes it feels that it exists aplenty, and it's an issue.