Iceland Airwaves Will Inspire Even the Most Cynical Music Festival-Goers
We travelled to Reykjavík to cover the 2019 edition of this truly progressive, unique music festival
Photos by Ian Young
Music
Features
Iceland Airwaves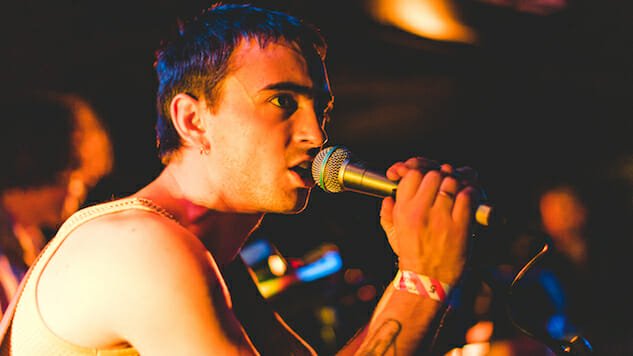 Pottery (Photo by Ian Young)
Major music festivals often feel like a practice in fakeness. There's a delusion of having a life-altering night with friends, all while sporting the hottest trends of the season, washing down fruity cocktails and posing for unconscionably smiley group photos. In reality, music festivals usually entail some combination of the following unfortunate events: babysitting your friend who decided to get way too high, dodging giveaways of corporate-branded tchotchkes that you definitely don't want to carry around, zigzagging through labyrinths of crowds, trying to get drunk without spending a small fortune, squatting over a porta potty in the dark and choosing from musical offerings that are virtually the same from year to year and across festivals. Some people are perfectly content watching Post Malone headline the Amazon-Google-Verizon-Honda-whatever stage while downing a $15 beer and dancing on patchy grass at least a mile away from said stage, but, personally, this doesn't feel like a particularly meaningful music experience.
Iceland Airwaves doesn't try to sell you on this insane fantasy of frolicking and manufactured bliss. It offers something much better: a progressive festival experience in a picturesque, one-of-a-kind city with a lineup so mindfully curated that you'll leave with everything you wanted and more. Airwaves has been held in Reykjavík since 1999, and it adopts the South By Southwest model where shows take place across the city's venues, all within walking distance from each other. The 2019 lineup consisted of half Icelandic and half international artists, plus a 50/50 gender split, and the result was a group of diverse performers who were either long-established names, rising stars or well-kept secrets.
No matter your stylistic preference or first language, Iceland Airwaves is a place to explore many musical niches, and there's a shared belief among attendees and artists that the greatest show you've ever seen often comes from an unexpected place. I met people from all over—a couple from Nova Scotia in a church, a man from Norway in a dive bar, a Scottish guy waiting in line for a hot dog and a Dutch guitarist at a punk show—but the common threads were a friendly warmth and contagious appreciation for art.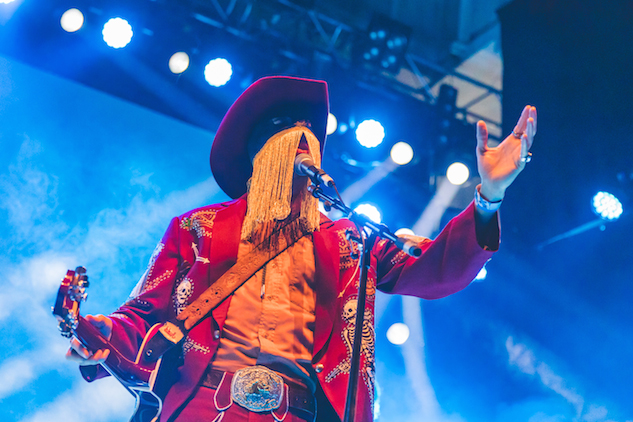 Orville Peck (Photo by Ian Young)
If you've never been to Iceland before, many of the stereotypes are true. I forgot to make an Icelandic-themed bingo card before I left, but I'm pretty sure "giant spooky ship" would've been on there, and I was not disappointed by the massive grubby vessel that loomed over the Reykjavík seaside. When people think of Iceland, most probably imagine vikings, unconventional meats, Björk, sweaters, elves, geysers, decorative horns and wild horses, and I experienced all these things in one way or another, but they don't fully sum up the country's rich beauty and culture. Reykjavík is Iceland's cultural and tourist hub, but it's far more quaint than your average capital city where noise, pollution, trash, traffic and overpopulation don't exactly put one at ease during a weekend getaway.
Its seaside backdrop makes it feel like a Nordic Brighton, but instead of Brighton's sunny carnival atmosphere with ice cream cones and seagulls, you get a chilly, majestic setting with volcanic mountains, puffins and fish and chips. Temperatures fluctuated between 30 and 40 degrees throughout this week in early November, and the harsh winds will either make you walk like a bionic human or with a goofy, measured slowness. But assuming you've got a well-suited sweater, scarf and puffy coat, you can get around just fine. Icelanders are especially fond of bubble jackets and wool sweaters, which can be purchased nearly everywhere you look. If sweaters were an Olympic sport, the Icelandic would be banned for using performance enhancing drugs—they are so good at making and wearing beautiful sweaters that it's almost suspicious.
Though it was nippy outside, the Airwaves venues were plenty warm inside where even the smallest acts drew sizable and attentive crowds. In between sets, music exclusively from artists on the lineup blared, which read like a smart, loving nudge from organizers to get acquainted with as much of the festival's robust talent as possible. The dozen or so official venues ranged from 100-cap bars and stately churches to art museums, theaters and sports arenas. Almost every venue I attended had its own distinct energy and charm. I caught stoner metalheads Morpholith in the upstairs of a tiny whiskey bar where their long hairdos whipped back and forth, brushing against the slanted, wooden ceilings. Then there was Icelandic rapper Emmsjé Gauti whose stage pyrotechnics dazzled inside a theater of bouncing fans as he excitedly warned, "The floor is lava!" Most comfortingly, I enjoyed the gorgeous classical compositions of Gabríel Ólafs inside a traditional church, where I was gradually lulled into a brief slumber—not caused by boredom, but because I've never experienced such tranquility at a show before.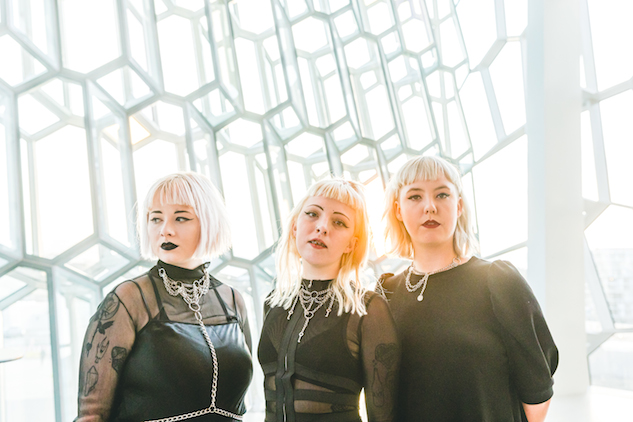 Kælan Mikla (Photo by Ian Young)
My favorite sets from this four-day festival were a combination of artists I was already excited to see and unfamiliar acts that blew me away on the spot. Day one was characterized by synthy goth trio Kælan Mikla, masked Toronto crooner Orville Peck and hardcore metal outfit Une Misère. Kælan Mikla's show felt like a goth baptism—it was atmospheric, otherworldly and often chilling as their vocals shifted from childlike to guttural. Orville Peck's set was one people were clearly anticipating. The mysteriously anonymous country singer made his Icelandic debut in a Stetson hat and orange bedazzled suit emblazoned with cacti and skeletons, illustrating his stylistic duality of sinister punk and country twang. How a disguised Canadian country singer ended up getting hordes of Icelandic people to scream "Yeehaw!" in a modern art museum is a testament to Peck's appeal. It was also amusing hearing Peck aggressively and comically yell, "I wanna see a puffin!" Une Misère ended night one with a brutal stomp. Frontman Jón Már Ásbjörnsson threw air punches and elbows like an MMA fighter as his distorted doom metal vocals circled the venue and inspired several rambunctious circle pits.
Day two was as celebratory as it was vigorous. Icelandic electro-pop group Sykur led by pink-haired Agnes Björt Andradóttir definitely represented the former quality as the bubbly rhythms of their 2011 single "Reykjavík" rang out like a funky national anthem. Metal outfit Blóðmör exhibited the latter description and despite their members ranging from ages 16-18 and playing in a bar they likely wouldn't be allowed in otherwise, they demonstrated the most impressive guitar chops of the whole festival. It's no wonder why their mix of classic metal and bluesy hard rock was awarded first place at the Icelandic battle of the bands contest previously won by Of Monsters and Men (whose 2019 Airwaves set was the biggest of the festival). British post-punks Shame bookended the second night with a selection of debut album favorites and unreleased songs, and as always, the show was marked by frontman Charlie Steen's skilled crowd climbing and bassist Josh Finerty's manic stage tumbling. His bass strap didn't stand a chance as his poor guitar tech did his best to repeatedly tape the strap to his guitar, even as Finerty continued to play.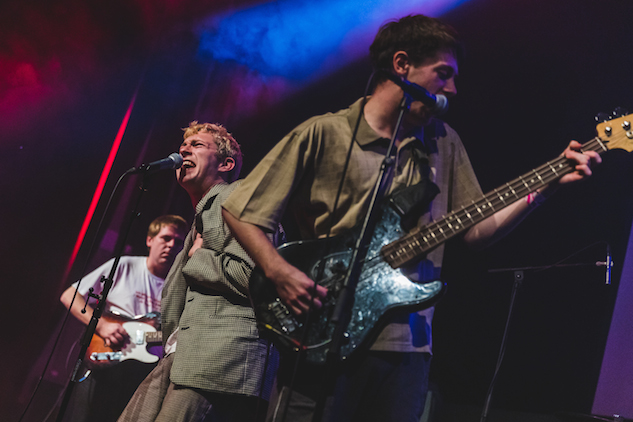 Shame (Photo by Ian Young)
Day three's festivities were warm and fuzzy. Icelandic singer/songwriter Svavar Knútur put on a stirring and minimal acoustic performance for beloved Seattle radio station KEXP, and his personality proved to be equally heartwarming. At one point, he expressed jealousy that Americans and Europeans have such a colorful emotional spectrum, but Icelanders' spectrum only ranges from green to brown or as he described it: "an emotional mud puddle." American-born and Reykjavík-based artist John Grant's performance in an old church was a sight to behold, even though my seat in the poorly designed balcony meant I couldn't actually see Grant. However, two minutes before his set in the fully packed venue, he emerged on the opposite balcony and walked through the crowd and down the stairs toward the front of the church as people shared surprised grins amongst themselves. His witty social commentary was impactful, and members of the crowd visibly swayed along to his refined baritone. Norwegian singer/songwriter Girl in Red (aka 20-year-old Marie Ulven) quickly built a massive following around her lovelorn bedroom pop, and attendees appeared in droves at the end of night three, curious to find out if the hype was justified. Ulven's aesthetics may be breezy and dreary, but her performance was surprisingly rambunctious, and she expressed a similar excitement to eat candy in her hotel room after the show.
The final day of Airwaves was an all-around brightly-colored affair. English quartet Penelope Isles, hot on the heels of their Bella Union debut album, delivered one of the most searing moments from the week via the shoegaze interlude of "Gnarbone," during which a crowd member jubilantly wielded a light-up yo-yo like he was the only person in the world. Manchester trio W.H. Lung's set was perhaps the most instantaneously infectious as the grooves of their tension-building art rock took everyone by storm. Frontman Joseph E was underpinned by an improvisational motor and punk tenacity. Did he slip into the crowd on purpose for raw theatricality or did his pumping energy simply carry him over the barricade? Either way, it was awesome. While I was convinced I wouldn't see anything better than that set, the very last band of the festival swooped in and took the crown. Icelandic seven-piece cult band Grísalappalísa announced they were splitting up a few months before the festival and said their two Airwaves sets could very well be their last ever shows. As I ventured to the venue for their 1 a.m. set, I was informed by hardcore fans that I was about to witness Iceland's best live band, and they were convinced that this would be their final show.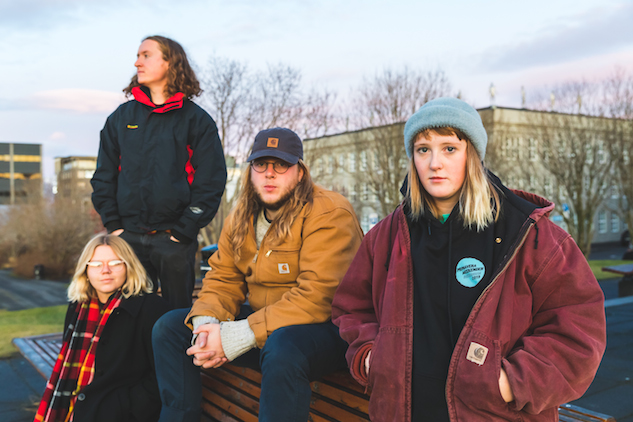 Penelope Isles (Photo by Ian Young)
Interestingly, neither of their two frontmen performed with instruments. Instead they tag-teamed with their distinct personalities. Baldur Baldursson barked like a punk and looked like an angry hipster mechanic, while Gunnar Ragnarsson sang both tenderly and with a snarl, donned in sensual glam punk attire and staring down the crowd with a full face of makeup. The band brought along a cameraman and light-up balloons to complete the spectacle, which was spring-loaded, brooding, subversive and jolly all at once. I've never seen a frontman storm through a crowd with an intensity like Ragnarsson's. The power of Iceland Airwaves is only knowing about a band an hour before their show, falling in love with them and then getting teary-eyed as they split up before your eyes. Watching their emotional final show in front of their adoring fans was a privilege. Immediately after the music finished, no one was ready to say goodbye to Grísalappalísa just yet, so the sweaty, out-of-breath Ragnarsson wandered into the crowd to hug devastated, longtime fans, and it was so painful and beautiful to witness.
The 2019 edition of Iceland Airwaves was filled with magical moments in a magical setting. Whether it was a local couple offering to buy my first late-night Icelandic hot dog or fans decked out in cosplay for the electronic industrial group Hatari, the festival felt like a dream for those who savor moments of serendipitous connection. In the midst of Reykjavík's charming cafes, bars and Christmas shops were some of the most affecting shows I've ever seen. With plenty of time during the day to visit the geothermal hot springs, the Sigur Rós-operated shop and art space, volcanic glaciers, Icelandic punk museum and many other attractions, Iceland Airwaves is the perfect time to visit Reykjavík. You're not going to experience the type of music festival that's often depicted in cheesy brand advertisements, and unfortunately, you probably won't run into the literal queen of Iceland, Björk (not technically their queen, but just roll with me on this one), but you will experience one of the most unique and pure-intentioned festivals in the world and discover new music that you'll likely carry with you for a long time.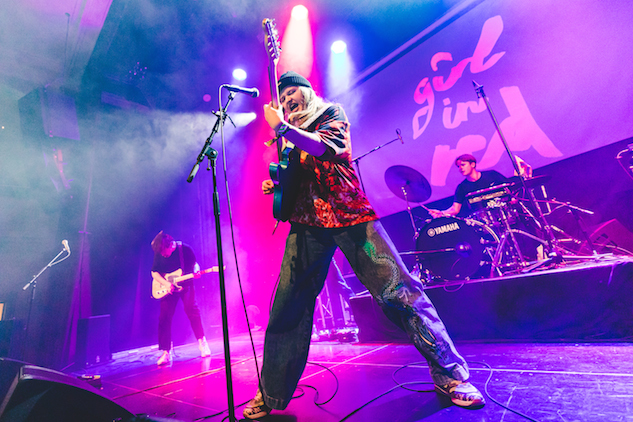 Girl In Red (Photo by Ian Young)