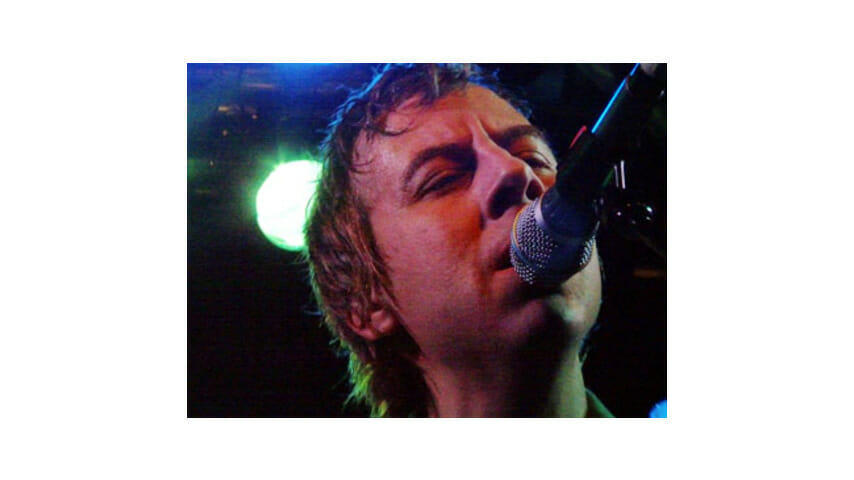 Like steak tartare or single-malt scotch, the songs of John Vanderslice are an acquired taste. On his five Barsuk releases, the San Francisco-based singer/songwriter has employed his slightly raspy voice to unveil stories that are passionate, raw and whimsical, but always meticulously crafted. With influences from Schubert to Spoon and lyrics that touch on everything from Iraqi whores to escaped bunnies, the Vanderslice oeuvre hits your palate in unexpected ways. Like the uncooked filet and the drink that envelops while it burns, his songs are delicacies and you find yourself craving more.
When Vanderslice took the stage on a recent Friday night at Neumo's in Seattle, the sold-out crowd was clearly in the grips of said cravings. In a green, Western-inspired patchwork shirt, jeans and blue brogues, Vanderslice kicked off his set with "Plymouth Rock" from 2005's Pixel Revolt. From the opening chords, his petite frame seemed to expand to fit the stage. And when he sang, "Sew me up again / Get me out of here / I lost the reason/ I lost the reason I'm here" it was impossible not to see the blood-drenched warrior prostrate on the ground. The crowd was enthralled.
Which is not to say the show was a lament or that Vanderslice didn't bring the rock. Backed by his band, Sunday Monday Tuesday Wednesday Thursday Friday Saturday (Ian Bjornstad on Wurlitzer and Moog, Dave Douglas on drums and keyboards, and David Broecker on bass, vocals and keyboards), Vanderslice playfully engaged the audience ("You can sit on the side of the stage if you want") while displaying deft musicianship. A fan in his mid-20s even pogo'd during "Keep the Dream Alive" from 2001's Time Travel is Lonely. And the entire show, the second of the tour, was punctuated throughout with cries of "Broecker!" as the crowd paid tribute to its hometown fave. Perhaps the evening's highlight came on Pixel Revolt's "Exodus Damage." When Vanderslice sang the line, "So you hope that one person could solve everything / and for me / that's you / and sometimes that dream is a sad delusion / but sometimes / it's true," it had the ring of gospel to it, as if emanating from deep within, without rehearsals or re-writes.