The 15 New Liverpool Bands You Need to Know in 2018
Never mind The Beatles — These are the best new bands fueling Liverpool's vibrant, storied music scene.
Photo by John Johnson
Music
Lists
Liverpool Bands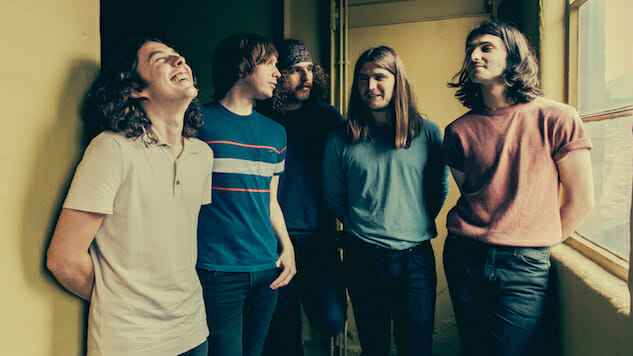 Liverpool, England has become synonymous with The Beatles, but that's just the beginning. Gerry and the Pacemakers, Echo and the Bunnymen, The Teardrop Explodes, A Flock of Seagulls, Frankie Goes To Hollywood, The La's, The Coral and so many others have called the city home. Merseyside venues like The Cavern Club and Eric's became cultural hubs during the city's lively Merseybeat, punk and post-punk scenes. The '90s brought Britpop bands like Cast and The Boo Radleys while the '00s saw the success of rock groups like The Zutons and The Wombats.
Today, Liverpool is also known for its vibrant psych-rock scene as it's home to the annual Liverpool Psych Fest, an international celebration of psych that's previously hosted acts like Spiritualized, The Black Angels, Ty Segall and more. The city has also hosted Liverpool Sound City music festival for over a decade, booking established bands and showcasing the best new talent. To catch you up to speed with all the exciting music coming from one of the world's most celebrated music cities, here are 15 new Liverpool bands you should know.
1. The Vryll Society
Five-piece psych-rockers The Vryll Society released their debut album, Course of the Satellite, earlier this month via famed Liverpool record label, Deltasonic and it's full of cosmic, elegant songs of euphoria without the overelaborate, washed out sound of many other psych bands.
2. TV ME
Pop trio TV ME released their debut EP, A Broadcast From TV ME, earlier this year and it showcases the band's throwback meets futuristic approach to writing and recording. Orchestrated by frontman Tom McConnell, TV ME's colorful, jubilant synths, old-timey piano, cheery guitars and sweet vocals combine for a unique, charming listen.
3. Zuzu
After releasing a pair of singles, indie-rock singer/songwriter Zuzu released her debut EP, Made On Earth by Humans, a few months ago. You can't help but lose yourself in her sassy, infectious Scouse vocals, witty lyrics, and fun, driving guitar riffs.
4. Seatbelts
Featuring Hooton Tennis Club members James Madden and Ryan Murphy, art-rock quartet Seatbelts released their debut four-track EP, Songs For Vonnegut, this summer. Their sharp and spunky mix of art rock, garage rock and post-punk recalls the sound of Parquet Courts and Bodega.
5. Her's
Pop duo Her's are set to release their debut album, Invitation to Her's, on August 24. Led by Stephen Fitzpatrick's shape-shifting vocals, their versatile music morphs from vulnerable pop ballads and shimmering New Wave to distorted indie rock and funky, left-field pop.
6. Trudy and the Romance
Garage pop trio Trudy and the Romance make no bones about bringing back the music of the past. They put out an EP last year called Junkyard Jazz, and it's filled with the band's self-described "'50s mutant pop" and its breezy, surfy, doo-wop infused sound will hook you in right from the start.
7. Queen Zee and the Sasstones
Hardcore pop band Queen Zee and the Sasstones dismantle the status quo with their music and they enjoy themselves doing so. Their latest singles "Sass or Die" and "Victim Age" have a punk heart at their core and a ball of idiosyncratic, misfit energy to match it.
8. Bonnacons of Doom
Experimental collective Bonnacons of Doom released their self-titled debut album this summer, and it's not for those looking for approachable pop songs. Their gorgeous, sinister blend of krautrock, psych, noise rock and hard rock is abrasive but worthwhile once you let it fully seep into your brain.
9. St. Jude the Obscure
Art-pop duo St. Jude the Obscure released their latest single "I'm the Wolves" a few months back. It has the kind of weighty, unadulterated beauty often lost from mainstream pop music, and as the song ebbs and flows, you'll be hanging on their every note.
10. Pizzagirl
Lo-fi singer/songwriter Liam Brown aka Pizzagirl released an EP back in April called An Extended Play and it's bedroom pop done right. Combining old school synth-pop and disco with modern vaporwave and electro-pop, Brown brings a cornucopia of fresh, exuberant sounds.
11. The Fernweh
Folk-psych quintet The Fernweh fuse together classic folk and psych-rock influences for a warm, retro sound. With a debut album on the way (release date TBD), the band's recent singles "The Liar" and "Next Time Around" wouldn't have sounded out of place on Haight-Ashbury in the '60s.
12. FUSS
Five-piece psych-rockers FUSS released their self-titled debut EP last September. Their swirling, trippy psych would inevitably be enhanced by any number of psychedelic drugs, but their fluttering keyboards, wavy guitars, hazy vocals and bolstering drums are so refined and tantalizing that it's easily enjoyable while sober.
13. Psycho Comedy
Garage-rock six-piece Psycho Comedy put out a cassette last summer featuring two fiery new tracks "The Hangman" and "Michigan State." They both evoke the experimental art punk sound of New York City, but they also have a bit of psych drone thrown in for good measure.
14. Monks
Five-piece Monks blur the line between dream-pop, jazz and psych to create something truly special. They recently released the jangly, brass-filled "Dreamboat" and the groovy, dreamlike "Sundried," which both feature frontman and songwriter George Pomford's luscious vocals.
15. Strange Collective
Garage-punk group Strange Collective have been on the scene for a few years now, but they're currently prepping the release of their debut album (release date TBD). They take no prisoners with their hard-nosed sound, DIY ethic, raucous guitar feedback and trademark punk howl.