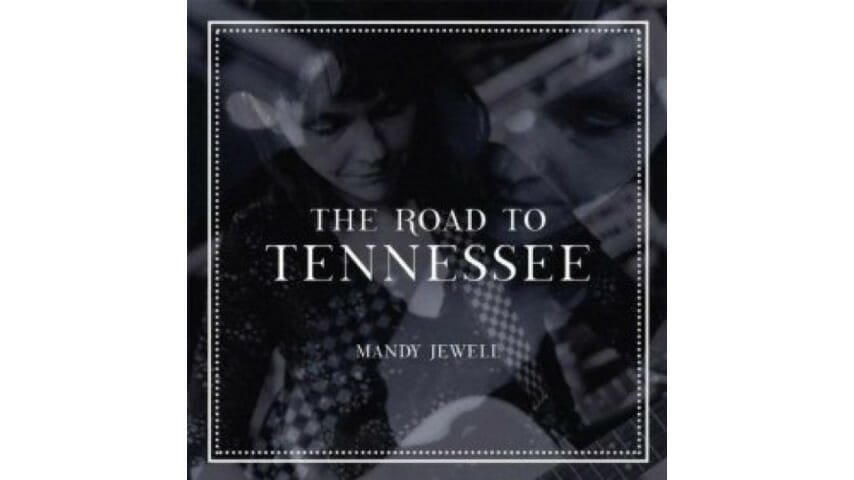 It's the voice that grabs you. On her self-released debut EP, The Road to Tennessee, Mandy Jewell sings in a drowsy drawl, thick with reverb and quick with a defensive snarl, like a boxer backed into the ropes. Her notes bend and warp wryly, forming unexpected shapes, while her phrasing favors a cadence that shifts fluidly from languid to rushed. Emotionally, Jewell constantly braces for the next attack, her bloodied fists raised to guard her heart, yet she conveys a vulnerability that implies she's her own most fearsome opponent. "I'm my own worst enemy, but I don't know how to fight," she sings on "Passenger Side." "I'm worthy of love, but you're not worthy of mine." Listening to The Road to Tennessee is like eavesdropping on Jewell's internal monologue: harrowinglty intimate and bravely revealing.
Jewell hails from Dayton, Ohio, home to Guided by Voices and The Breeders. The latter is apt: Her sharp indie-country sound could be descended from "Drivin' on 9" off Last Splash, and either Deal sister could be a spiritual mentor. A single mother who plays gigs around a full-time job, Jewell debuted songs on YouTube, raised money via Kickstarter, and recorded these six songs down in Nashville, which she considers a spiritual and musical home despite the fact that she doesn't sound like anyone in that country music capital. Setting an ominous tone, opener "In the Sea" floats along with a resigned bounce, and it takes a while to realize that not only is she autopsying a relationship but doing so in a strict AAA rhyme scheme. That choice, which might have sounded amateurish in another singer's voice, gives the song its hypnotic drift, as though Jewell is suffering an emotional repetitive stress injury.
Her music can be deceptively spry, disguising feelings that range from wounded to caustic. After opening with a quick, buoyant acoustic strum, "Rearview" lashes out presumably at the same jerk: "You called me your lover, but that was just a fancy word for whore." Jewell sings that line defiantly and acidly, as though she finds strength from such deep wounds. In a sense, she does. From heartbreak, she has crafted a bold debut, full of prickly wordplay and unflinching confession—the kind of release that ought to immediately establish the Daytonite as a thoroughly distinctive and endlessly intriguing new voice.