25 Atlanta Indie Rock Bands You Need to Know in 2019
Indie rock, metal, pop and everything in between from one of the South's best music cities
Design by Christine Fernando
Music
Lists
Neighbor Lady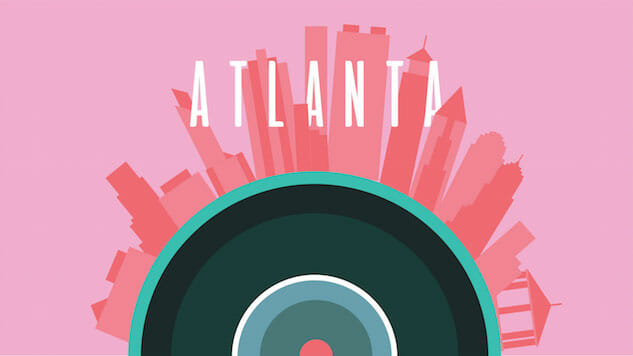 Atlanta is home to the Braves, Hawks and Falcons. If you're a longtime resident and/or sports fan of the Georgia capital, you're probably accustomed to your teams losing (except United—Unite and Conquer!). But Atlantans aren't complacent. We always believe in our teams, whether they're World Series-bound in '95 or succumbing to the Rockets in yet another losing season in 2018. No matter what time of year it is, there's almost always a team to root for. The same could be said of our music scene. Wander out on any given night, and you're bound to find live music somewhere, be it a touring folk act at Eddie's Attic, a hip new indie band in East Atlanta or an old favorite at Variety Playhouse.
It's no secret Atlanta is one of the best music cities in the country. It's the hip-hop capital of the world, after all, but there are also pockets of thriving scenes all over the city ranging in genre. We took a deep dive into the indie scene, which is bursting with young acts making rock, experimental, pop, metal and just about everything else you can think of. This is a special edition of our ongoing city series (which has in the past featured places like Chicago, Philadelphia and Memphis) because Atlanta is home to the Paste HQ. It's also one of the largest cities in the South with an especially healthy music community, so while we couldn't get to all the bands we love, we hope you enjoy this sampler, which includes both young, on-the-rise bands and longtime local favorites (but not fully established exports like Deerhunter, Black Lips, etc.). Several of these acts also share members with neighboring Athens, a legendary music city that should have a list all its own. For now, enjoy these 25, and Chop On!
1. All The Saints
Heavy rockers All the Saints are staples of the Atlanta scene at this point, having released their first album over a decade ago. But Titus Brown, Matt Lambert and Jim Crook aren't going anywhere: They just last month released their anticipated third LP, Look Like You're Going Somewhere, which was recorded in town with producer Jason Kingsland (whose credits include Band of Horses and Deerhunter, among many others). The album walks the line of jammy-y stoner rock and lo-fi grunge, punctuated with heavy basslines and droning guitars. —Ellen Johnson
2. Breathers
Breathers is arguably the most exciting electro synth-pop group in Atlanta right now, and for good reason. Led by the charismatic T. Lee Gunselman, their shows are often packed and sweaty, nary a still person in the crowd. It's impossible not to dance at their live set, full of layered drum beats and unexpected, often beautiful melodies. Their second record was released last year through Irrelevant Music, and if you're not familiar with them, the song "1-800 PAIN" is a good place to start. —Annie Black
3. Deep State
Like many Atlanta bands, Deep State is mainly associated with Athens, home to the University of Georgia and the birthplace of music legends like R.E.M., The B-52's, Drive-By Truckers and on and on. But these groovy garage shockers frequent Atlanta hot spots while still invoking the Athens college rock days of old. Their 2019 album The Path to Fast Oblivion is a highly enjoyable rock 'n' roll journey. —Ellen Johnson
4. DiCaprio
If you couldn't tell by now, post-punk is alive and thriving in Atlanta, and DiCaprio are one of the best in the game. They also maintain classic ATL garage sounds, and Kyle Swick's foreboding speak-sing checks all the boxes. Their most recent EP Sleep In is ballsy and dark. —Ellen Johnson
5. Dot.s
Dot.s make dizzying groove-based electro-pop, denoted by danceable rhythms, squirming synths and Ryan James' lead vocals, which slowly unfurl with spacey effects. Their music is artistically intentional, but not to the point where it flies over your head or prohibits you from busting a move. Their latest album Long For This World just dropped, and while the heady grooves make up its roadmap, the unexpected sonic speedbumps are what fill the journey with striking snapshots along the way. The LP is spliced by synth whirls, slinky guitar lines and quirky percussion, each element shielding this record from plunging into the depths of insufferable dance music or saccharine pop. —Lizzie Manno
6. Faye Webster
Faye Webster is the farthest thing from "rising" on this list—she has risen. If she wasn't already, she's now one of the city's most well-known indie musicians thanks to her new album Atlanta Millionaires Club, which our staff voted one of the best albums of the year so far. After her debut album Run and Tell and high school, Webster did what any aspiring songwriter would: moved to Nashville. There, she studied songwriting at Belmont University before trying out graphic design, but when she found herself jonesing for a trip home every other weekend, decided to abandon collegiate life altogether and made plans to return to Atlanta, where she has since stayed put. Since then she's spent considerable time photographing various ATL stars like Offset and Lil Yachty. Her third LP Atlanta Millionaires Club is the perfect summer album for indoors-y types, a steamy brush with R&B flourished with lots of twang and retro grooves. It's weird and sleepy and full of droll one-liners like "I should get out more," the chorus from "Room Temperature." —Ellen Johnson
7. floral print
Pay attention, because guitar pop experimenters floral print are poised to hit your radar any day now. The band's self-titled EP and second Tiny Engines release (behind 2017's Mirror Stages) just arrived on Aug. 2, and it's packed with more dynamic sounds than anything the trio have released before. Bassist Joshua Pittman joins the band on this record, adding warmth to their already melodic sound. —Ellen Johnson
8. Gringo Star
Following their 2018 LP Back to the City, Atlanta garage-psych outfit Gringo Star recently shared their first live album Controlled Burn (Live in Atlanta), recorded at The Earl in September 2018. The 14-track album features a career-spanning set performed in front of a loyal hometown crowd. Last year marked the 10th anniversary of their debut album All Y'all, and vocalist/multi-instrumentalist Nick Furgiuele has no regrets since then. "We've had a lot of opportunities over the past ten years. If we had an idea about something we wanted to, we did it," says Nick. "I can't think of a single thing I'd change." They decided to celebrate this career milestone with their first live record, recorded in a beloved dive bar they've been playing for years. Their surfy, swiftly plucked guitar solos speak to the romance of a band who believes in providing late-night euphoria for the lonely, the exultant, the wistful and the drunk. —Lizzie Manno
9. Je Suis France
Formed in the '90s, Je Suis France are currently finalizing a new album. While previous records were constructed while band members were spread across the country and forced to trade songs over the internet, the new one sees multiple members return to Georgia to recapture their original spark. Four founding members—DJ Hammond, Ryan Martin, Ryan Bergeron and Sean Rawls—teamed up with friend and partner Jon Croxton to make their latest LP. The album is shaping up to be a roll of the dice—you might get steamy noise rock, tuneful indie-pop, throbbing krautrock or sunny college rock—but there's a feel-good warmth and a sense they have each others' backs all the way through. —Lizzie Manno
Disclaimer: Garrett Ryan Martin is a Paste editor.
10. Karaoke
Karaoke's songs are surprisingly entrancing. Take their newest single, "Baby," for example: swirling effects, jittery tambourine and integrated claps mesh together while vocalist Grace Bellury sings in her hushed croon. The ATL band is regularly on local bills, but if you like dreamy psych rock, they're worth checking out no matter where you live. —Ellen Johnson
11. King of Summer
Whoever said the suburbs aren't cool hasn't heard King of Summer. This foursome from neighboring Kennesaw are full of energy, angst and also joy. Their new EP How Cool arrived earlier this year, and so far I'm not sure it's made it to ears outside the state lines. But let's change that right now and crank up pop-punk banger "Houses of the Holy Shit," the more serious (but still clever) "Cinnamon Shop" and their ode to the best pop songs ever made, "Pop" (this one is an absolute riot, y'all). —Ellen Johnson
12. Lowertown
This duo makes sparkling, lo-fi folk-rock that sounds really different from a lot of Atlanta indie. Lowertown is the shared project of solo acts Avsha The Awesome (aka Avsha Weinberg) and Olivia O. (Olivia Osby), both familiar faces in the city's DIY scene. Their music is self-released, including 2019's Friends. —Ellen Johnson
13. Lunar Vacation
These DIY indie-rock kids (all in college now, actually) play a genre all their own, what they call "Atlanta pool rock," taking cues from cited influences like Tame Impala, Alvvays, Real Estate and Mac DeMarco and their hometown. It's dreamy, synth-y surf rock worth getting lost in. —Ellen Johnson
14. Material Girls
The loud and unpredictable Material Girls have been called "Atlanta's favorite iconoclasts" by local online zine Immersive Atlanta, and there's no better description for these perpetual rabble-rousers. Their slimy post-punk is catchy yet restless, and lead vocalist Meghan Dowlen sounds like a younger member of Sleater-Kinney, while fellow singer Ben Presley sounds like he came straight from a Parquet Courts rehearsal. —Ellen Johnson
15. Mattiel
Mattiel Brown (who records as Mattiel) may still be a relative newcomer with just two albums to her name, but her gruff, throaty vocals suggest a singer/songwriter who's been through some things and lived to tell the tale. On her second album Satis Factory, Mattiel displays the alluring sophistication of a classic pop crooner and the stomp of an old time rock 'n' roller. With bluesy, gritty eccentricities and a worldly elegance, it would sound right at home in an American truck stop bar or a Parisian cafe. —Lizzie Manno
16. Midnight Larks
Dark, psychedelic, and somehow peppy, Midnight Larks make surf rock for those who don't surf, and probably never will. Atlanta is landlocked, remember? Nikki Speake is Atlanta's very own Bethany Cosentino. The trio released their self-titled first album last year, which made the Creative Loafing Best Albums list at number 37. —Annie Black
17. Neighbor Lady
Atlanta-based Neighbor Lady quietly released one of the most charming, earnestly good indie-rock debuts of 2018. Their very first LP, Maybe Later, could pass as an EP at only seven songs, but it's nonetheless an impressive musical flex. Neighbor Lady bring a fresh take to country-inspired-rock, delivering each note with as much twang as fuzz. Frontwoman Emily Braden's lyrics, too, represent both genres: Sometimes she's a fierce southern woman with a sharp tongue: "Oh honey, what's all the fuss about?" she sings on "Oh Honey," a song about sharing a crush with her friend. Neighbor Lady, also consisting of Jack Blauvelt, Merideth Hanscom and Andrew McFarland, have the power to bring honor to both the steel guitar and the reverb pedal. If they decide to return with more of that noble country-rock, you'll find me cheering them all the way to album release day. —Ellen Johnson
18. Omni
After a steady rock rise and signing to Sub Pop earlier this year, Omni are not the local secret they once were. Their scuzzy psych-rock has edged further towards post-punk over the years, but whatever you want to call their sound, it's bright, darkly disarming and damn catchy—and has long deserved nationwide attention. Here's hoping that Sub Pop full-length is en route sometime soon. —Ellen Johnson
19. password: password
Don't let STEM stereotypes deter you from checking out password:password: This starry-eyed group of Georgia Tech students is one of my favorite recent ATL discoveries. The group met via the school's Musician's Network and make it a point to collaborate with like-minded artists. Funnily enough, they're also the kids behind Under The Couch, the campus' own music venue and DIY space. If you like what you hear from password:password, take a minute to explore all the other bands kicking it at Tech. In the meantime, check out password:password's confident, shoegaze-y psych-pop. —Ellen Johnson
20. Reverends
The roots-tinged Reverends specialize in slowed-down soundscapes with a dash of shoegaze. The Atlanta five-piece just released a slow-burning new album, The Disappearing Dreams of Yesterday, which is equal parts in debt to Mac DeMarco, Futurebirds and Beach House. Their sophomore LP The Disappearing Dreams of Yesterday arrived in May. —Ellen Johnson
21. Rose Hotel
Long live dream pop, long live Atlanta indie and long live this glorious intersection of the two. Rose Hotel, aka Atlanta-based musician Jordan Reynolds, specializes in dream pop that won't put you to sleep. "Write Home," an enchanting bedroom piece that quickly evolves into a spacey, twang-tinged jam, is from the new album I Will Only Come When It's A Yes, and it's perhaps the most arresting. It's a miraculous mix of psych-rock, pop and jazz that shouldn't work, but Reynolds and her band (made up of other ATL aces from groups like Material Girls, Neighbor Lady, Karaoke and Palm Sunday) knit them all tightly together for a full, bold sound. —Ellen Johnson
22. Small Reactions
Small Reactions is a solid rock 'n' roll band that's been around since 2011. This group is synonymous with Atlanta indie music—you've probably seen the drummer, Sean Zearfoss, manning the venue door at The Earl, or you might've seen the whole band play at 529, which they do pretty regularly. Their last record, Rxn_002 was released in 2017, and they're currently working on the next one. —Annie Black
23. Starbenders
If you're looking for gritty, booming glam rock, look no further than Starbenders. A mainstay in the Atlanta scene for several years, at times they can sound like '80s hair metal, at others like the indie rock band of your dreams. Kimi Shelter's powerful vocals on top of the band's roar make for something very special—and very loud. —Annie Black
24. Juniper
From the ashes of Atlanta dream pop group Twin Studies rises Juniper, the latest project from T.S. members Jay Stanley and Hollis Griffin. This band is as new as it gets, but if history tells us anything, Stanley and Griffin and the rest of the band will provide us with ethereal shoegaze-y pop music similar to Wild Nothing and Beach Fossils. —Annie Black
25. worlds greatest dad
This earnest ATL five-piece has been around for a few years now, but they're perpetually on the road and playing live shows, including a large tour earlier this year. Like Foxing or Remo Drive, they make music that's two parts emo and one part indie rock, resulting in driving, empathetic power chords. Their song "Laughing (While You're Smiling)," from their 2018 album Get Well Soon is the best example of that, and it's something of a Spotify hit for them with more than 100,000 streams. Listen to it below. —Ellen Johnson