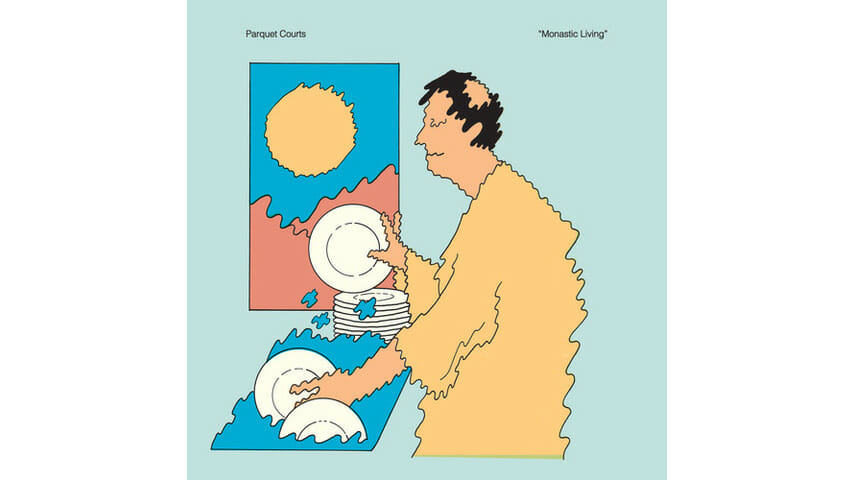 Modern art, as the old saying goes, can often leave you feeling a mix of "Hey, I could have done that" and "Yeah, but you didn't." Monastic Living, the new EP from the sharp-tongued and sharp-riffing quartet Parquet Courts, might leave you as exasperated as trying to make sense of a 14-foot long block of wood covered in black nail polish. Over the course of its nine tracks, we hear vocals, a melody and something to tap your foot to only once. Unfortunately, those things all occur on the EP's opening track, titled "No, No, No." After that, things take a turn for the less than memorable.
As the EP's accompanying lyrics sheet and press release declare, Monastic Living is a "statement" intended to be considered and mused on as much as (or perhaps more than) it's to be enjoyed as music. And while musicians have long used abrasive and atonal sounds as a way to reject our expectations—like parts of Beck's Stereopathic Soul Manure or Wilco's droning "Less Than You Think"—that material draws its potency from standing in contrast to something else.
Which isn't to say that the 31 minutes of sound that follows the 73 seconds of "No, No, No" is devoid of its thrills and moments of clarity: the 46-second "Alms for the Poor" delivers a sludgy bass line and brittle guitar figure that sound almost playful after the atonal drone of "Frog Pond Plop" or the anxiety-inducing clickity-clack of "Monastic Living II." The album ends on a high note with "Prison Conversion;" a hazy arrangement of fuzzy guitars and straight-ahead drums that slowly builds up steam in an elegant crescendo. Granted, the song ends in 30 seconds of ear-piercing noise that, if you play it in public, might get you arrested, but what else would you expect here? While it would be foolish to dismiss Monastic Living as simply unlistenable, its concept far outweighs its content, and I'd be pretty bummed if it took up much room in their set list.