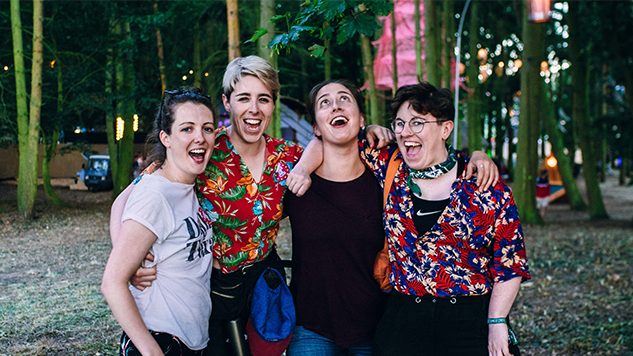 The downstairs of The Workman's Club in Dublin smells of spilled bourbon and drunken dancing. Situated on the River Liffey, at the very edge of touristy Temple Bar, its stage has welcomed the likes of a young Mac Demarco and pre-Be The Cowboy Mitski. On this particular April night, Irish band Pillow Queens stands before a packed house.
Heavy red drapes, like something stolen from the Black Lodge, frame the four musicians. Pamela Connolly, the band's bassist/guitarist/lead vocalist, sports a T-shirt mimicking the Reebok symbol but replaced with "Coolock," the name of a north Dublin neighborhood. Connolly and the others riff through their set, including their EP State of the State, with a playfulness that I've come to indelibly associate with Pillow Queens. Their songs are angsty and filled with tight, cascading guitar chords, yet their onstage presence is as effortlessly cool as a spring breeze.
Pillow Queens formed in autumn of 2016 after a pick-up basketball game. Connolly, Sarah Corcoran, Cathy McGuinness and Rachel Lyons chatted in the pool room of Cassidy's, a bar covered in old candle wax and graffiti.
"We usually just all went out drinking afterwards," Connolly explains from their practice space in Ireland, "So we all got talking about how 'Oh, we'd love to start a band.' We just put all the pieces together—'Hey you can play an instrument, you can play an instrument, are you into starting a band? Because we're terrible at basketball.'"
And thus Pillow Queens was born. Corcoran shares guitar, bass and lead vocal duties with Connolly, McGuinness sings and plays guitar and Lyons serves as drummer/vocalist. Within two months of forming, Pillow Queens played their first show. This month, the band had their first gig in mainland Europe. They traveled to Holland for the showcase festival Eurosonic, but had time for a quick interview the night before flying out. Pillow Queens' onstage chemistry is as palpable over Google Hangout as it is when they're performing. Our conversation is interrupted by quick jabs at each other and the band members devolving into laughter.
As for the music, Pillow Queens have crafted a sonic palette that's ripped by ragged-edged guitar and stitched back together with smooth harmonies. The group sings in their own accents, a conscious choice since they used to emulate American pop stars. "I had a vocal teacher that insisted that I sing in my own accent," Connolly recalls, "I was like, 'What? What do you mean? Why would I do such a thing? I wanna sing in a Shania Twain accent.'"
"Which you sometimes do," Corcoran says with a laugh.
Their sound has been creatively described as "Tayto punk," (Tayto are Irish potato chips) and "cream soda pop," so I asked Pillow Queens to come up with their own ephemeral genre name. They shout out things like "puppy pop," and "Pomeranian punk." (The canine obsession runs deep—just watch the below music video for their song "Favourite," featuring a madcap dog show.)
The reality is the band members feel slightly more pop than punk. Pillow Queens lyrics are full of longing, the stuff that is made to be sung into a hairbrush. Corcoran explains the four-piece are hesitant to fall under the punk umbrella because they feel they'd "have to swallow a code of ethics—well not that we'd stray too far from what it would be. But just generally labels are kind of scary, so the idea of subscribing to one over another is daunting to us."
"And when I think of punk, I think of the Sex Pistols," Connolly adds, "And I know it's more than that now, but like, at what point is it still a genre of music? So it's kind of hard for us to pinpoint what exact genre we are but—pop?"
That kind of conversation sums up the iterative nature of Pillow Queens. They know who they are, but by nature that is malleable, ever-changing.
Part of what drew me to the group in the first place—besides their earworms—is how much they embody the Ireland I came to know during the five years I lived there. It's a place where a quiet pint can quickly turn into a heated debate about Brexit, grassroots movements can make palpable waves and the Catholic Church's once-strong grasp is steadily loosening. Pillow Queens' songs may not always be explicitly political, but their music videos feature things like a haphazard socialist children's show and little girls in First Communion dresses betting and ruining their white frocks. Bright and unsatisfied with the status quo, the band members inform me that while the political bent to their songs isn't an "intentional choice," as McGuinness puts it, it's hard not to be "inherently" political.
"It's impossible for that not to come across in your art, just because you are putting yourself out there, and if it's part of you then it's going to come out in whatever you're making," Corcoran says.
One track that particularly encapsulates the struggles of modern Ireland is "Puppets," in which Corcoran sings that "If I'd pressed fast forward while I was sat at my desk / I don't think a smaller me would be too impressed." The lyrics capture what it's like for young Irish people who grew up during the economic boom known as the Celtic Tiger—marked by an excess of wealth and property development—that was quickly followed up by the Global Recession. Now, millennials in Ireland are, much like their American counterparts, slogging through day jobs and finding it difficult to succeed in their chosen field.
"When all of us were going to school, the idea was, as long as you put in the work academically, just make sure you go to school and do all the things you're meant to do and tick all the boxes, then you'll be set for life," Corcoran, who wrote "Puppets," says. "That was true up until a certain point, and then everything changed in Ireland and unemployment was through the roof and jobs were really difficult to get."
When writing the lyrics, the Dublin native channeled the frustration she personally felt about not wanting to have to "bust my arse anymore," just to get by.
And it's not necessarily about to get any easier; while the Ireland of 2019 is a much more progressive place than it was even five years ago, the country is in the midst of a ongoing housing crisis. Pillow Queens are frank about the problems dogging the island, despite its recent leaps and bounds. The band formed a year after same-sex marriage was legalized in Ireland. This last year saw a constitutional amendment barring abortion repealed, a move the Pillow Queens supported by playing Repeal the Eighth gigs in the movement's iconic black and white sweatshirt. ("It was really, really hot," Corcoran laughs, "I wish they'd brought out a vest [tank top] or something.")
However, as Connolly notes, "It's very hard to be like 'Look how great it is now,' when we now have certain rights, which is fantastic, but we're living in a time where a lower-income family can no longer afford to live in a house, whereas maybe 10 years ago, sure you didn't have some rights but you also were able to get a roof over your head. So they give with one hand and take with the other."
Pillow Queens have undergone their own growth as well, since it's been the most consistent music project for the band members. McGuinness says of the group, "I think we have more confidence. When we first started playing gigs, we were a little bit unsure with the language talking to certain engineers and having the voice to say, 'It should be sounding a little bit different.'"
Or, as Lyons so beautifully puts it, "We're definitely more cock-sure."
The self-assuredness comes across when their goals for 2019 come up. There's mention of wanting to play more across Europe or tour with another act in the States. "I mean, that's one of my big reasons for being in a band as well, is the opportunity to travel and see tiny venues and eat hummus in every single state of America," Corcoran jokes.
One of the most exciting prospects for Pillow Queens in 2019 is the album they're working on—though the band is in no rush to put out a half-baked project. Corcoran says they're purposefully not tying themselves to a deadline so that the creative process flows naturally, rather than becoming work. "So far it's actually working, really well, touch wood," she adds, pausing to reach out to the closest wooden table.
"We don't want to be too precious, but we don't want to throw away songs that we need to put a lot of love into," Connolly explains, adding later, "and if that [album] has to come out in 2020, then so be it. But if it's 2019 that would be fantastic, and I think we have it in us to do it. But again, I don't want to rush the love."
So we made a bet: If the band finishes the album by the end of 2019, I owe them a fiver, otherwise I can expect a free record in 2020. And while I'm anxious to hear new Pillow Queens tunes as soon as possible, I wouldn't mind a free LP.