Listen to The Red Hot Chili Peppers Try to Upstage Jane's Addiction in 1989
On Feb. 20, 1989, the L.A. funk-metal powerhouses were on the road together. We have the whole show.
Photo: Getty Images
Music
Features
Red Hot Chili Peppers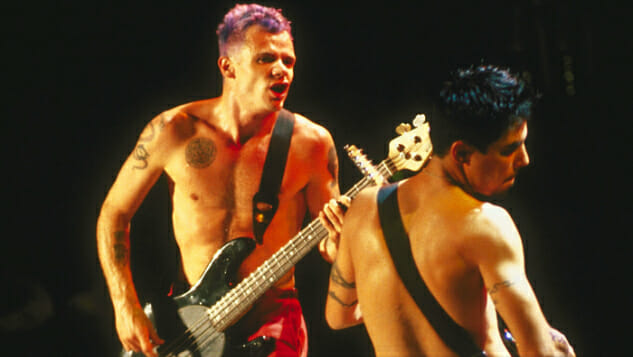 Did you know that Paste owns the world's largest collection of live music recordings? It's true! And what's even crazier, it's all free—hundreds of thousands of exclusive songs, concerts and videos that you can listen to and watch right here at Paste.com, from Dizzy Gillespie to The Kinks to Public Enemy to HAIM. Every day, we'll dig through the archive for the coolest recording we have from that date in history. Search and enjoy!
In the latter half of the 1980s, a batch of Los Angeles bands began to break away from the city's hair-metal stronghold with a powerful new brew that wound up having a huge impact on the landscape of modern rock music. Feeding off such diverse elements as hardcore punk, classic hard rock, funk and hip-hop, groups like Jane's Addiction, Fishbone and the Red Hot Chili Peppers (and, up in the Bay Area, Faith No More) were blurring all kinds of lines.
In 1989, the Chili Peppers were rebounding from the tragic death of guitarist Hillel Slovak the previous year and the subsequent departure of drummer Jack Irons. Guitarist John Frusciante and drummer Chad Smith were now on board, and the band had begun working on a new album, Mother's Milk, that upon release would spark their breakthrough to mainstream manna. At this point, the band was still emphasizing the heavy funk, rap, and hardcore punk elements that originally defined their sound. In early 1989, when this recording was made, the new members were just beginning to add dimensions.
On Feb. 20, 1989, one of the Chili Peppers' earliest live performances with the new lineup happened at the Theater of Living Arts in Philadelphia. Opening for their fellow Angelinos, Jane's Addiction—who had hit the jackpot with 1988's Nothing's Shocking—this set finds the band primarily focusing on the material from the their 1984 self-titled debut album and the increasingly popular Uplift Mofo Party Plan, from 1987. One new song that would appear on Mother's Milk also emerges here.
The set kicks into high gear immediately with the "Out in L.A.," from their debut. Appropriately enough, this was the Peppers' first ever song, an autobiographical travelogue through their hometown with explosively funky instrumentation.
Next up are two key songs from Uplift Mofo Party Plan with a brief tribute to George Clinton (aka Dr. Funkenstein) jammed in between. "Backwoods" showcases Kiedis's rapping over one of the band's catchiest arrangements, while "Funky Crime," with its incredibly tight grooves, pays further homage to Clinton and Parliament-Funkadelic.
For a quick tease, Flea spontaneously plays around with Larry Graham's finger-popping bass intro to Sly & The Family Stone's classic "Thank You (Falettinme Be Mice Elf Agin)," but they quickly move on.
The only example of new material follows with "Stone Cold Bush," a number that would soon surface on Mother's Milk. Here Frusciante gets a chance to cut loose, and although it isn't radically different from the band's other material, it features several surging instrumental breaks while maintaining its hard funk groove and the band moving toward a more standard rock structure.
Next, the Peppers return to their debut with "Green Heaven," featuring environmentally conscious lyrics from Kiedis that are, for this early stage of the group, uncharacteristically insightful. "Green Heaven" also features infectious work by the band, especially Flea, whose elastic bass propels the whole thing. This is followed by the short, loud, and defiant "Police Helicopter."
Another brief, spontaneous jam ensues before the show concludes with the testosterone-fueled "Special Secret Song Inside," aka "Party On Your Pussy." Encapsulating their own brand of lust, the Peppers' slinky grooves and sophomoric lyrics showcase their sense of expression in 1989.
Mother's Milk would mark a huge turning point for the Chili Peppers, earning them radio and MTV airplay and catapulting to them toward their ultimate coup, 1991's Blood Sugar Sex Magik. It wouldn't be long before they overtook their L.A. funk-metal forefathers and 1989 tourmates, Jane's Addiction. At this point in early 1989, Perry Farrell, Dave Navarro (who would later join the Chili Peppers) and Jane's Addiction were cresting on the wave that was Nothing's Shocking in 1988 and would be Ritual do lo Habitual in 1990—a two-album run that more or less set the design for how metal could move forward confidently in the grunge era.
Like Fishbone and the Chili Peppers, Jane's Addiction emphasized funk and hardcore punk in their music, but they were more cerebral and unpredictable. No subject matter was deemed off limits for Farrell. His observations of the goings-on around him were both disturbing and psychologically stimulating. Nothing's Shocking would play a major role in reshaping the American rock music scene at the time, but in early 1989, the band was still touring clubs. The recording from Feb. 20, 1989, captures the band on the cusp of a breakthrough. Adding to the fevered pitch of this particular night in Philadelphia was the fact that this was a make-up date for a postponement on Dec. 17, 1988, with an audience that had waited an additional two months for this night to arrive.
Rising to the occasion, Jane's Addiction deliver a sizzling performance that includes thoroughly engaged versions of every song from Nothing's Shocking as well as two choice numbers from their independently released live debut album. The set begins introspectively with "Up the Beach," a gently droning instrumental with an undercurrent of disharmony that gradually builds into a launching point for the two older songs, "Whores" and "1%," which here serve to encapsulate the group's debut.
From here on out, the entire set will focus on the newer material, beginning with the heavy funk of "Idiots Rule."
"Had a Dad" starts out slamming hard before a colorful, lush chorus kicks in, one of the many unusual structural elements that made this music so surprising at the time.
"Ted, Just Admit It," Farrell's musings on serial killer Ted Bundy, is a deeply disturbing atmospheric piece with tribal drumming that explores the media's obsession with keeping everyone in a state of fear.
To mix things up, they follow with "Standing in the Shower, Thinking," a fun, funkified number that lightens the mood considerably.
The jazzy swing of the minute-long "Thank You Boys" is a short humorous interlude, before they again shift gears into the pummeling "Pigs in Zen," one of the most pulverizing performances of the set.
"Summertime Rolls," a subdued hypnotic piece, calms things back down, leading up to the equally dreamy opening of "Ocean Size," intentionally setting the audience up for another jolt. Following sudden count-in screams from Farrell, it rips into high gear, featuring unusual tempo shifts, piercing vocals, and wailing guitar.
They close the set with the heavy-hitting "Mountain Song," an intense rocker that showcases the sheer strength of these musicians while Farrell exorcizes his demons in a wash of digital delay, giving his voice an otherworldly quality throughout the performance.
They return for an encore of "Jane Says," one of their most recognized songs despite it never being issued as single. A brutally honest but sympathetic portrayal of a struggling heroin addict friend of Farrell's, this unusual ballad (and nod to Lou Reed at the Velvets) is penetrating, utilizing acoustic guitar, steel drums and a captivating vocal that replaces technique with raw passion.
This was groundbreaking music in 1989 that, unlike much of that era's offerings, retains much of its intensity in the 21st century—a testament to the chemistry of these musicians. Navarro proves himself equally adept at wild abandon as he is at tasteful restraint. The exciting and unpredictable rhythm section of drummer Stephen Perkins and bassist Eric Avery propel Farrell's musings to an intensity level rarely equaled since. Aggressive and even ferocious at times, Jane's Addiction could also be soothing and gentle, and it was this expansive musical coloring that truly set them apart.