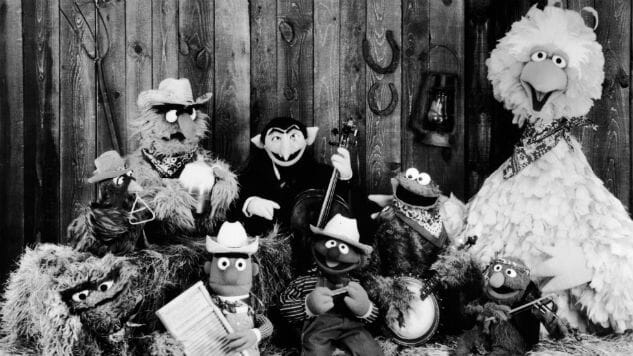 A study published by The New York Times earlier this year argued that, on average, our musical preferences are established for life by age 13 for women and age 14 for men, respectively. While this does not guarantee that your preteen will embrace your love of Joy Division if you play it loudly and often enough, it is an indicator of how important it is for children to be exposed to music from a young age.
Enter Sesame Street. At nearly 5,000 episodes, the television show has served as an avenue (pun intended) to introduce musicians from a variety of genres and eras to children for almost 50 years. Through these musical guests, who range from B.B. King to The Dixie Chicks, Sesame Street combines lessons on letters and numbers with cultural references that children and parents alike can enjoy—and, maybe for some kids, even learn to love. The following is a list of Paste's 20 favorite musical guests to visit 123 Sesame Street.
20. R.E.M.
Michael Stipe criticized "Shiny Happy People" in 2016 as bubblegum pop music for kids. While the R.E.M. frontman may not want the song sent into outer space to represent the band for eternity, it certainly makes a great cover for Sesame Street. Look closely to spot a Muppet-ized version of The B-52's Kate Pierson singing guest vocals in the crowd.
19. Dixie Chicks
The Dixie Chicks appeared on the show in 2002 to sing about the letter B. The Dallas-based trio sang about Big Bird, Bert and Baby Bear and not—surprise, surprise—about Bush, Boycotting or Blacklisting, three B's that would plague their tour and album sales when they spoke out against the invasion of Iraq the following year.
18. Elvis Costello
You know what toddlers love? Covers from debut albums that came out 40 years before they were born. Costello spoofed his own "(Angels Wanna Wear My) Red Shoes" in his performance of "Monster Went and Ate My Red 2." Elmo provides backup vocals, donning a loud suit and glasses of his own.
17. Destiny's Child
2002 was a different era, a time when Beyonce publicly wore a red leather beret and let Elmo block a full-body of shot of her on public television. Watch Kelly Rowland, Michelle Williams and Queen B herself help Elmo set a new way to walk to music in the clip below.
16. Yo Yo Ma
Nobody other than Sesame Street could get away with dishing the line "Can't that overgrown ukelele of yours play anything more upbeat?" at Yo Yo Ma. Watch the world-renowned cellist play a jam session with Hoot, the neighborhood's smooth jazz-loving, saxophone-playing owl, below.
15. Paul Simon
"Me and Julio Down by the Schoolyard" is light, whimsical and includes a whistling solo—in other words, it's the perfect song for Sesame Street. Simon performed the 1972 song for an audience of toddlers, all of whom, presumably bigger fans of Art Garfunkel's harmony work, seem mildly interested at best.
14. Dave Matthews
If there's one thing we learned from Lady Bird, it's that it's okay to cry to Dave Matthews (because let's be honest, we've all been there). So, it's really only fitting that Matthews came on the show to play the banjo and sing about feeling his feelings with Grover.
13. Norah Jones
After the letter Y stood her up, Norah Jones performed a cover of her 2002 hit as "Don't Know Y." Jones scratches the lines about drenching her heart in wine for equally mournful lines about no longer being able to spell crucial words like "yogurt" and "yodel."
12. Tony Bennett Say what you will about Tony Bennett, but few people have had a career that's spanned nearly 70 years. The crooner has sung with everybody from Bill Evans, Lady Gaga, Amy Winehouse and, yes, even Big Bird. In honor of Slimey's—Oscar the Grouch's pet worm—voyage to space, Bennett sang a spoof standard of "Slimey to the Moon."
11. Smokey Robinson
In 1987, Smokey Robinson performed a spoof of his 1962 hit single "You Really Got a Hold on Me" titled as—you guessed it—"U Really Got a Hold on Me." In the accompanying skit, the Miracles frontman and Gershwin Prize winner is mobbed by an over-affectionate letter U.

10. B.B. King
"All hail the king!" cries Elmo, dressed as a court jester, before he welcomes blues legend B.B. King to Sesame Street. In the clip below, watch King zap away everything that couldn't exist without the letter B, from a beard directly off one Muppet's face to even, well, himself until he's just an ethereal voice singing the blues from above.
9. Patti Labelle
In true diva fashion, Patti Labelle (not Aretha Franklin, thank you very much, Fox News) begins her performance on Sesame Street by sassing her Muppet pianist. "Alright, Chrissy, you better get it right now," says Labelle, before singing a gospel rendition of "The Alphabet Song" with a full Muppet backup choir worthy of a queen.
8. Billy Joel
Donning a pair of rad '80s shades, self-declared Grouch Groupie Billy Joel performed "Just the Way You Are"—Paste's favorite backhanded love song Marlee Matlin. Much to Oscar's disgust, Joel insists on singing to Oscar about how much he adores the Muppet's crotchety behavior as Matlin signs along. "This is the mushiest thing I've ever heard," Oscar complains, and we lovingly agree.
7. Stevie Wonder
Despite the fact that Sesame Street is only a half hour program, Stevie Wonder was somehow allowed to perform a seven-minute jam session version of "Superstition; on the show—not that we're complaining. Watch Wonder help Grover work on his scat-singing below.
6. Queen Latifah
Just to prove there's really nothing she can't do, Queen Latifah brought family-friendly rap to public broadcast television all the way back in 1993. The letter O and children with bowl cuts have never looked so cool.
5. Ray Charles
In case 2018 has eaten your hopes for humanity alive, this clip of Ray Charles teaching Elmo about Braille and believing in yourself may pull you back from the brink. Later in 1996, Charles would perform a star-studded rendition of "The Alphabet Song" with Muppets and celebrities alike.
4. Feist
No song in the history of indie pop earworms has ever been better suited for Sesame Street than Feist's "1234." By the end of the song, the Canadian singer and Broken Social Scene frontwoman gets help singing (and learning how to count to four, of course) from the whole neighborhood.
3. Lena Horne
Whether it's confronting death, parental incarceration or divorce, Sesame Street doesn't shy away from taking on difficult issues with small children, and Lena Horne's performance of "Bein' Green" is no exception. Watch the singer perform a duet with Kermit about embracing the color of his skin below, to moving results.
2. Little Richard
If Little Richard singing a rock-and-roll rendition of "Rubber Duckie" from a piano inside of a bathtub doesn't make you smile, there's a good chance nothing will. Read the original, delightfully dirty lyrics to the singer's archetypal rock classic "Tutti Frutti"—inspiration for the title of Ann Power's Good Booty—and, hell, you might need a bath, too.
1. Johnny Cash
Cash swapped out a captive audience at Folsom Prison for a much younger one when he performed "Nasty Dan" with Oscar the Grouch in 1974. "Aren't you Johnny Trash?" Oscar asks, before Cash gives Oscar's trashcan a whack with his guitar and tells him to have a rotten day. Maybe his guest appearance on children's programming shouldn't be that surprising—after all, his cover of children's poet Shel Silverstein's "A Boy Named Sue" became one of his highest-charting hits.