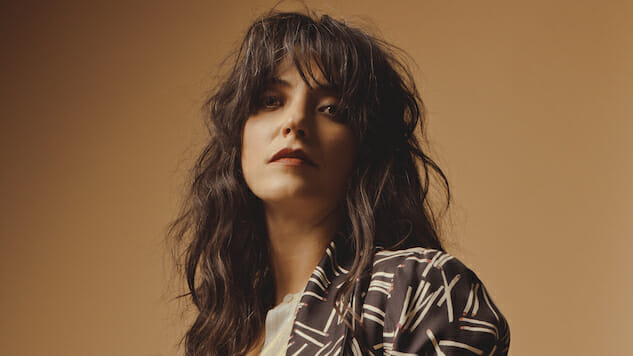 Sharon Van Etten has a way of making the romantic feel doomsy, the everyday feel precious. Throughout her discography, consisting of four—soon to be five—sublime studio albums, the singer/songwriter has consistently merged the dark and the dazzling, proving herself to be one of the best lyricists of the 2010s. Her story begins in 2005 in New York City, where she worked at Astor Wines and then as a publicist at Ba Da Bing, the label that would eventually release her second album, epic, in 2010. She pivoted to Jagjaguwar for her next album, Tramp, and has remained at the label since. But in the years since 2014, when that fourth record, Are We There arrived, something happened. Actually, a lot of things happened: Van Etten started a romantic relationship with her once-drummer and now-partner Zeke Hutchins, went back to school at Brooklyn College, secured a recurring role on the Netflix show The OA and had a baby—in that order. Next week, on Jan. 18, she'll deliver album number six, Remind Me Tomorrow, one of our most anticipated albums of 2019.
The three singles we've heard ahead of the new album—"Comeback Kid," "Jupiter" and "Seventeen"—are intense and grandiose in a way we haven't seen before from Van Etten. She's working with a new toolbox, using more synth and beats and production. It's an exciting display of rock 'n' roll and a noticeable break from her folk-leaning beginnings, but we can't forget about the rest of Van Etten's catalogue, even the quietest parts. Here's a look back at some of our favorite songs she's written over the last decade.
10. "Consolation Prize"
Sharon Van Etten's first recordings are among her most delicate. "Consolation Prize," the second song on her debut Because I Was In Love is a spare and beautiful venture in plucking. The narrator of this tune doesn't want to be someone's last choice, or even their second. "The moral of the story / is don't walk away again," Van Etten warns. "No, I'll never be your consolation prize."
9. "Love More"
Sharon Van Etten is a master slow-burner, and "Love More," the album kicker from epic, is a particularly beautiful shedding of the wax. Her retelling of an emotionally abusive relationship, and a way of coping with the aftermath of it, is sad but cathartic.
8. "Seventeen"
The intensity of "Seventeen" matches that of the two previously released singles from Remind Me Tomorrow, "Comeback Kid" and "Jupiter 4." We've always counted on Van Etten to bring excellent lyrics and brooding melodies to the table, but we've never heard her like this—emboldened and chasing a darker, more driving strand of rock 'n' roll. "Seventeen" is almost Springsteen-esque in its grandiosity and nostalgia, though it's more charged. The track's companion video is, as Van Etten put it in a tweet, a "love letter" to New York City. In the clip, Van Etten chases a perfectly cast "shadow" of her former self (seriously—it's eerie how similar these two look) around NYC, reckoning with her past and remembering when "she used to be 17." The video is sentimental, but Van Etten is skeptical of youth's glow, too: "I used to feel free, or was it just a dream?" she sings.
7. "Peace Signs"
On this track from 2010's epic, Van Etten is all of a sudden an emboldened troubadour, chasing the sounds of an adventure. She starts the song unsure: "I was somewhat afraid / I was something." But, after a too-short couple of minutes of bouncing drum and choral backing vocals, she's awake and self-assured: "When I woke up I was already me / And I am not afraid / I am something."
6. "Leonard"
It takes some courage to admit "I am bad at loving." Using clever rhymes ("Well, well, hell") and folksy acoustic guitar, Van Etten looks back on a soured relationship and shares the blame for its demise. The track, which Van Etten says was inspired by Leonard Cohen (and also the "Kevin" who's referenced on the preceding track) is one of the best on Tramp, which was produced by The National's Aaron Dessner. Both Aaron and his brother Bryce are featured on the opening track, "Serpents."
5. "For You"
"For You" is a song of few words, but a mighty one all the same. It plays a bit like a slower version of The Turtles' "Happy Together," with idealistic hopes for a relationship landing with a thud. As on "For You," Sharon Van Etten has the ability to take a handful of chords plus a verse or two and make them feel like a resounding examination of love—the serious, lifelong kind, not just the youthful flings. "I was running home to you," she sings. "I was hoping that you knew I'd wait for you."
4. "Every Time the Sun Comes Up"
Mundanity is inevitable. How we approach that banality of everyday life, however, is up to us. Van Etten has said "Every Time the Sun Comes Up," a brooding and funny take on the humdrum, started as a joke, just the product of some late-night silliness with her bandmates, but that doesn't make it any less smart. It's both a look at burdernous rituals and some kind of deeply personal anecdote, but Van Etten makes them feel like one in the same. It's a song about nothing and everything—and also weed ("People say I'm a one hit wonder / But what happens when I have two?"). Or—wait—was she actually referring to her well-performing singles? The great thing about Sharon Van Etten is that we'll never need to know.
3. "Your Love is Killing Me"
Love is torture. What do you do when a relationship is clearly toxic, but the feelings are so strong, so all-consuming? In the case of this song's narrator, you freeze. Van Etten said writing the song was her "therapy." But it might be useful for more than just herself: The signs of an unhealthy relationship ("Break my legs so I won't walk to you / Cut my tongue so I can't talk to you / Burn my skin so I can't feel you") show themselves in varying ways, and Van Etten's assessment is a look at the very worst. But it's a song that moves and stirs, drawing more empathy out of me than I knew was possible from an anti-love song.
2. "Comeback Kid"
The release of "Comeback Kid," the first single from Remind Me Tomorrow was when we realized 1. the old Sharon can't come to the phone right now and 2. the new Sharon is a dark queen. Of all the songs on her new record, this slingshot is the most intense, and it also marks a pivotal point in Van Etten's career, when she introduced us to a whole new trove of her capabilities as a musician. After five silent years, Van Etten returned with firepower, a song so loud and alive we couldn't tune it out.
1. "Our Love"
While she's spent plenty of time studying despair, Sharon Van Etten knows her way around a love song—a real one, with butterflies aplenty and googly, awestruck eyes for days. "Our Love" sort of straddles love's light and dark sides. The chorus, just a repeated crooning of "it's our love" and "in our love" and, eventually, "it's all love" exists in the light side. The verses, however, are more uncertain. The droning drum loop lopes along as twangy, sorrowful guitar lulls you into a trance, leaving the listener with the responsibility of deciding whether or not this song has a happy ending. One thing's for sure, though, someone rescued her from the bottom of the "well," making everything else worth it.
Listen to Sharon Van Etten's 2010 Daytrotter session below.