Stars Unveil Behind-the-Scenes LaGuardia Website to Accompany New Best-of Collection
Images via Shervin Lainez, Arts & Crafts
Music
News
Stars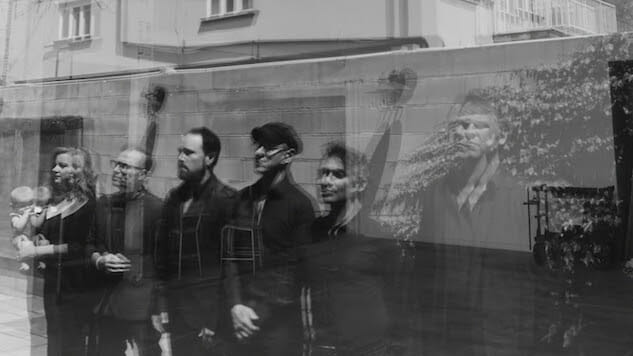 Canadian six-piece Stars have been making strikingly sincere and theatrically playful indie-pop gold for two decades—and they're set to release a best-of collection, LaGuardia, this Friday, Dec. 6. Their breakout third record, Set Yourself on Fire, which was released 15 years ago as of 2019, soundtracked the high school experiences of many an indie aficionado today. Some early fans may have never explored past "Your Ex-Lover Is Dead" and "Calendar Girl"—both of which you'll find on the collection, alongside two other of the classic's highlights—but Stars' discography has many more gems to be found. LaGuardia features tracks from across the band's career (sans only their debut, Nightsongs), and comes alongside a new website offering insights on each of the 20 selections. "[I]f you're wondering 'why a best of?' it's pretty simple, really," writes Torquil Campbell in the website's central essay: "because we are a great band and these songs deserve it." Truth.
The site features a map of New York's LaGuardia International Airport, with the album's tracklist divided across four of the airport's gates. Campbell shares the band's NYC origins, and the moment when songwriter and multi-instrumentalist Evan Cranley nearly left the band behind:
He had a ticket home, and he was headed to LaGuardia. But something prevented him from doing it. was it [vocalist and guitarist] Amy [Millan]'s persuasiveness? She could charm the birds out of the trees if she wanted to … was it a sudden sense that it was going to be ok? Was it the songs? Was it love? Thinking back on it, in my opinion what kept Evan from heading to Laguardia that day was love. Love for music, love for the unknown, love for adventure … and love for us. So he stayed, and we carried on.
Check out Campbell's essay and the band's comments on LaGuardia's 20 tracks here, and find the double LP's tracklist below, beneath a 2012 Stars performance from the Paste archives.
LaGuardia Tracklist:
Gate A
1. "Elevator Love Letter": from the album Heart
2. "Hold On When You Get Love And Let Go When You Give It": from the album The North
3. "Reunion": from the album Set Yourself On Fire
4. "Dead Hearts": from the album The Five Ghosts
5. "Ship To Shore" (2018 single)
Gate B
6. "Trap Door": from the album No One Is Lost
7. "Going, Going, Gone (Live)": from the album Sad Robots
8. "Your Ex-Lover Is Dead": from the album Set Yourself On Fire
9. "Fixed": from the album The Five Ghosts
10. "A Song Is A Weapon": from the album The North
Gate C
11. "Heart": from the album Heart
12. "Fluorescent Light": from the album There Is No Love In Fluorescent Light
13. "No One Is Lost": from the album No One Is Lost
14. "Take Me To The Riot": from the album In Our Bedroom After The War
15. "My Favourite Book": from the album In Our Bedroom After The War
Gate D
16. "The Theory Of Relativity": from the album The North
17. "Undertow": from the album Sad Robots
18. "Ageless Beauty": from the album Set Yourself On Fire
19. "From The Night": from the album No One Is Lost
20. "Calendar Girl": from the album Set Yourself On Fire