The Tallest Man on Earth Finds a Community Gathered on Henry St.
On his seventh LP, Swedish singer/songwriter Kristian Matsson finds inspiration in the hearts of others after returning to a post-lockdown America
Photos by Debi Del Grande, Stephan Vanfleteren and Shervin Lainez
Music
Features
The Tallest Man on Earth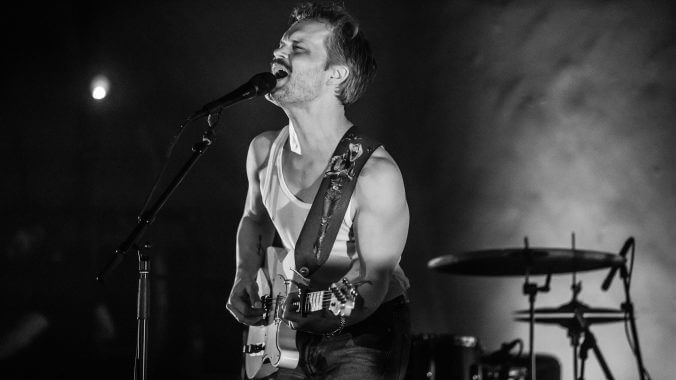 I discovered The Tallest Man on Earth's music sometime in the early-2010s, when "The Wild Hunt" began playing on one of Pandora Radio's numerous folk subgenre stations. I didn't have Spotify; I didn't buy many songs off iTunes. My only real access to fresh music came through Pandora, which helped expose me to new sonic heights, like Channel Orange-era Frank Ocean, Arctic Monkeys' greaser-core and the version of Katy Perry that topped the Billboard Hot 100 chart five times in one album cycle. I found The Tallest Man on Earth because I was searching—yearning—for some type of medium ground between Bob Dylan and Neutral Milk Hotel, and it was Kristian Matsson's one-man folk project that heeded my calls. The Wild Hunt became a regular part of my listening rotation in high school, as it reshaped my impression of what songwriting could be and how each of us have the tools to transcribe our own orbits.
After years apart and many different music phases later, I eventually rekindled my relationship with The Tallest Man on Earth's catalog during the pandemic, when Matsson took to YouTube to do livestreams from quarantine. He'd play cover songs for an hour or so, secluded in the picturesque oasis of his native country Sweden. Like on every album that preceded the outbreak of COVID-19, each session was just Matsson and his guitar. His words gleaned into vocals echoing off every wall's sharp and soft corners. Matsson would take song requests from the chat and flip them into his own renditions in mere minutes. He played everything from a banjo translation of Mazzy Star's "Fade Into You" to Vampire Weekend's "Unbelievers," fashioning them from shoegaze and pop rock into folk, Americana and bluegrass standards. For a small grain of time, Matsson was a beacon of community during a moment in history when community wasn't possible—a perpendicular universe to what he's constructed on his newest album, Henry St.
Covering songs has always been familiar ground for Matsson. Sitting at the piano or plucking other peoples' songs on the guitar is how he, like many of us, eventually vaulted into doing his own songwriting—no matter what it looked like. "I'd start to daydream, 'Maybe I can write a cool song,'" he says. "There's this sense of wonder. Since I was a kid, I haven't really been thinking about genres or styles of music. The tunes that have made my gaze go up and watch the horizon—when I was 14, I was skateboarding and I would listen to Bob Dylan's 'Don't Think Twice, It's All Right' or DJ Shadow's 'Building Steam With a Grain of Salt'—I'd have those in my headphones and I'd feel like, 'Wow, life is so cool.'" In turn, Matsson released Too Late for Edelweiss in late-2022. It was a compilation of covers, ranging from Lucinda Williams to the Beatles to Nico to the National. But that record wasn't planned.
"When I was in North Carolina, all of a sudden it was really late [into the pandemic]," Mattson says. "I thought: 'I've just dodged it.' But, finally, I got COVID. No symptoms, just a scratchy throat. But I knew I needed to isolate myself from everyone else. So I rented this little cottage where I camped out for a while. I had my computer and some gear, so I started recording covers, just something to do." By that time, he'd been deeply immersed in the recording of Henry St. and opted to not touch the songs he was working on for that album. Instead, he recorded songs he was thinking of in that moment of solution and, some point later on, somebody came up with the hot idea to release it as a whole record. "It was just a blip, doing that," Matsson adds.
Though Too Late for Edelweiss and Henry St. are not connected in planning or in motion, they are tethered to each other symbolically and empathetically. Matsson brings up the National's "Pink Rabbits," which he covers on Edelweiss, and goes on a long-winded monologue about how that song, in particular, cracked open so many possibilities for him—not just as a musician but as a person. "That melody becomes a buddy, because there are just so many things in this world that are not cool and that are terrible, that we humans do," he says. "I'm almost 40, and it's getting easier and easier to be bitter and cynical. And that's something that I don't want to do. To have a world of songs right there, if you have a shitty day and you're not believing in humanity or yourself, it means that I can sit down and—I can't explain it, but I can play a Lucinda Williams songs and get reminded that, like, 'Wait a minute. We are destroying the world and each other, but we're also this creature that creates art. We make music and we still fall in love and we laugh with friends, somehow."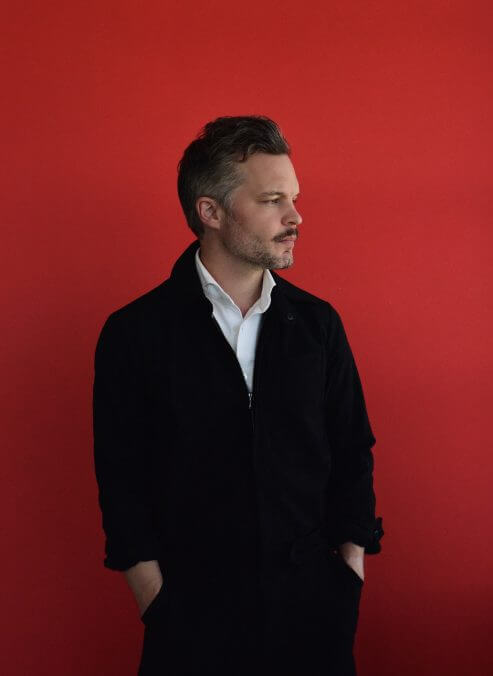 In 2019, Matsson released I Love You. It's a Fever Dream, what I—and others—believed to be his best offering (at the time) under the guise of The Tallest Man on Earth. The record was, as he calls it, "about a difficult relationship and me being sad about that." When everything shut down in March 2020, Matsson had just started touring for Fever Dream. He only made it through two shows before the rest of the itinerary got nixed. "It was a weird energy to carry around," Matsson says. "I came to this place that I've never been in. I realized how, most of my adult life—not that I've taken it for granted—I've just been making songs and then playing them to people. And then, all of a sudden, it came to this dead stop."
Early in the pandemic, Matsson moved back home to Sweden from New York City to be closer to his parents. But, because of their age and health, he didn't get to see them much. His friends were getting sick all the time from their kids, too, so he found himself submerged in quiet. "I was by myself and then watching the news and being online and being reminded of my own mortality and not being able to daydream about things to do, which is how I've been functioning in life," Matsson says. "I write a song and then I daydream about playing it for people somewhere." This isn't to say that he didn't try to write music during quarantine, because he most certainly did. What came from those spurts of creativity, however, weren't joyous in a way that Matsson's soul required. "I went to my instruments, like I do all the time and have been doing since I was a kid," he adds. "For me, it's always been a shortcut to some kind of inner peace or being in the now. And, I was writing these songs and they were terrible. They were just so depressing and so dark, indulgent in my own fears."
Instead of making a record, Matsson took to gardening, growing vegetables, fixing things around the house and watching, as he calls it, "every nostalgic movie." Eventually, he'd start doing those YouTube livestreams and putting himself into the stories written by other people. It was a good way to pass the time, as Matsson patiently waited for the world to open back up. And, near the end of 2021, it did. Sweden allowed musicians to play small, restricted shows for about 50 people or less at a time. "It was very emotional. I realized how much I loved doing this. It felt very powerful, and a big gratitude for what I get to do came out," Matsson says. "I will write songs and I will play them for whomever wants to listen. And, then, confidence and freedom came out of that. I'm like, 'I don't really care about my career. That's not important, how many I play to or how popular it is—because I'm going to do it anyway.' He was waiting for American borders to open back up and, once Europeans were allowed to return to the country, he had his visa renewed and booked a plane ticket the next day.
Just the mere thought of being with his friends again was enough of a daydream for Matsson to write a song. The day his visa was renewed, he wrote "Every Little Heart," the emotional centerpiece of Henry St., at his kitchen table. "I realized that, yeah, that inspiration, for me, has been born in interaction with other people, with strangers, with friends and with lovers," he says. Matsson decamped to North Carolina in the winter of 2021, because many of his musician pals were living there. As soon as he arrived and spent time with those folks and their visions and talents, he knew that no Tallest Man on Earth record would be a one-man show ever again. "I realized, straight away: 'This is going to be an album. It's not going to be DIY. Life is too short, it's time to ask my friends to play and to have a producer that I love,' Matsson says. "When I got over there, I just started to write and write and write and write. And then, we went into the studio last year and it was pure joy."
The team of musicians that Matsson assembled included the Dead Tongues' Ryan Gustafson on guitar, lap steel and ukulele, TJ Maiani on drums, Bon Iver's CJ Camerieri and Rob Moose on trumpet, French horn and strings, Phil Cook on keys and Landlady's Adam Schatz on saxophone. Overseeing the whole thing was Sylvan Esso's Nick Sanborn, whose Durham studio Betty's is where Henry St. came together. The album players have all been around for a long time and know the industry's wavering tides. It's a project brought to life by a battalion of touring musicians; there's a color there from a worn-in cosmos, an energy of gut feelings, impulses and fast work. "To get to be together in the room as friends and also be in the room and play music, that was one of the most beautiful things I've ever been a part of," Matsson says. "We would just talk about whatever—laughing—and that would seep into the recordings. I've chosen people for their musicianship, but also for their personalities."
Since his debut—Shallow Grave—in 2008, Matsson has employed a rigorous DIY style to his work, opting to record and produce every album by himself. He is a self-proclaimed nerd who messes around with old tape recorders, and he still got to tinker with those things on Henry St. For the most part, he got to let someone else worry about microphones and mixing, stuff that he doesn't enjoy. "There are so many talented people who do so many things that I had just done all right," Matsson says. "Here, I could just focus on playing music and focus on the interactions with other musicians." Despite Henry St. being his seventh full-length LP, it's the first time he's been able to shed the burdens of self-doubt fully and let his own creativity feed and bounce off of his peers'.
"Most of the DIY stuff probably comes from a lack of confidence in my songwriting and in my musicianship," he adds. "I've had this approach where I've been like, 'Oh, this would be great to record in that studio or with those people,' but then I would have to be, like, vulnerable. I would always think, 'Wait, this song, it's just so weird and it's not good, so I'll just do it myself.' [On Henry St.], when I got to start being creative again, I was just like, 'No, I'm not going to do that. Life's too short.' That's also some kind of weird narcissism, thinking that you're not good enough."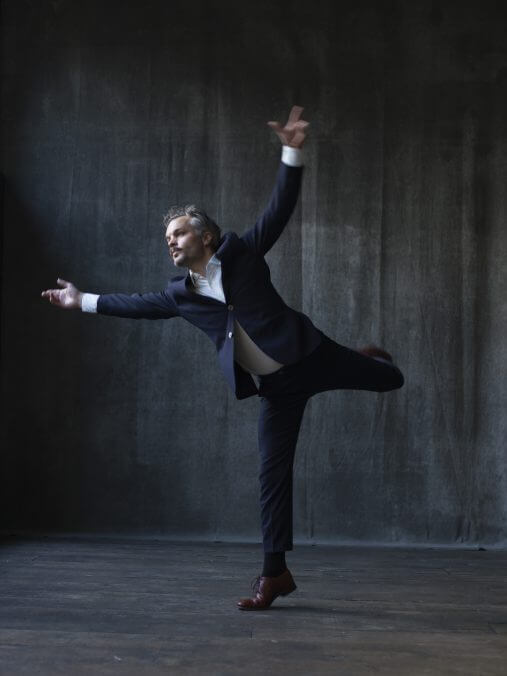 Over the years, Matsson has made some of the best and most-compelling folk songs of the 21st century. "The Wild Hunt," "Love is All," "1904" and "The Dreamer" come to mind immediately, as they each flaunt his penmanship and perfect, nasaled alto. Matsson has often been compared to Bob Dylan, both for his voice and his troubadour ethos of "singing a song for all to hear." But Henry St. proves—once and for all—that he is unlike any of his sonic forefathers or peers. In turn, some of Matsson's greatest work arrives here, in 2023, 15 years after Shallow Grave. Where I Love You. It's a Fever Dream finds him wandering through heartbreak, Henry St. finds the destination. There's a difference between a breakup and a pandemic, of course, but there's also a clarity serving as a throughline for both of these records. On Henry St., Matsson is, in many ways, reborn—like all of us were when the time finally came to be in the company of strangers and familiars again.
Matsson writes of rekindling friendships and romances, gardens, humanism and seeing the world through the eyes of others. There's a magic there that he once evoked strongly on records like Shallow Grave and The Wild Hunt, a hunger to fall madly in love with the unevenness of the world that engulfs us. Returning to America and making Henry St. has re-inspired Matsson's disinterest in having it all figured out by the end of an album. "What's so beautiful about having music in my life is, some of these feelings in my body, if I had the words to explain them very understandably, then I probably wouldn't write a song," he adds. Every chapter and crosswalk on Henry St. looks and sounds different. It's a kaleidoscopic pastiche of discovery: the stark piano of the title track melts into a ukulele dance on "In Your Garden Still"; the motivational drumming on "New Religion" quiets into a blanket of guitar and organ on closer "Foothills." Gone are the days of guitar, guitar, guitar. Matsson's music-making gift has never been so emblematic.
I spend all of my days and nights listening to music and, since COVID hit, many of the newer songs have tried to make sense of what the world looks like for most of us now. Matsson's writing on Henry St. falls somewhere inside of all of that, but he doesn't search for some great, naive, mystical explanation for the last three years. Instead, his expectations are optimistic and lived-in. I turn to a song like "Major League," not because it's a song about the infamous baseball movie set in my backyard of Cleveland, Ohio in the late-1980s, but because it taps into the cavern of my heart that the pandemic tried to wash away. "Longing for the place to be / I would run right out, play my part / And Cleveland was a place in me / And the ghost of my hungry self / Linger in the way I speak / It's been long since I felt it all / I'm just waiting on a word from America," he sings atop a zooming banjo and Sanborn's atmospheric electronics.
Only Matsson could beautifully translate his hopeful yearning for the resurrection of a loving world through imagery of a factory plant-polluted Northeast Ohio and through the doorstep of baseball season, where the city's team hasn't won a championship in almost 75 years. He sees the twinkle in the places others don't, which is the truest sign of a great, incomparable folkstar.
Now that Matsson has made his masterpiece with a full band behind him, his DIY days are firmly in the past. "I'm still in the same newfound love for that," he says. "I'm in the process of thinking about the next [record]. Let's just say, at least, that I won't be self-recording again." A lot of that trust in himself comes from the encouragement of Sanborn, whose musical brain and spirit is, as Matsson puts it, "beautiful." Whenever he'd show Sanborn a track he was on the fence about or disliked, Sanborn would clap back with a push to give the material a proper go in the studio. "I would show him a song and he would say: 'What are you talking about? Shut up, let's make something. Let's record this song.' And some of those songs are ones I love most on the album," Matsson adds. "Whereas, in the past, I would probably just drop that, because the ego does not want to push yourself to try something where it could be unsafe. I felt that, having someone give that encouragement, to be allowed to go on a search, I can go down that path."
Henry St. was written with the intent of discovering and understanding more about how to be a person again in a place that's forgotten how to breathe. There's a line in "Every Little Heart," where Matsson sings: "I'm going to see the world through every heart I know." His music has always weaved between hope and heavy reflection. After taking time away from songwriting in 2020—outmuscling the glint of darkness that was starting to seep into his lyrics in the process—Matsson found an optimistic headspace on Henry St. "I had to sing about more of us as humans, not just about how I'm trying to be a human," he says. "That is way more inspiring than to moan about a breakup. It's more sustainable, walking through life like this. The world is hard and it's really heavy to deal with a lot of things. But then, somehow, we find hope and we find a longing to be good and to be a positive force in this world. On [Henry St.], I realized, with the help of very talented musicians, I could paint that picture in so many ways."
Listen to The Tallest Man on Earth's Daytrotter performance from 2009.