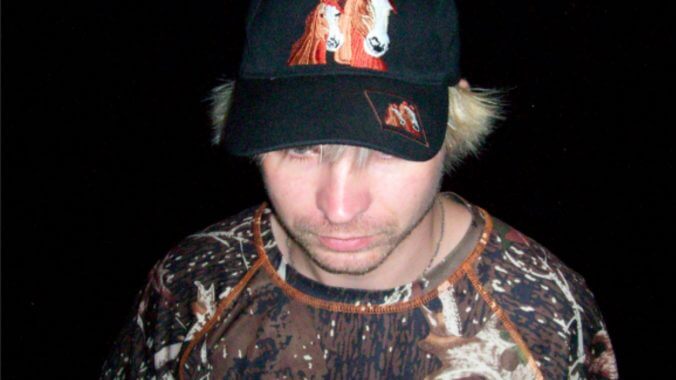 2023 has been a pretty big year for Nate Amos. After his main band Water From Your Eyes achieved widespread (and deserved) reverence for their latest album, Everyone's Crushed, Amos has opted to tackle his own solo project This Is Lorelei—unveiling EP #33, a towering, folk and pop-inspired fusion of indie that takes a much more subdued approach than the experimental, chaotic Everyone's Crushed.
At four tracks, EP #33 makes a lasting impression—particularly in Amos' songwriting and monotone singing that, delicately and passionately, careens into a harmonious, subtle bliss. Earlier this week, he surprise released "The Laughter Remains" and gave everyone four days to prepare for EP #33's full arrival. But it won't take long to digest this micro-project, as it boasts a similar buoyancy as Amos' 2022 This Is Lorelei album Pa$$ion Threshold. We called upon Amos to give us the backstory and inspiration behind EP #33, and its roots taking cues from Emily Dickinson's poetry, fictional contradictions, retirement homes and the future. Tune in to the record and take a glance into the world Amos projects through This Is Lorelei.
---
"Dollars in the Dark"
"Dollars in the Dark" depicts a boastful character singing about his time spent cheating Shirley, a senile resident of a retirement home, out of money through rigged card games. While recounting the experience he contradicts himself by denying that he remembers it, insisting that he's changed his ways and likening his recovery to a comedown from a drug bender. It was the first song I was able to finish after becoming sober, and while the particulars are fictional I was still trying to convince myself that I had actually changed. The part of me that wrote this song was sure that it couldn't last – the narrative pokes fun at the faith I had in myself.
"Hollered That Cry on the Pasture"
"Hollered That Cry on the Pasture" is about an instinctual love for calm and simplicity in which a farmer expresses the fulfillment he gets from the friendship he has with his sheepdog. It was first written in 2021 but went through a variety of different forms, at one point being performed live by My Idea (another project) with heavily altered lyrics. I only remembered that it existed earlier this summer and decided to take a swing at rewriting and recording it. I'm not a farmer and I don't have a dog, but I often wish that I was and that I did.
"Lullabies and Glue or My Brother"
"Lullabies and Glue or My Brother" deals with the value of having established self-worth in the face of severe life-change and the toxic urge to place blame where convenient rather than deserved. The narrator encounters his ex-sister-in-law at a bar and drunkenly attempts to explain that his brother snapped upon her exit from his life and has abused liquor and inhalants so extensively that he's become borderline non-verbal, capable only of incoherent mumbles and wordless song. Most of the songs I wrote around this particular time dealt with acceptance of guilt and consequences, this one is no different apart from that the rest remain unreleased. It's a study of the effect that someone who refuses to take accountability for their actions has on their loved ones.
"The Laughter Remains"
In "The Laughter Remains" an unnamed narrator observes an angel singing to a dying bird on a beach. Inspired by the waltzes of Shane MacGowan and the poetry of Emily Dickinson, I wrote it as a song of comfort for myself at a time when I was undergoing intense therapy and felt in the midst of a painful but ultimately worthwhile personal transformation. Music is and always has been an outlet for me, but in this particular case it really gave me a boost when I felt unboostable. Listening to the song now I realize that I was more equipped to navigate emotionally tumultuous terrain than I gave myself credit for at the time. It's a song about a future that is always there, in one form or another, and will always be worth looking forward to.