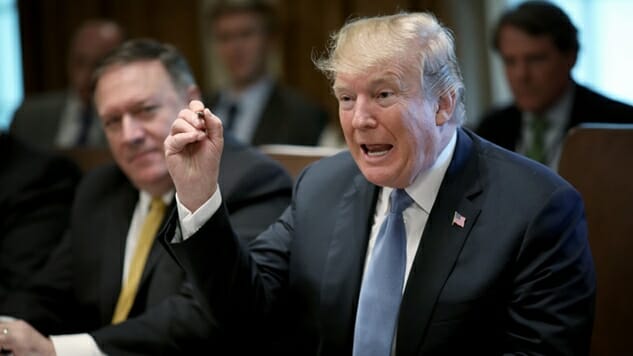 I've said it before, but this maxim may not be true anymore given that we live in an era where it is difficult to agree on a shared reality. The most hackish way to begin a column is to cite the dictionary, but given America's shameful history with putting Japanese-Americans in concentration camps during WWII, and our various attempts at ethnic cleansing (which have all been largely forgotten to history/whitewashed), these words don't resonate today like they should. Encyclopedia Britannica defines ethnic cleansing as:
The attempt to create ethnically homogeneous geographic areas through the deportation or forcible displacement of persons belonging to particular ethnic groups. Ethnic cleansing sometimes involves the removal of all physical vestiges of the targeted group through the destruction of monuments, cemeteries, and houses of worship.
Now consider that definition with the child concentration camps at our southern border, baby prisons, and this AP interview with U.S. Citizenship and Immigration Services Director L. Francis Cissna in mind:
The U.S. government agency that oversees immigration applications is launching an office that will focus on identifying Americans who are suspected of cheating to get their citizenship and seek to strip them of it.
U.S. Citizenship and Immigration Services Director L. Francis Cissna told The Associated Press in an interview that his agency is hiring several dozen lawyers and immigration officers to review cases of immigrants who were ordered deported and are suspected of using fake identities to later get green cards and citizenship through naturalization.
Now, of course there are probably cases where someone received citizenship and should not have—because the only consistency throughout the history of humanity is our ability to make mistakes. In a bubble, reversing wrong decisions per the letter of the law is far from ethnic cleansing. However, we don't live in a bubble. We live in Trumplandia, and the word "cheating" in the AP's report is a giveaway of the administration's true intent with this task force. This is about demonization, not strictly adhering to legal processes.
President Trump opened his campaign by calling Mexicans murderers and rapists. No one should trust that this task force will be conducted in any manner other than the one that Donald Trump, Jeff Sessions and the rest of the white nationalists currently sitting in the seat of power have pledged to execute. This is ethnic cleansing. The ethnicity targeted is "immigrants" because that's what our legal system allows the executive branch to enforce, but they also have the ability to enforce it selectively. If you think that the Trump administration will focus on white immigrants with the same intensity as any immigrant with dark skin, you're either willfully stupid or haven't been paying attention.
America has done this before and we are doing it again. Don't forget, we inspired Hitler. Per Mein Kampf:
There is today one state in which at least weak beginnings toward a better conception [of immigration] are noticeable. Of course, it is not our model German Republic, but [the US], in which an effort is made to consult reason at least partially. By refusing immigrants on principle to elements in poor health, by simply excluding certain races from naturalisation, it professes in slow beginnings a view that is peculiar to the People's State.
Make sure that everyone you know is registered to vote before the midterms in November. Any vote (or non-vote) other than one for the Democrats enables the Republicans to continue their march down this dark and very American path.
Jacob Weindling is a staff writer for Paste politics. Follow him on Twitter at @Jakeweindling.