Trump Associates Democrats with the MS-13 Gang at Tennessee Rally
Photo by Drew Angerer/Getty
Politics
News
Donald Trump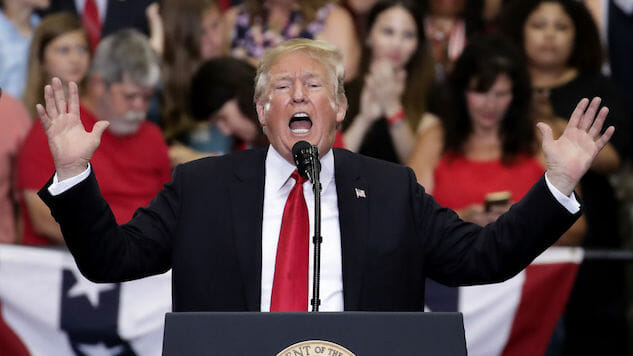 Trump associated Democrats with the MS-13 gang, whom he referred to as "animals," at a rally in Tennessee on Tuesday. The remarks came just as the congressional primaries heat up across the nation, through which Congress could potentially turn blue.
Trump's main goal at the rally in Nashville was to campaign for GOP Rep. Marsha Blackburn, who is currently in a close race with the Democratic Governor Phil Bredesen. This race "could be pivotal in deciding control of the Senate," NPR notes. Obviously, the Trump administration is not predicating a good outcome in the race as Trump arrived in Nashville himself. His tactic for saving the Republican Congress? Directly connecting illegal immigrants, and Democrats, to the MS-13 gang.
While it's common for Trump to use fear as a campaign strategy, this speech was different. According to the New York Times, Trump stated "They don't want the wall, they want open borders. They're more interested in taking care of criminals than they are in taking care of you." The criminals he's referring to are the MS-13 gang, whom he also called "not human beings" before he instilled the fear that they use "'glaring loopholes in our immigration laws' in order 'to infiltrate our country' and rape, murder and 'cut people up into little pieces.'" As the Times notes, the White House has repeatedly used victims of gang violence as a form of evidence that the U.S. needs stricter immigration laws, ultimately connecting the image of an illegal Hispanic immigrant to that of a violent gang member.
Once Trump decided to get back on the topic of the campaign, he attacked Breseden by saying, "He's an absolute, total tool of Chuck Schumer, and of course the MS-13 lover Nancy Pelosi." There we have it: a direct connection made to Democrats and the alleged "not human beings" MS-13. He went on to note that Breseden had donated money to Obama and "crooked Hillary's" campaign, upon which the crowd began to chant, "Lock her up! Lock her up!"
Backlash from the Democrats came from both Schumer and Pelosi, who criticized Trump for the use of the word "animals." The Times notes that Pelosi stated, "You have to wonder, does he not believe in the spark of divinity, the dignity and worth of every person?"
The President of Mexico also stepped in and criticized Trump's comments in a tweet:
President @realDonaldTrump: NO. Mexico will NEVER pay for a wall. Not now, not ever.

Sincerely, Mexico (all of us).

— Enrique Peña Nieto (@EPN) May 30, 2018
Despite Trump's obvious fear that Blackburn may lose and ultimately cost the Republicans the Senate, he had major leverage in Tennessee due to his 26-point win in the state in the 2016 election. He spoke to the chanting crowd for a full hour of finger pointing, reducing people to animals and even taking a jab at John McCain, who is still fighting brain cancer. He stretched his arms out in front of an oversized American flag, amongst his chanting crowd, and it looked like 2016 all over again.